Rice University physicists granted $1.3 million to continue study on dark matter
Jul 14, 2020, 2:08 pm
Karl Ecklund, left, and Paul Padley of Rice University have received a $1.3 million grant from the Department of Energy to continue physics research on the universe. Photo by Jeff Fitlow/Rice University
Two Rice University physicists and professors have received a federal grant to continue research on dark matter in the universe.
Paul Padley and Karl Ecklund, professors of physics and astronomy at Rice, have received a $1.3 million grant from the Department of Energy to continue the university's ongoing research at the Large Hadron Collider, or LHC, a particle accelerator consisting of a 17-mile ring of superconducting magnets buried beneath Switzerland and France.
"With this grant we will be able to continue our investigations into the nature of the matter that comprises the universe, what the dark matter that permeates the universe is, and if there is physics beyond what we already know," Padley says in a press release.
This grant is a part of the DOE's $132 million in funding for high-energy physics research. The LHC has received a total of $4.5 million to date to continue this research. Most recently, Ecklund and Padley received a $3 million National Science Foundation grant to go toward updates to the LHC.
"High-energy physics research improves our understanding of the universe and is an essential element for maintaining America's leadership in science," says Paul Dabbar, undersecretary for science at the DOE, in the release. "These projects at 53 different institutions across our nation will advance efforts both in theory and through experiments that explore the subatomic world and study the cosmos. They will also support American scientists serving key roles in important international collaborations at institutions across our nation."
In 2012, Padley and his team discovered the Higgs boson, a feat that was extremely key to the continuance of exploring the Standard Model of particle physics. Since then, the physicists have been working hard to answer the many questions involved in studying physics and the universe.
"Over many decades, the particle physics group at Rice has been making fundamental contributions to our understanding of the basic building blocks of the universe," Padley says in the release. "With this grant we will be able to continue this long tradition of important work."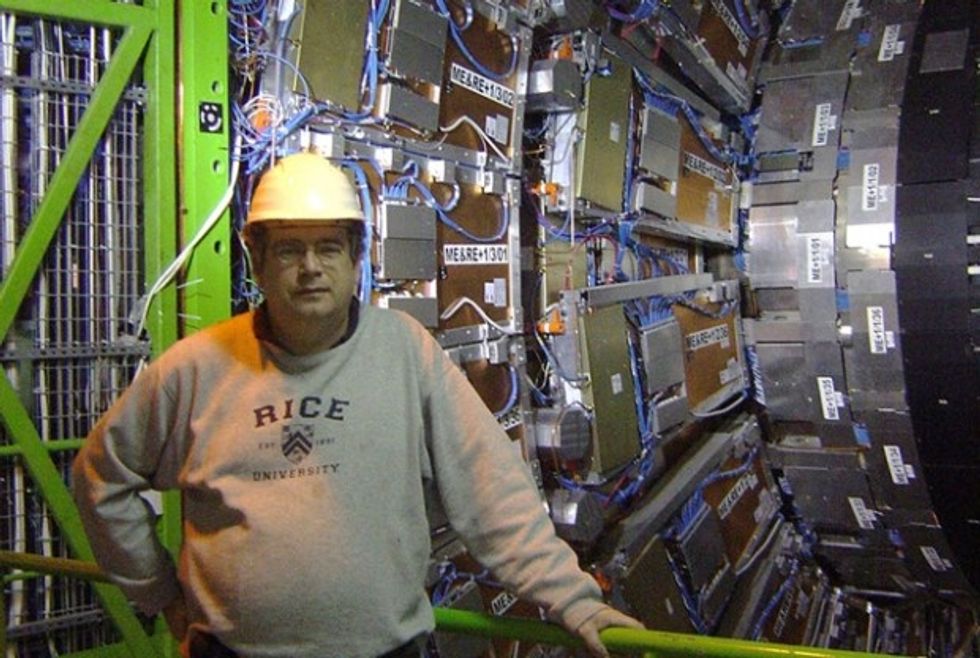 Paul Padley and his team as made important dark matter findings at the Large Hadron Collider in Europe. Photo via rice.ed