New program at Rice University to educate corporate leaders on innovation
Sep 9, 2020, 1:20 pm
A new program within Rice University's Executive Education school will foster education for corporate innovation. Photo courtesy of Rice
As important as it is to foster innovation among startups, there's another side of the equation that needs to be addressed, and a new program at Rice University plans to do exactly that.
Executive Education at Rice University's Jones Graduate School of Business, which creates peer-based learning and professional programs for business leaders, has created a new program called Corporate Innovation. The program came about as Executive Education, which has existed since the '70s, has evolved over the past few years to create courses and programs that equip business leaders with key management tools in a holistic way.
"We realized we need to open the innovation box," says Zoran Perunovic, director of Executive Education and is also a member of the Innovation Corridor committee and a mentor at TMCx.
The program, which is open for registration and will take place September 28-30, will flip the script on how innovation is normally discussed and observed and instead take a holistic approach to innovation in a corporate setting.
"In the innovation space, you have two lines — one is the entrepreneurial and the other is happening in large, established organizations," Perunovic tells InnovationMap. "The mechanisms of innovation within in those companies are different than the entrepreneurial."
The course's professor is Jing Zhou, Mary Gibbs Jones Professor of Management and Psychology – Organizational Behavior, and she says that when people think "innovation" they think of startups or technology. However, when it comes to innovation at the corporate level, it's so much more than that.
"In the past, we think about corporate innovation, we think about technological advancements. Because we have so many world-class organizations in Houston, we feel like we are doing a good job," Zhou says.
"Innovation definitely includes technology, but it also involves new business models, new way of meeting customers, new work processes — everything we do in a large corporation, there's always a better way of doing it. That's our definition of our corporate innovation."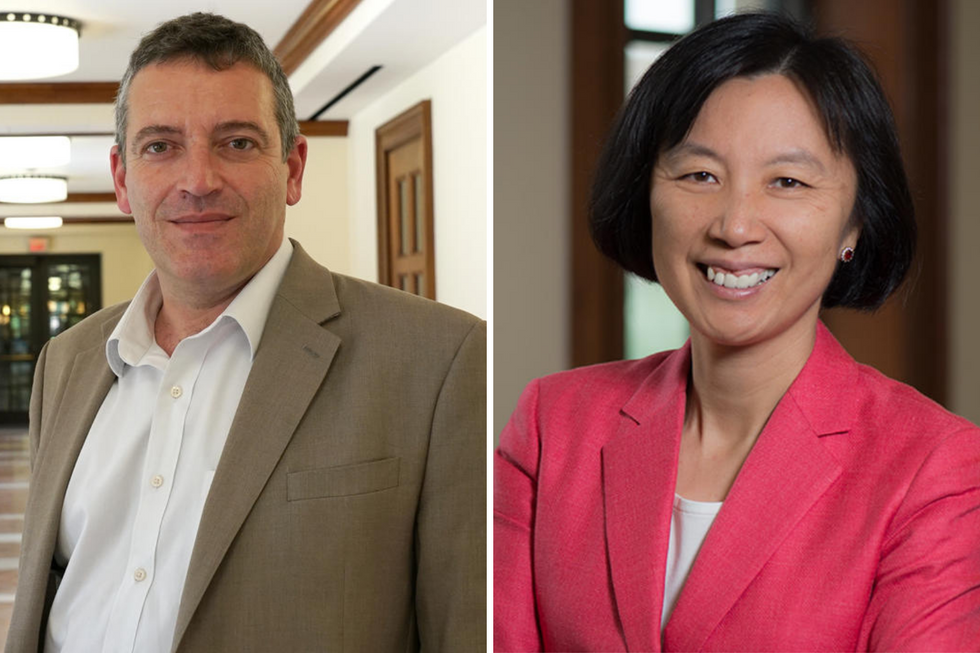 Zoran Perunovic (left) anf Jing Zhou created the Corporate Innovation program housed in Rice's Executive Education department. Photos courtesy of Rice
Zhou and Perunovic designed the program to target business professionals from all areas of the corporate world.

"People, managers, professionals, executives in all functional areas of business can benefit from this program," Zhou says. "We don't teach to just one function area. We teach the fundamental principles of how to drive innovation and broaden the cognitive space."
Perunovic concurs with his colleague and adds that, "everyone is relevant — that's the future of innovation." Another aspect of the program that's forward thinking is the idea of cross-industry innovation collaboration.
"In all our programs, especially this one, we are not encouraging members from one type of industry to join. We want diversity of industry," Perunovic says.
The program has an advisory board comprised of business leaders in Houston. The program's board is made up of:
Tanya Acevedo, chief technology officer of Houston Airport System
Barbara Burger, vice president of innovation at Chevron and president of Chevron Technology Ventures
Gareth Burton, vice president of technology at American Bureau of Shipping
David Hatrick, vice president of innovation at Huntsman Advanced Materials
Roberta L. Schwartz, executive vice president and chief innovation officer at Houston Methodist
Industry, position, and company notwithstanding, the program has value across the board in Houston, now more than ever.
"Innovation is no longer optional for large organizations," Zhou says. "It's required in whatever you do, and whatever space you're competing in."