Fast-growing startup with carbon-free solution sets up pilot plant in Houston
Apr 14, 2023, 12:58 pm
The opening of the pilot plant marks the debut of Cemvita's eCO2 business as a wholly owned subsidiary. Photo courtesy of Cemvita
Cleantech startup Cemvita has set up a pilot plant in its hometown of Houston to develop technology for converting carbon emissions as feedstock to make products like fertilizer, plastics, methane, and fuel.
The opening of the pilot plant marks the debut of Cemvita's eCO2 business as a wholly owned subsidiary. The term eCO2 refers to equivalent carbon dioxide, or a way to measure a combination of greenhouse gases such as carbon dioxide and methane.
With a capacity of more than 14,000 gallons, the plant is producing eCO2 oil, an alternative to soybean oil. The company already is shipping samples of eCO2 products to customers, including renewable-fuel companies and plastics manufacturers.
Cemvita says the biofuel industry is facing feedstock shortages and price fluctuations. Biofuel feedstocks produce starches or sugars that can be converted to produce ethanol, while others produce oil that can be used in biodiesel production, according to the Sustainable Agriculture Research & Education (SARE) program.
"Traditional biofuels, including renewable diesel and sustainable aviation fuel, have relied on oils derived from crops, such as soybean and corn, as well as recycled vegetable oils," Cemvita says. "As demand grows for petroleum-free alternatives, feedstock is in short supply and must compete with food markets. Crops of soybeans, sugar, and corn use huge swaths of land, and the raw materials require extensive refining — two factors that impede the processes from being sustainable."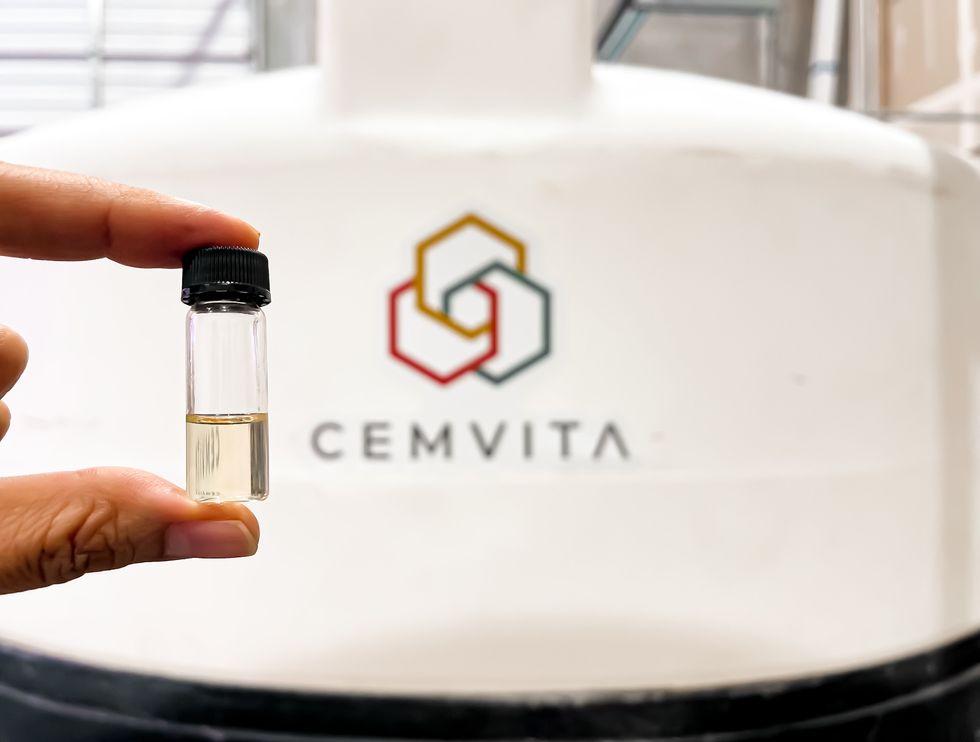 By contrast, eCO2 plants like Cemvita's can supply feedstock production with minimal land and electricity requirements, and without relying on hydrogen or sunlight, the company says. Furthermore, the output of eCO2 plants is designed to carbon-negative, not just carbon-neutral.
Cemvita's eCO2 biomanufacturing platform uses engineered microbes that absorb and convert carbon dioxide into feedstocks and finished products.
"The energy transition requires completely new, cost-effective approaches for heavy industry," Charlie Nelson, chief operating officer of Cemvita, says in a news release. "We built this next-generation pilot plant in response to strong demand from … partners who are actively seeking sustainable solutions to the … feedstock shortage."
Brother-and-sister team Moji and Tara Karimi founded Cemvita in 2017.
Investors in Cemvita include Oxy Low Carbon Ventures, an investment arm of Houston-based Occidental Petroleum, as well as BHP Group, Mitsubishi, and United Airlines Ventures.
Oxy Low Carbon Ventures and United Airlines Ventures are financing Cemvita's work on sustainable jet fuel. United Airlines operates a hub at George Bush Intercontinental Airport Houston.