Newly opened hub to put Houston on the map for sports innovation
Nov 2, 2021, 2:49 pm
The Cannon's new sportstech hub is just one step in putting a national spotlight on Houston as a city for vibrant sports innovation. Graphic courtesy of The Cannon
Silicon Valley emerged as a consumer tech capital, and Atlanta has carved out a niche for fintech — but as sports innovation continues to be driven by startups and new technology, where should the innovators set up shop?
"There isn't really a sports tech town, and we felt there's an opportunity to stick a stake in the ground and claim Houston as the sports tech capital of the world," says Lawson Gow, founder of The Cannon.
The Cannon in collaboration with Braun Enterprises and Gow Media opened Houston's first dedicated space to sports innovation. (Gow Media is the parent company of InnovationMap.) The new two-story space includes 23 offices and a 1,500-square-foot open space in 53 West, a Galleria-area office building recently renovated by Braun. The hub is adjacent to Gow Media's office alongside Gow Broadcasting LLC and the SportsMap Radio Network, which includes local sports station ESPN 97.5 as well as national syndicated content.
The idea for a sports-focused tech hub has been on the minds of The Cannon team since the early days of The Cannon, where sportstech activity started occurring naturally.
"The sportstech startup scene in Houston caught us by surprise at the very early stages of the Cannon," Gow tells InnovationMap. "We were created to transform Houston's innovation community and part of that was thinking about what things we could win at. Sportstech, for a lot of reasons, seemed really logical to us."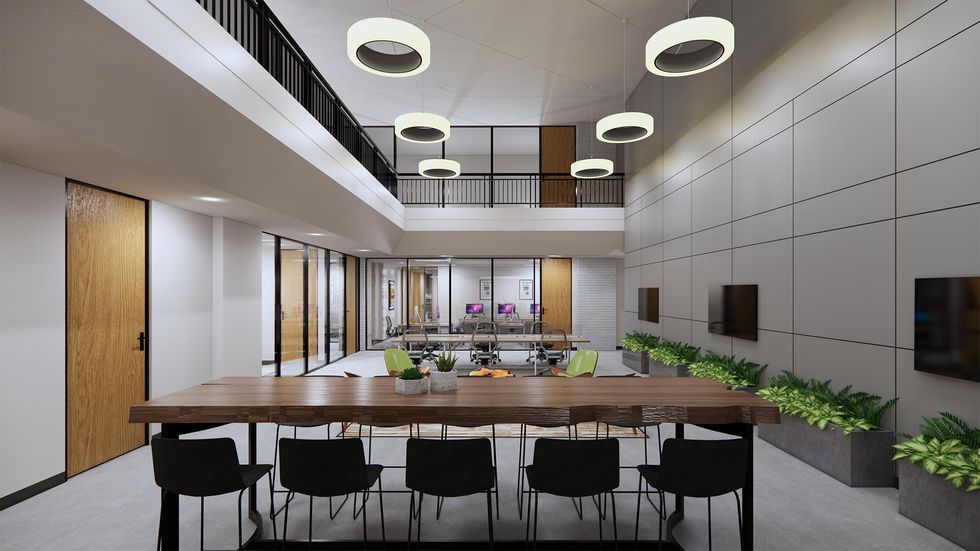 The Cannon's new space is in 53 West, a Galleria-area office building recently renovated by Braun Enterprises. Graphic courtesy of The Cannon
Over the years, The Cannon has grown its network of sportstech startups and developed its programming within the industry. Now, these efforts have a home in The Cannon Uptown - Sports + Media.
"Houston has never been able to attract tech entrepreneurs for any reason, and sports tech can be that reason," Gow says. "Having a sports innovation hub in Houston is only one of a dozen grand initiatives that needs to happen."
Some of those other initiatives include growing sports tech density, introducing new sports-focused accelerators, more events, funding — including venture capital and angel investment — and interest from professional teams.
Another recent sportstech opportunity that's come about in Houston is the SportsMap Tech Acquisition Corp. (NASDAQ: SMAPU) going public as a blank-check company last month at $115 million. The SPAC is run by David Gow, Lawson Gow's father and CEO of Gow Media, and plans to find a sports tech business to acquire, specifically in one of four categories within the industry: fan engagement, health and wellness, esports, or fantasy/gambling.
"With the IPO complete, we now begin the search for a company to acquire in the sports tech industry, which we define as the realm where technology is transforming sports," says David Gow. "We have not been able to talk with target companies yet, but have been doing our homework to develop a list. We also plan to tap into the extensive relationships of our board."
The company is backed by an all-star team making up the board, including Oliver Luck, Reid Ryan, David Graf, and Steve Webster.