Data science startup based in Houston focus on neuroscience software nabs $3.78M grant
Jun 30, 2020, 1:01 pm
A Houston-based software startup received a multimillion-dollar grant from the National Institutes of Health for its work within neurophysiology. Getty Images
Armed with a nearly $3.8 million federal grant, a Houston startup aims to boost neuroscience research around the world.
Vathes LLC, a developer of data management software that collaborates with neuroscience research labs in North America and Europe, recently received the $3.78 million grant from the Brain Research through Advancing Innovative Neurotechnologies (BRAIN) Initiative at the National Institutes of Health (NIH). That initiative is part of the National Institute of Neurological Disorders and Stroke.
Vathes says the NIH funding will enable the startup to ramp up its DataJoint Pipelines for Neurophysiology project. The project aims to make open-source software for data science and engineering available to researchers who specialize in neurophysiology, a branch of neuroscience that looks at how the nervous system functions. The pipeline project holds the promise of benefiting research in areas like autism, Alzheimer's disease, and amyotrophic lateral sclerosis (ALS, or Lou Gehrig's disease).
The project's principal investigator is Dimitri Yatsenko, vice president of research and development at Vathes. Technologically speaking, neuroscientists are playing catch-up with their counterparts in fields like astrophysics, genomics, and bioinformatics, according to Yatsenko.
Neuroscience "is undergoing a fast transformation in terms of moving toward much more data-centric, data-intensive, computation-intensive, and collaborative projects," Yatsenko says. This means that neuroscientists are "now finding themselves having to quickly adapt to an environment," he adds, "where they have to share big data and computations with their collaborators in very dynamic settings and perform them in a very fluid way."
Yatsenko says the NIH-funded project will help smaller research groups tap into the technical expertise of larger research labs.
Vathes' DataJoint Neuro platform and services, which help create so-called DataJoint pipelines, enable neuroscientists to streamline, analyze, and visualize complex data. Among its customers are Princeton University's Neuroscience Institute and Columbia University's Zuckerman Institute. The federally funded project will empower smaller labs to capitalize on existing DataJoint pipelines as ready-to-go turnkey packages, Yatsenko says.
In essence, Vathes' technology acts as a translator. Big research labs collect data in databases that can vary by computer language and platform. Through the Vathes setup, that data can be incorporated by a lab of any size into algorithmic, machine learning, and artificial intelligence mechanisms, regardless of the computer language or platform.
Edgar Walker, CEO of Vathes, says this simplifies the construction and use of databases, giving scientists "more room to focus on the logic of their data pipeline rather than on the physical implementation of it."
Founded in 2016, Vathes is housed at the Texas Medical Center's Innovation Institute. It employs 10 people. The startup previously received a $100,000 grant from the U.S. Defense Advanced Research Projects Agency (DARPA).
Yatsenko says the project backed by the $3.78 million NIH grant will propel the startup's growth, as it "gives us a big window of opportunity" to provide tools and services that support the startup's open-source software.
"As the NIH and other funding agencies are shifting a lot of their focus to collaborative projects that are distributed among multiple institutions," Walker says, "we've established a reputation as the company that can facilitate such research, be efficient, and actually be cost-effective as well, and make the projects very smooth."
"We expect to continue to grow this business at the same exponential rate," he adds. "We'll keep our fingers crossed and see how things go."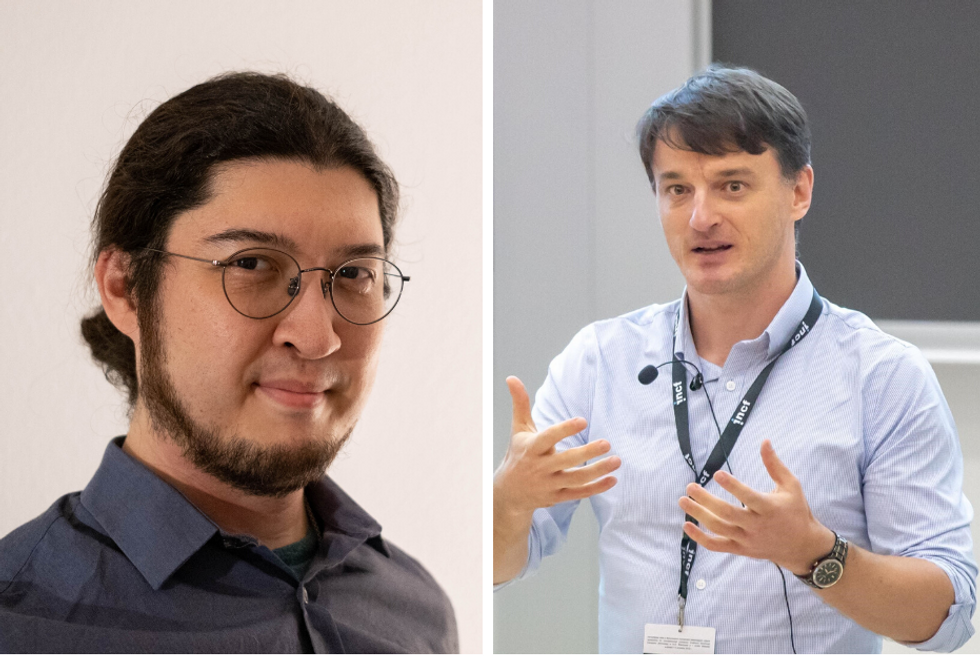 CEO Edgar Walker (left) and Dimitri Yatsenko, vice president of research and development, lead Houston-based Vathes. Photos courtesy of Vathes