University of Houston spinout's smartphone COVID-19 test to head to market
Aug 16, 2021, 10:58 am
Luminostics, which was founded out of a lab at UH, received NIH grant to produce its COVID-19 rapid antigen test. Photo courtesy of Luminostics
A Silicon Valley startup with Houston roots is helping tackle the COVID-19 pandemic with its smartphone-based coronavirus test.
Milpitas, California-based Luminostics, a University of Houston spinout, is producing millions of its Clip COVID Rapid Antigen Test for U.S. consumers after receiving emergency authorization for the product in December. The emergency approval closely followed the National Institutes of Health awarding a $26.1 million contract to Luminostics to speed up development of the coronavirus test. According to a news release from UH, Luminostics is working on an affordable next generation hardware system to reach the mass over-the-counter market at scale.
Chemical engineers and UH alumni Bala Raja, the CEO, and Andrew Paterson, the chief technology officer, began forming their company in the UH lab of Richard Willson, a professor of chemical and biomolecular engineering and professor of biochemical and biophysical sciences.
The technology developed in the UH lab aims to equip consumers with rapid self-diagnostic tests for the flu, HIV, herpes, and other conditions by detecting the presence of bacteria, viruses, small molecules, hormones, and proteins. But Raja and Paterson put that strategy on hold last year and pivoted to re-engineering their technology for COVID-19 testing. The result: the Clip COVID Rapid Antigen Test.
"When we realized that COVID wasn't just a bad flu and that it was actually gonna go crazy and affect as many people as it has, we decided that everything we've done could be very quickly repurposed to make two different tests," Raja told Inc. magazine in April.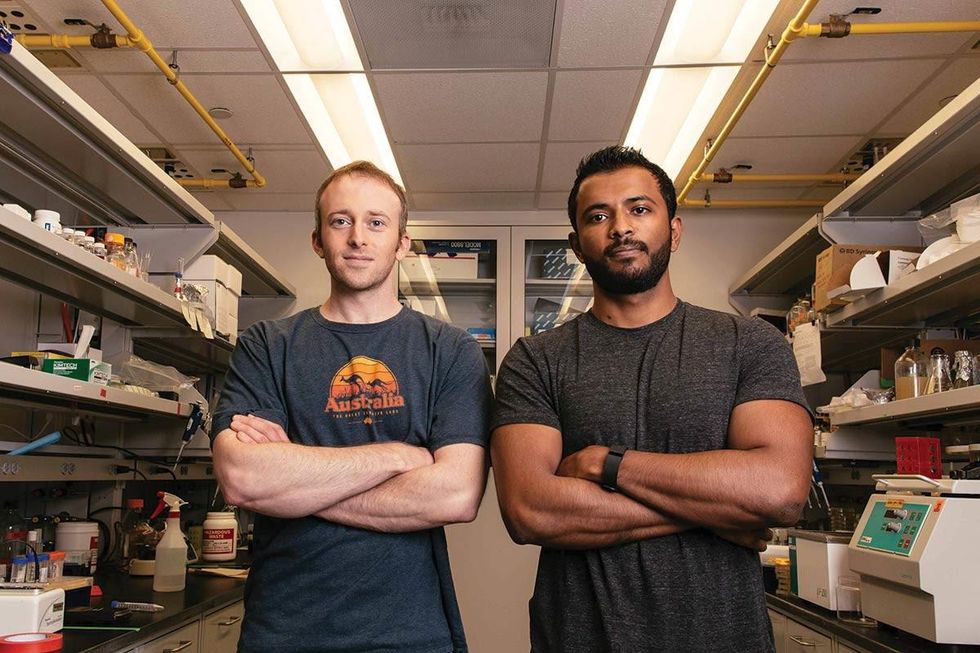 UH alumni Andrew Paterson and Bala Raja are co-founders of Luminostics. Photo via UH.edu
As UH explains, the Clip COVID test relies on a nasal swab, a smartphone clip, and glow-in-the-dark nanoparticles to detect a coronavirus infection within 30 minutes. In the phone, an image processor measures the intensity of the luminescence signal. If the signal is strong enough, the result is positive. If it's weak, the result is negative.

"We live in a world where you can have all your basic necessities delivered to your home through an app, and yet this pandemic has exposed how far behind the diagnostics industry lags compared to consumer technology and the convenience economy," Paterson tells UH.
Funding from the National Institutes of Health, venture capital firm Khosla Ventures, investment firm Lynette Capital, and startup accelerator Y Combinator has helped support the Clip COVID Rapid Antigen Test. The startup entered the Y Combinator program in 2016, a year after Raja and Paterson established Luminostics.
In April 2020, French pharmaceutical giant Sanofi said it was exploring a collaboration with Luminostics on the COVID-19 test.
"The diagnostics industry is saturated with products that cater to big, centralized labs or testing in the doctor's office," Paterson says. "There are many applications where it does make sense to do testing in a centralized lab, but there are dozens of other applications where there should be home-tests and there are not, because few companies have tried to take on the technical and regulatory challenges with developing home-testing."