Oil and gas SaaS platform based in Houston expands to Dallas amid major growth
Aug 30, 2019, 10:35 am
Houston-based Tracts, which makes it easier for mineral buyers and E&P companies to find leads in the industry, is geared for major growth. Courtesy of Tracts
A Houston company has flipped the script on lead generation for mineral buying in the oil and gas industry. Tracts.co has developed a way to get its clients in front of mineral sellers they otherwise wouldn't know to approach.
"Right now, mineral buyers have one major bottleneck — it's consistent across companies except those using Tracts — and it's lead generation," says Ashley Gilmore, CEO and co-founder of the company.
Traditionally, mineral buyers or E&P companies would have to go through public records to source leads. But Tracts' customers have access to the company's title management platform, which uses a patented computation engine and an interpretation library. The process reduces the cost and time spent generating leads, as well as the risk associated with mineral ownership and exploration and production companies and mineral buyers, Gilmore says.
The company has been around since 2014, and began hitting its stride last year after beta testing and working out the structure of the technology. Now, the more customers Tracts has, the more data the system has, which translates to a more valuable platform.
"For some of our clients, Tracts is now existential for their business," Gilmore says. "In other words, they wouldn't be able to operate on their current business model without Tracts."

It's not only customer growth the company has seen. Tracts launched a land solutions group called TLS — Tracts Land Solutions — in the beginning of the year. That group is growing by a dollar amount of 30 percent month over month since January. Tracts also opened a Dallas office, which focused on this land solutions team, to keep up with clients.
"There were two people in Dallas working from home in January," Gilmore says. "Last month, we moved into a 12-person office, and now we've already outgrown it."
Tracts has a 16-person office it'll be moving into, and Gilmore says he expects to double that in the next month or so. Tract's Houston headquarters is around 10 people, and the company has its development team in Seattle. The technology, Gilmore adds, is able to be used throughout the country since it's cloud based.
All this growth is translating into some interesting developments for Tracts, but Gilmore isn't ready yet to announce anything.
"I think our clients are going to be very happy within the next three to six months," Gilmore says.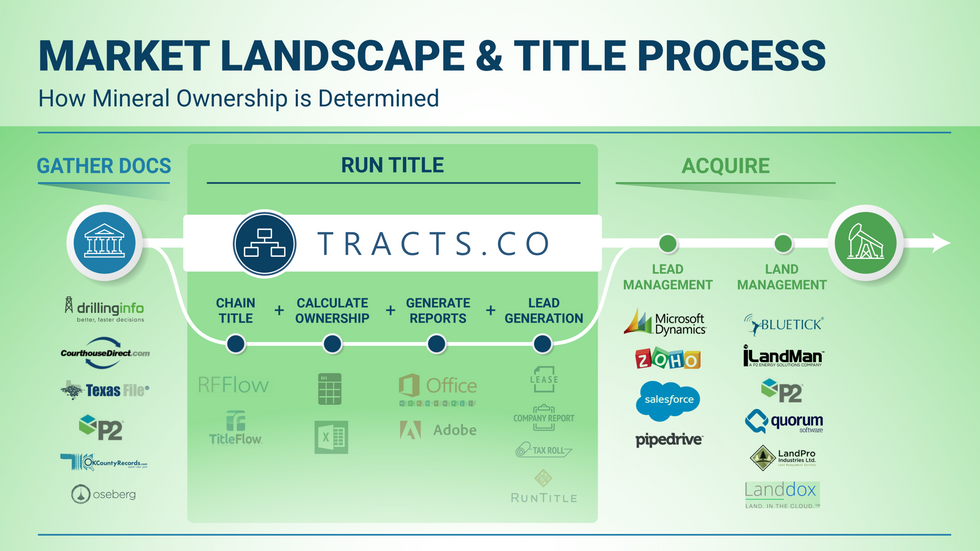 Tracts allows its clients to skip a few steps in the mineral buying process. Courtesy of Tracts