This growing Houston startup is making training programs safer and cheaper with VR applications
Jul 17, 2019, 1:35 pm
VR training startup, HTX Labs, recently brought on Houston-based Solvay GBU Peroxides North America as a client. Trainees can work on a digitized version of the plant that looks as real as could be. Courtesy of HTX Labs
Many employers are doing reality checks when it comes to workplace training. They're wondering how they can better train their workers. But they're realizing that traditional training can be dull and even unproductive, so they're enlivening and enriching their training through virtual reality.
Houston-based startup HTX Labs LLC is one of the tech companies at the forefront of the VR-infused modernization of workplace training. Among its customers are the United States Air Force, Mastercard, Rackspace, and Houston-based Solvay GBU Peroxides North America, a maker of hydrogen peroxide.
For the Air Force, HTX Labs creates software that provides immersive training for pilots on how to deal with emergency procedures in the air and on the ground. This is something that traditionally has been carried out only with expensive simulators. Mastercard and Rackspace rely on HTX Labs' technology to teach employees — through VR-generated replicas of actual workspaces — how to handle active-shooter situations, workplace violence, and fires.
Solvay turned to the company for VR-propelled help with training workers about loading and unloading hazardous materials and other aspects of maintaining safety around potentially dangerous chemicals. HTX Labs and Solvay will jointly resell their VR-based courses to other companies, says Scott Schneider, founder and CEO of HTX Labs.
At its core, the company's VR training zeroes in on the trainee, providing engaging, interactive experiences that stress "learning by doing," Schneider says.
Training programs that have been around for decades are "designed for trainers, not necessarily for trainees," he says.
"A PowerPoint presentation, a YouTube video — it's all about the message the trainer wants to convey as opposed to 'Let's think about how people actually learn.' Studies show people learn by actively doing — active learning versus passive learning," Schneider continues. "We married that idea of active learning with virtual reality and immersive technology to deliver a learning experience that increases retention and the development of muscle memory."
In a VR-based training session, participants are equipped with VR headsets and are plunged into realistic environments where they're presented with scenarios in which they, for instance, pick up a fire extinguisher and put out a blaze, or they land or eject from a military jet that's experiencing a problem such as an engine fire.
Schneider says this type of interactive training helps participants boost the amount of information they remember. According to the Society for Human Resource Management, VR learners retain 75 percent of what they've been taught, compared with a 10 percent retention rate from reading or listening to a presentation.
"It's a much better way, a much more realistic way to learn," Schneider says.
Employers big and small are catching on to this kind of advanced training. According to Schneider, software produced by companies like HTX Labs allows employers to conduct training that:
Avoids unsafe real-life settings in favor of safe virtual settings.
Does not disrupt workplaces.
Reduces costs.
A CNBC article says the cost-saving aspect appeals to a number of employers like Boeing, UPS, and Walmart.
"Training facilities cost hundreds of thousands, if not millions, of dollars to build. Sending out-of-town employees to them racks up travel expenses. And the lost time for training is considerable," the article reads.
By comparison, a one-time investment in VR hardware and software — technology that can be used by many workers — might cost a couple of thousand dollars per employee.
"Most companies in the private sector are dipping their toes into it a bit, maybe doing some stuff internally," Schneider says of VR-based training. "But on a larger scale, there's not a lot of players doing exactly what we're doing."
Schneider envisions HTX Labs, which was founded in 2017, expanding into training centered on augmented reality and mixed reality.
For the uninitiated, VR refers to computer-generated 3D environments that you interact with and are immersed in, according to Live Science. AR superimposes sounds, images and text onto what you see in the real world, along the lines of "Minority Report" or "Iron Man," Live Science explains.
"Mixed reality is the result of blending the physical world with the digital world," according to Microsoft. "Mixed reality is the next evolution in human, computer, and environment interaction, and unlocks possibilities that before now were restricted to our imaginations."
No matter the type of technology, HTX Labs strives to "humanize training" by putting the student at the center of the learning experience, Schneider says.
For now, HTX Labs produces VR training software under the EMPACT brand name and teams up with hardware vendors to sell turnkey offerings.
Today, the company employs 12 people, all of whom are in Houston. Schneider would like to increase HTX Labs' headcount by 50 percent before the end of 2019. Also this year, Schneider hopes to raise its first round of outside capital, but only after HTX Labs secures more private and government contracts. And he doesn't rule out enlarging the company through M&A activity.
Overall, Schneider sees tremendous potential for HTX Labs, as pretty much any employer can benefit from VR training for its workers. VR training — already part of a multibillion-dollar VR market — is expected to be so pervasive, in fact, that software review website Capterra predicts one-third of small and midsize businesses in the U.S. will be piloting VR training of employees by 2021.
"VR is … being used to enhance employee training to give workers immersive 'learning by doing' opportunities they can't find in a classroom or online course," Capterra notes. "It's a revolution in an area that's historically been static and unengaging for workers."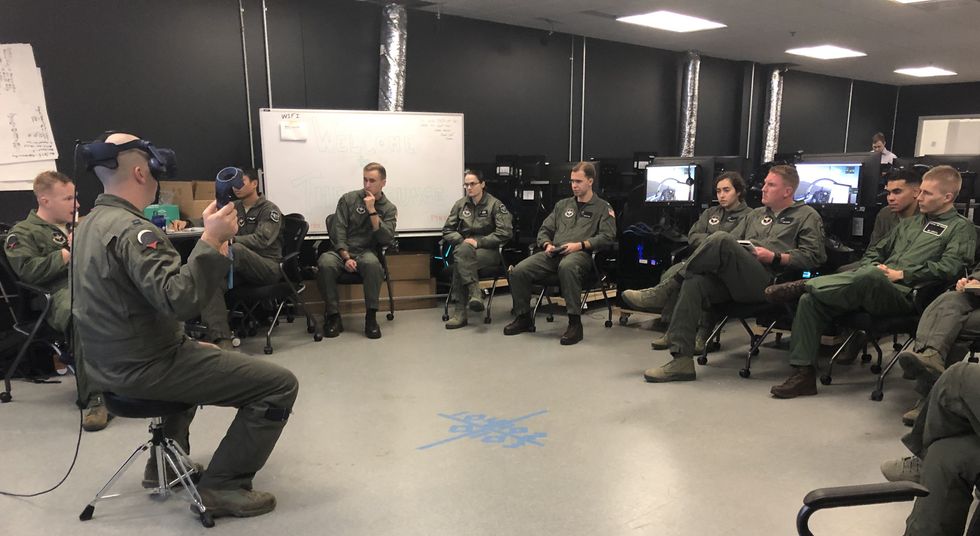 The U.S. Air Force also uses HTX Labs' technologies to train for emergency response procedures.Courtesy of HTX Labs