Smart carts roll into Texas grocery store
Jan 13, 2023, 11:09 am
Amazon Dash Cart is now available at a Whole Foods in Texas. Courtesy Amazon
If being more efficient with your time is one of your new year's goals, a faster way to shop is on the horizon in 2023.
Amazon Dash Cart just arrived at one local San Antonio Whole Foods Market, allowing shoppers to skip the checkout line altogether.
Located at 18403 Blanco Road, the Vineyard Whole Foods Market store is one of the first three locations in the country to make Amazon Dash Carts available to customers.
The smart grocery carts lets you scan items as you go, place them directly into your grocery bags, and head straight to the car when you're done shopping. Shoppers log in through a QR code in the Whole Foods Market app, which prompts a quick sign in process before you can begin using the cart.
As you scan each item while shipping, the Amazon Dash Cart's screen shows a real-time receipt of all items in the cart. When ready to check out, shoppers can skip the checkout line, exiting the store through the designated Amazon Dash Cart lane. Payment is then processed using the credit card associated with the shopper's Amazon account, and an automated receipt arrives at the associated email account after exiting the store.
While the carts have been in Amazon Fresh Stores across the country since 2020, they are now available in select Whole Foods Markets. Several 2022 updates included doubled capacity in the carts, new shelves for delicates and oversized items alike, weather-resistant features, and extended all-day batter life.
"As many of our customers return to their in-store grocery shopping routines, it's exciting to introduce new and unique ways for them to shop our stores," says Leandro Balbinot, chief technology officer for Whole Foods Market, in the 2022 announcement about the carts' new features.
Customers can find more detailed information on the technology here, along with a number of FAQs.
------
This article previously ran on CultureMap.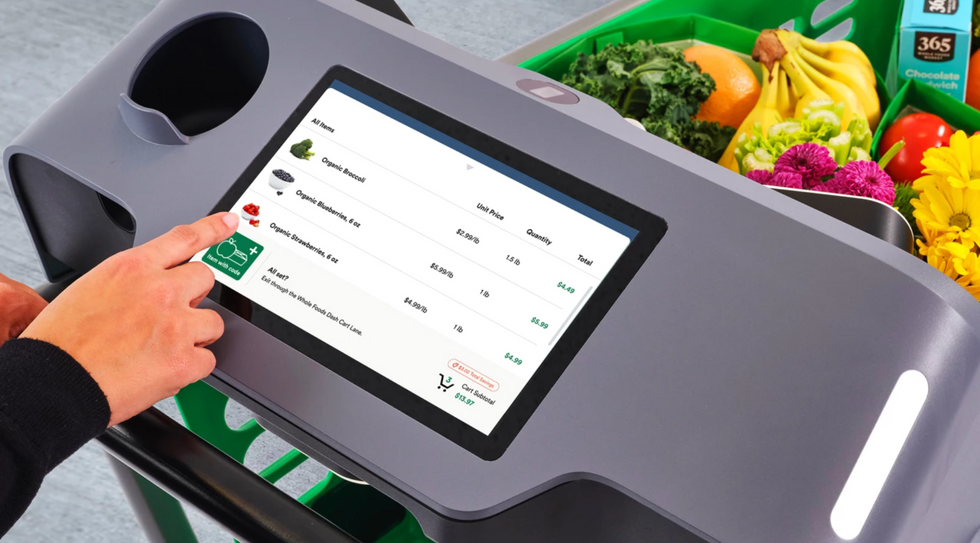 Shop smarter with these tech-enabled carts. Image via Amazon