Feb. 11, 2022 01:02PM EST
Houston Methodist broke ground on a 400-bed hospital in Cypress. Rendering courtesy of Houston Methodist
Houston Methodist will soon break ground on a "smart" hospital in Cypress that is poised to be the smartest of its nine hospitals.
The $650 million Cypress hospital will be modeled after Houston Methodist West and Houston Methodist The Woodlands hospitals. However, the Cypress location is on track to outdo them in terms of smart technology.
"Our commitment to innovation is one more way we set ourselves apart from other hospital systems, and we are committed to making this new hospital the most technologically advanced and innovative hospital ever," Dr. Marc Boom, president and CEO of Houston Methodist, says in a note to employees.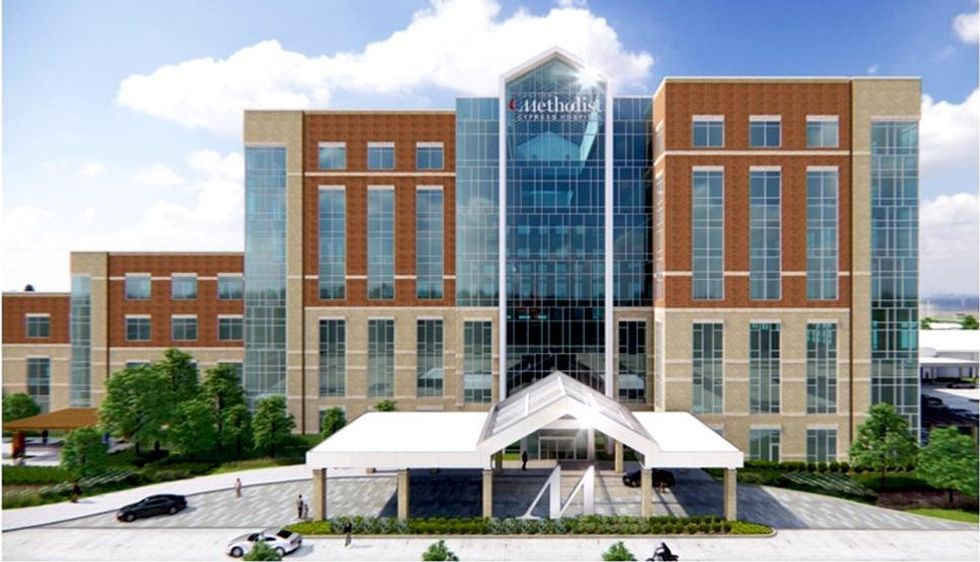 The new location is being modeled after Houston Methodist West and Houston Methodist The Woodlands hospitals. Rendering courtesy of Houston Methodist
Among the tech highlights of this "hospital of the future" will be:
Artificial intelligence and big data aimed at providing safer, better treatment for patients. The hospital will deliver care in specialty areas such as cancer, heart, neuroscience, women's services, orthopedics, and sports medicine.
Fall-monitoring systems.
Alexa- and Siri-like voice technology in the operating rooms. This technology is being piloted at Houston Methodist Sugar Land.
Smart speakers to control lighting, temperature, and other functions in rooms.
Hospital design that enables adoption of virtual care and similar advancements.
The 400-bed Cypress hospital is being built on 106 acres on the east side of the Northwest Freeway between Barker-Cypress and Skinner roads. Houston-based Sysco previously occupied the site. Construction is set to begin this spring. The hospital is expected to open in the first quarter of 2025 and employ about 500 people.
Houston Methodist announced plans for the Cypress hospital in 2021. St. Louis-based McCarthy is the general contractor, and Washington, D.C.-based Page is the architect.
"The new hospital will include the necessary infrastructure for the next century of innovation to improve care and interactions between patients and providers. The smart health system of the future eliminates the barriers of the traditional four walls and geographic boundaries of hospital rooms," Houston Methodist says.
Boom says the Cypress facility will be "a testament to Houston Methodist's commitment to innovation." The health care system launched its Center for Innovation in 2018 with the intent of improving health care safety and quality through digital innovation.
"At Houston Methodist we keep the patient at the center of everything we do, and this new hospital will be no exception," Boom says. "We are going to take the lessons we've learned at the Center for Innovation and the technology we've adopted during this pandemic to improve the patient experience by improving communication between physicians, staff, patients and their families and offering the best patient care possible."