Apr. 13, 2022 02:36PM EST
Solugen is moving its HQ into Phoenix Tower. Photo courtesy of Parkway
Houston-based Solugen has announced an HQ move. But don't worry. This unicorn chemicals company is just moving down the street.
Parkway Property Investments LLC announced today that Solugen is relocating its Houston corporate headquarters to Greenway Plaza. The biotech company, recently ranked as one of the most innovative businesses in the world, signed a multi-year lease in Phoenix Tower. The building is one of 11 Class A buildings on the 52-acre mixed-use campus.
The space's buildout is expected to be completed in the second quarter, according to a news release, with Solugen moving in after that.
The venture-backed biotech startup, which produces high-performance chemicals through the use of bio-based feedstock and metal catalyst technologies, signed a multi-year lease in Phoenix Tower. The property is one of eleven Class A buildings on the landmark, 52-acre mixed-use campus, which is strategically located between Downtown and Uptown. Buildout of the space is expected to be completed in the second quarter.

"Innovative companies like Solugen are choosing to outsource the design-build process for office interiors to Parkway," says Eric Siegrist, Parkway's managing director of leasing, in the release. "With several floors of 'Ready Right Away' suites fully-deployed, we happily take on this process to reduce the time and energy expended by an incoming tenant, resulting in expedited occupancy."
Solugen was represented by Nick Terry, managing partner of Rifle Real Estate. Parkway's senior director of leasing, JP Hutcheson, negotiated on behalf of Parkway.
Founded in 2016, Solugen's process converts corn syrup into industrial chemicals, cutting down on carbon emissions generated by traditional production of chemicals. Carbon dioxide from chemical production is one of the biggest contributors to industrial greenhouse gas emissions. In September, the company raised a $357 million series C funding round and claimed its unicorn status.
Solugen joins several tech companies already housed in Greenway Plaza, including FlightAware, ThoughtTrace, Detechtion Technologies, and Buildforce.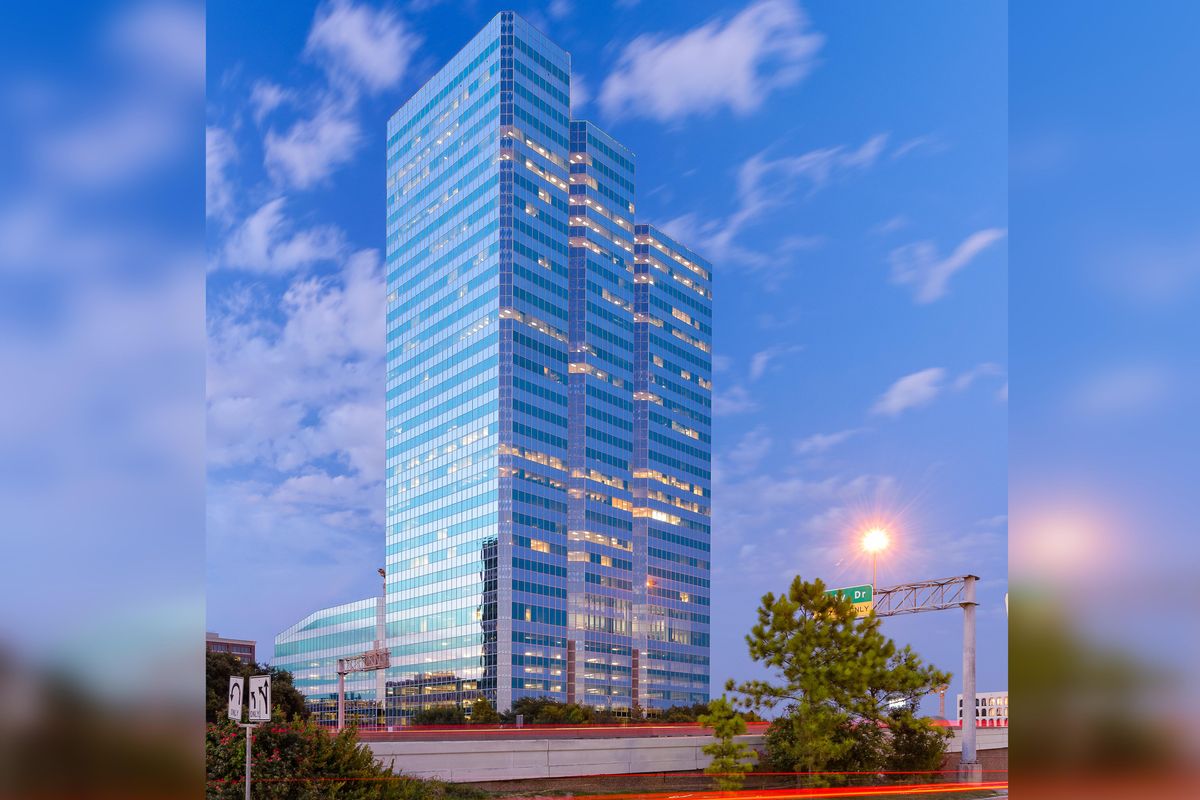 Phoenix Tower has 627,320 square feet of space across 34 floors. Photo courtesy of Parkway