Jun. 14, 2023 04:06PM EST
A handful of Houston startups were selected for a national accelerator program. Photo via Getty Images
Four Houston startups have been selected for the 2023 cohort of the MedTech Innovator's four-month accelerator program.
Los Angeles-based MedTech Innovator, which bills itself as the world's largest medtech accelerator, will award $800,000 in funding to winners of its competitions throughout the 2023 program. The grand prize is $350,000.
Almost 1,200 startups applied to participate in this year's accelerator. From that group, MedTech Innovator, its corporate partners, and more than 400 judges picked nearly 200 candidates for in-person pitching and partnering events. Sixty-one startups ultimately were chosen for the 2023 cohort, which kicks off June 14 and 15.
Forty-two of the 61 startups will participate in MedTech Innovator's corporate mentorship program, and five companies will join a plastic surgery accelerator in conjunction with the American Society for Plastic Surgeons.
MedTech Innovator says more than 500 startups have completed its accelerator program and have secured $6.8 billion in follow-on funding.
"We are proud of our stellar track record of identifying and perfecting the most innovative medtech startups in the world," Paul Grand, CEO and founder of MedTech Innovator, says in a news release.
The four Houston companies selected for the MedTech Accelerator's 2023 cohort are:
Ankr. The startup (whose name is pronounced "anchor") provides a caregiving platform for cancer patients in the U.S. As of 2022, there were an estimated 18.1 million cancer survivors across the country. The company won The Ion's Houston Startup Showcase in 2021.
NeuraStasis. The startup is developing an electrical stimulation device to delay the effects of acute ischemic stroke. This type of stroke happens when blood flow to the brain decreases. Acute ischemic stroke affects about 700,000 people in the U.S. each year. The company was selected for last year's cohort of the UCSF Rosenman Institute's Rosenman Innovators program.
Nininger Medical. The startup is working on a device for minimally invasive replacement of the tricuspid valve. Today, an estimated 1.6 million Americans experience tricuspid regurgitation. This type of heart disease occurs when the tricuspid valve's flaps don't close correctly. In 2021, the company received a $256,000 National Science Foundation grant.
Prana Thoracic. The startup is developing a tool for minimally invasive removal of lung tissue in lung cancer patients. In March, the company announced $3 million in series A funding.
Last year, three Houston companies were selected for the program. The startups — Ad Vital, Corveus Medical, and CorInnova.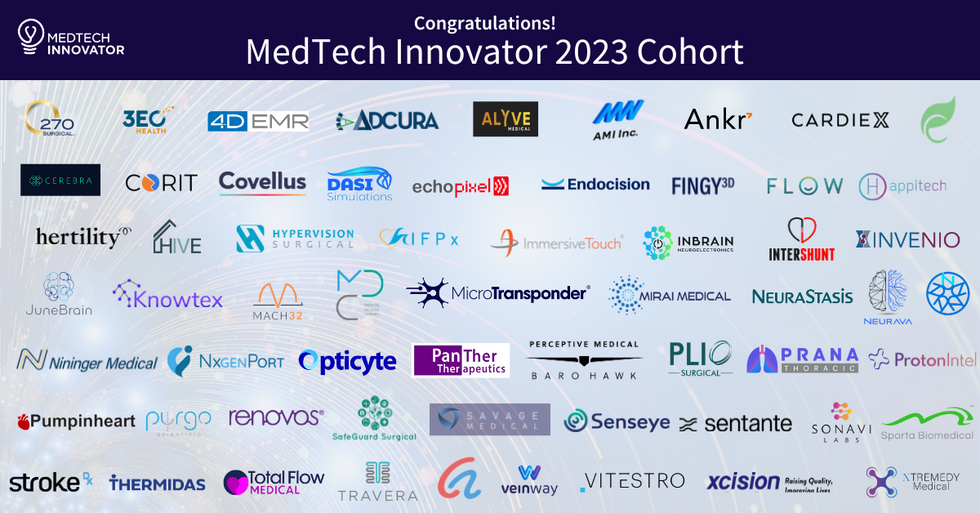 Over 1,000 companies applied to participate in the 2023 MedTech Innovator Accelerator, 200 pitched in person, and 61 startups were selected. Graphic via https://medtechinnovator.org/