Jun. 21, 2019 01:45PM EST
Memorial Park Conservancy's renovations include some projects that are rare or never been done before. Photo courtesy of MPC
Memorial Park is undergoing a huge transformation that is mixing a little bit of old with the new.
The Memorial Park Master Plan includes adding breathtaking new projects — like water features, a new athletic complex, and more — as well as conservation efforts that restore parts of the land that were native coastal prairie. The project is a collaborative effort between Memorial Park Conservancy, Uptown Houston TIRZ, and Houston Parks and Recreation Department to redevelop the 1,500-acre park.
The Master Plan is set to deliver a series of projects ahead of 2028, and there are a few initiatives that are innovative and different from other urban parks' transformations, notes MPC's president and CEO Shellye Arnold.
The Land Bridge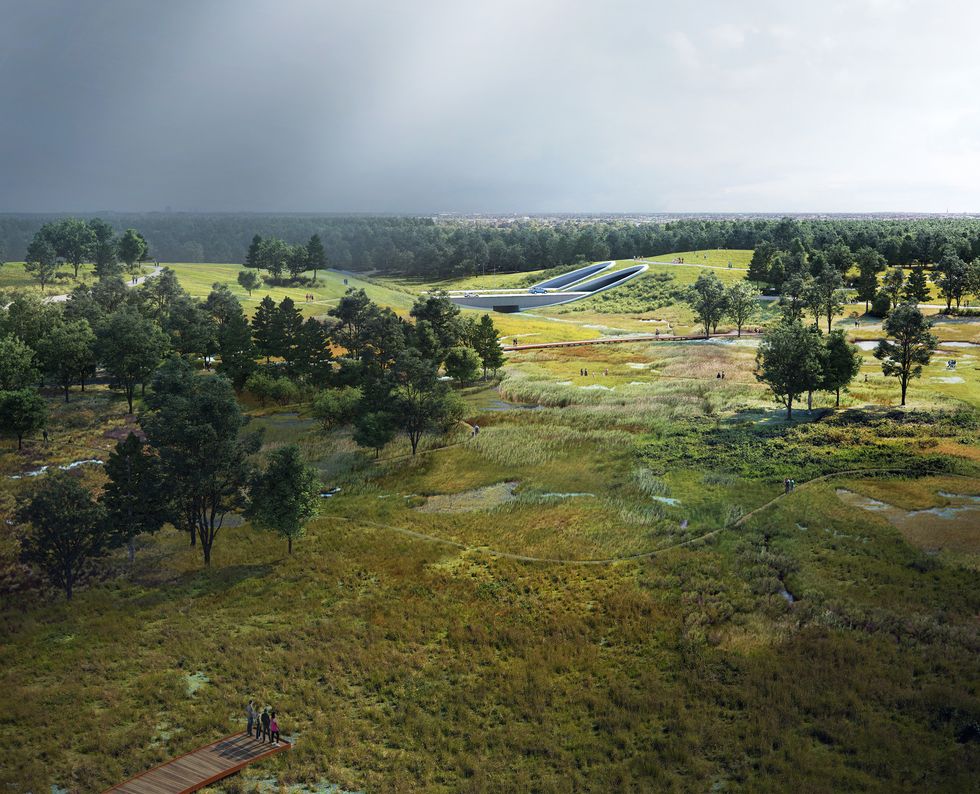 Photo courtesy of MPC
A big part of Memorial Park's transformation is restoring the park to native species and ecosystems.
"We're taking ball fields, parking lots, and roads and converting them back to what was here — native wetland coastal prairie," Arnold says. "This serves important stormwater purposes."
In order to connect two native coastal prairie lands on either side of Memorial Drive, MPC is building a unique 30-foot-high land bridge the size of three-and-a-half football fields. The space will be large enough that you don't even realize you're standing over a busy street, Arnold says.

The prairies will serve an important purpose for rainwater collection — a growing need within the city of Houston.
"We're channeling [rainwater] into this prairie where some of it can be absorbed, cleansed, slowed down," says Arnold. "And then what doesn't get slowed down and absorbed can flow through the prairie [on the other side], which is even bigger."
The Land Bridge also serves another purpose that park goers have wanted, Arnold says: Connectivity.
"[They] want access across the Memorial Drive — [they] want to safe access, and so this is the response. It's a pretty bold and visionary response," Arnold says.
BioCycling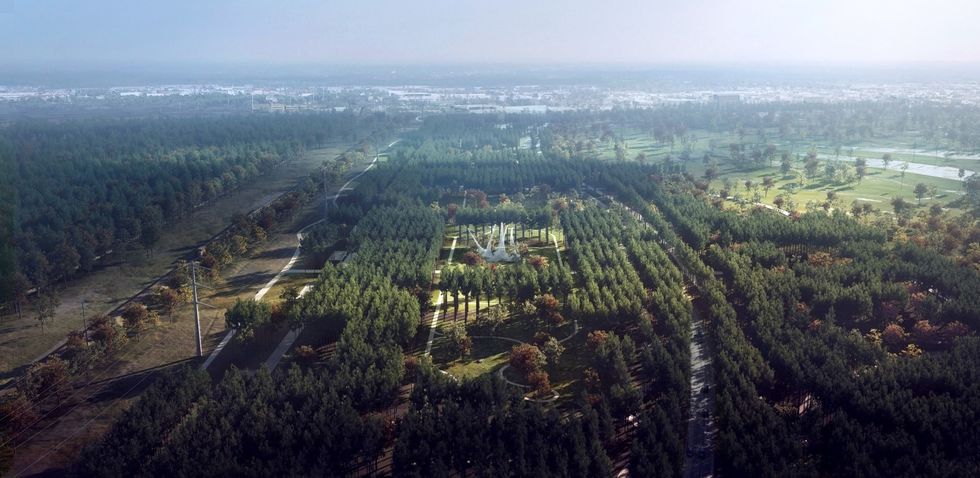 Photo courtesy of MPC
In 2011, a major drought decimated the park and areas saw losses of 50 to even 90 percent of the canopy of trees. MPC and its team saved what could be saved, and the rest is serving a new purpose to the park.
"We took the trees that we lost on the drought that people felt such a tremendous loss for and ground them all up, and they are in a biocycle in a two-acre area in the back of the park," Arnold says.
The soil created — some of which includes manure from the animals at the Houston Zoo — has already been used on some plants in the park, and Arnold says those plants are thriving.
"It's cool that those those trees are giving life to the park," Arnold says.
Invasive species of trees that are plucked from out of the park are also being ground up and used in the same way.
"There isn't anything this big like this in an urban park setting like this kind of recycling effort," she says.
The biocycling process is scalable too.
"We could open this up to other organizations," Arnold says. "It's so much better ecologically to take trees and grind them up and use it inside the space rather than haul them out to landfill way outside of town and dump them."
The benefit to the program is that MPC can retain some of the soil it produces for these other organizations and use it on site.
Biodiversity initiatives and research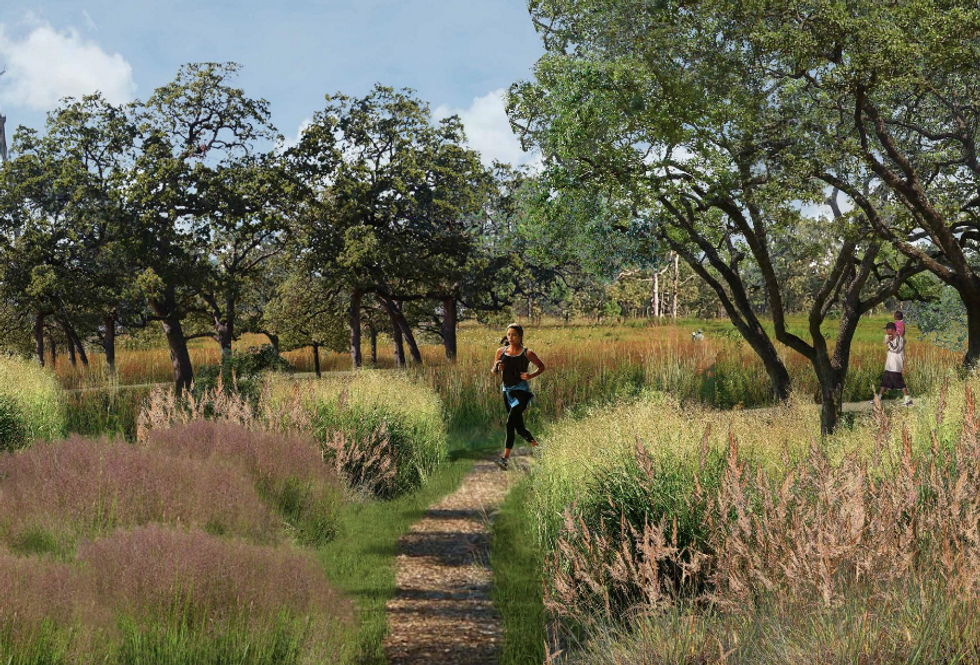 Photo courtesy of MPC
When putting the plans in place, MPC and its partners called on 25 of the best ecologists, as well as 50 more park and other types of consultants specializing in everything from insects and wildlife to prairies and trees.
Just as the Land Bridge is creating new prairie space, other initiatives throughout the park will be focused on eliminating invasive species and bringing back the natural ecosystem of the park.
The Easter Glades project, which is set to deliver next year, will have a habitat for fish, and will not allow any fishing or boating. Carolyn White, conservation director at MPC, is working with the Texas Wildlife Association to bring in the right species of fish.
Arnold says that MPC works with other organizations in an innovative way to bring native plants into MPC, since the park has the space for these organizations to use to cultivate and propagate plants.
"They bring their native plants and they grow them with their volunteers, and they leave us a little bit here," Arnold says. "We could never buy enough native plants to go inside this park."