Feb. 15, 2023 11:09AM EST
UH's business school has a new program focused on artificial intelligence thanks to a partnership with Intel. Photo via uh.edu
The University of Houston's C.T. Bauer College of Business has teamed up with semiconductor chip manufacturer Intel Corp. to provide training in artificial intelligence.
The new artificial intelligence program features a standalone business certificate with two specialized courses; the first course launched in January. Bauer also plans to offer non-degree certificate programs in AI, such as the AI Certificate for Entrepreneurship and AI Certificate for Executive Education.
In a news release, Elizabeth McGee, chief strategy and innovation adviser at Santa Clara, California-based Intel, says the UH initiative will help bridge the AI knowledge gap. An online search indicates hundreds of AI-related jobs are open in the Houston area.
"Digital upskilling, or digital readiness, needs to be a catapult for economic prosperity for everyone and not a dividing point," McGee says. "I commend the University of Houston for being the first higher education institution to take our award-winning curriculum and lend your expertise in entrepreneurship, your access to the broader Houston community, and supporting this digital upskilling for everyone."
AI education has taken on a greater sense of urgency as the healthcare and energy sectors, among others, incorporate AI into their operations.
Paul Pavlou, dean of the Bauer College and Cullen Distinguished Chair Professor, says the collaboration between UH and Intel will help propel growth and innovation in Houston's tech sector. Intel, whose only Texas location is in Austin, is a key player in the expanding AI market.
"Intel has been very generous with their resources, and with our expertise in analytics and faculty research and students' initiative in bringing new products to life, the opportunities for this collaboration to be transformative are endless," Pavlou says.
AI is growing at an incredibly rapid pace. According to Precedence Research, the size of the global AI market was estimated at $119.78 billion in 2022 and is expected to reach nearly $1.6 trillion by 2030.
"While some markets, sectors and individual businesses are more advanced than others, AI is still at a very early stage of development overall," says professional services firm PwC. "From a macroeconomic point of view, there are … opportunities for emerging markets to leapfrog more developed counterparts."
AI is viewed as both positive and negative in terms of today's workforce.
"AI is a fast-evolving technology with great potential to make workers more productive, to make firms more efficient, and to spur innovations in new products and services. At the same time, AI can also be used to automate existing jobs and exacerbate inequality, and it can lead to discrimination against workers," says a report published by the White House in 2022.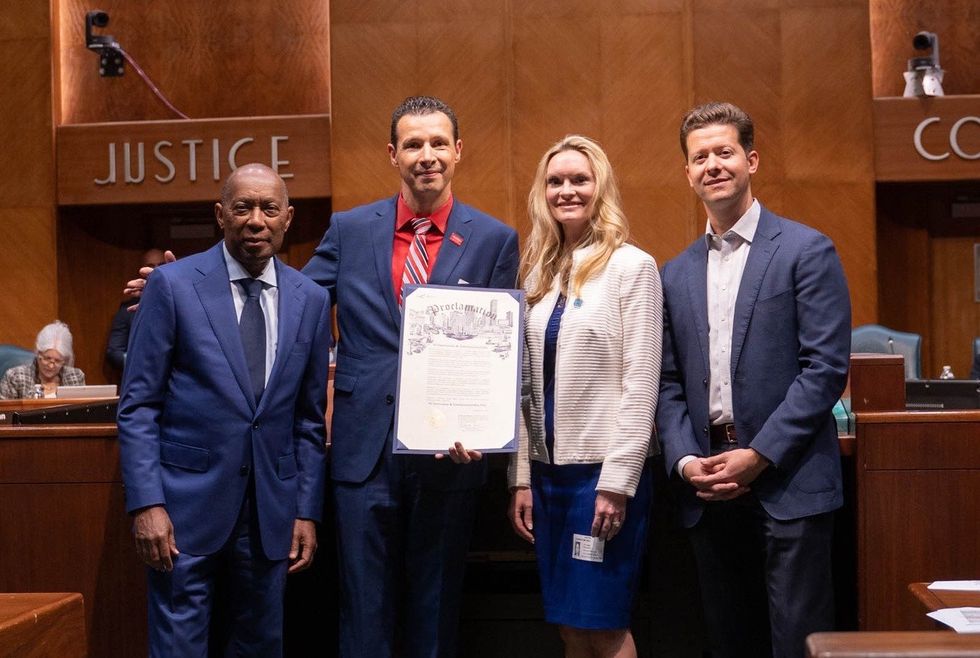 Houston Mayor Sylvester Turner and Houston City Council celebrated "AI Innovation and Entrepreneurship Day" at City Hall on Feb. 7. Photo via Facebook