Oct. 31, 2019 03:31PM EST
Chris Buckner has secured a $6.8 million series A round for his Houston-based esports company thanks to support from a local investment firm. Courtesy of Mainline
A Houston software company is cashing in on the growing esports industry with a multimillion-dollar fundraising round led by a local investor.
Mainline, which specializes in esports tournament software and management, closed its series A at $6.8 million. Houston-based Work America Capital led the round, and Mainline will use the funds to grow its platform, event management customer base, and marketing efforts, as well as to hire developers, marketing, and sales talent.
"The world of esports and gaming is exploding; however, continuity in tournament organization is lacking, keeping the sport from really taking off in other viable and exciting markets," says Chris Buckner, Mainline CEO, in a news release. "Mainline gives brands the tools they need to run powerful esports programs that will evolve the quickly maturing industry to the benefit of players, students, and the greater esports ecosystem."

Mainline, which spun off its sports engagement business earlier this year into a company now called Truss, created a white-labeled tournament platform for esports that's used by various clients across the industry and was instrumental to ESPN's inaugural Collegiate Esports Championship that was hosted in Houston earlier this year.
Work America Capital has supported sports technology in town before — including Houston-based Integrated Bionics, which has developed a GPS- and video-optimized sensor used by athletes around the world.
"As with any industry that takes off like a rocket, problems arise that must be solved through innovation," says Mark Toon, managing partner of Work America Capital, in the release. "Mainline is standardizing, organizing and optimizing the esports industry, paving the way for more players, more teams, more money and bigger, better tournaments."

Mainline is focused on expanding its services as esports continues to grow. According to the release, the total industry revenue for this year is expected to reach $1.1 billion worldwide, and viewership numbers have jumped from 335 million to 454 million in just two years.
"The strategic vision of Mainline puts them in the driver's seat with a consistent platform across amateur, collegiate and professional competitions," says Toon. "Given Mainline's partnerships and customers, they have paved a way to grow quickly across all sports and into other markets. We are excited to dedicate our time, resources and capital to the company."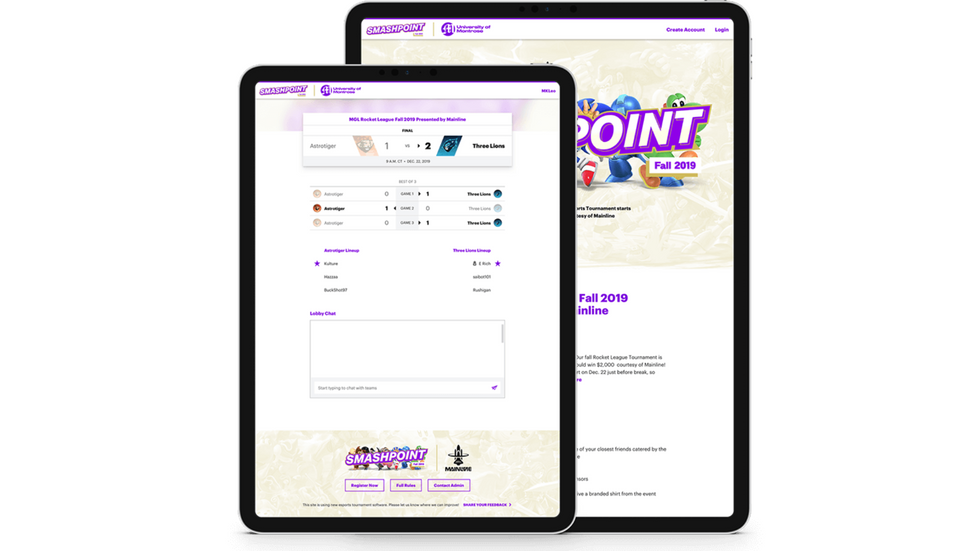 Mainline has created a white-labeled software for esports gaming and tournaments. Courtesy of Mainline