Rice University, Houston Methodist launch state-of-the art human performance center
Oct 20, 2023, 1:47 pm
The interdisciplinary space aims to advance the study of exercise physiology, injury prevention and rehabilitation while serving Rice student athletes. Photo courtesy of Rice University
Rice University and Houston Methodist teamed up to open the new Center for Human Performance this month.
Located in Rice's Tudor Fieldhouse, just across the street from Houston Methodist's Texas Medical Center offices, the interdisciplinary space aims to advance the study of exercise physiology, injury prevention, and rehabilitation while serving Rice student athletes, according to a release from the university.
"The mission of the center is to enhance human physical performance for both patients and athletes through research, clinical and educational activities and a commitment to advancing technology," Thomas Killian, dean of Rice's Wiess School of Natural Sciences, says. "The facility is new, but the partnership between its core members—the Department of Orthopedics at Houston Methodist, the Department of Kinesiology at Rice and Rice Athletics—is longstanding."
The 6,000-square-foot refurbished center includes a state-of-the-art laboratory, clinical, and rehabilitation space. The labs feature innovative technologies that provide advanced 3D motion capture and measure for biometrics relating to bone density, cardiovascular health, aerobic performance, blood flow and more.
Rice vice president and director of athletics Tommy McClelland described the space as a "game-changer," and said he expects the center to help athletes return to play with more confidence after injury.
Apart from sports, the Rice and Houston Methodist teams say the research done at the facility will also have impacts for older adults, people with disabilities and those seeking to advance their recovery times after injury or surgery.
The center also allows Houston Methodist to broaden its scope, according to Patrick McCulloch, vice chair of the Department of Orthopaedic Surgery at Houston Methodist and head team physician at Rice.
"The collaborative nature of this multi-institutional center will allow us to broaden the scope of the type of research programs that we can do and also allow us to reach higher for bigger, multi-institution grants that can help to sustain this longer in the future," he says.
Additionally the center will allow for research and internship opportunities for Rice students, particularly those in the Kinesiology field.
Earlier this academic year, Rice also unveiled another massive, collaborative space in the 250,000-square-foot Ralph S. O'Connor Building for Engineering and Science.
As the largest core campus research facility, the space aims to connect students and faculty across engineering disciplines. Click here to read more about the state-of-the-art O'Connor Building.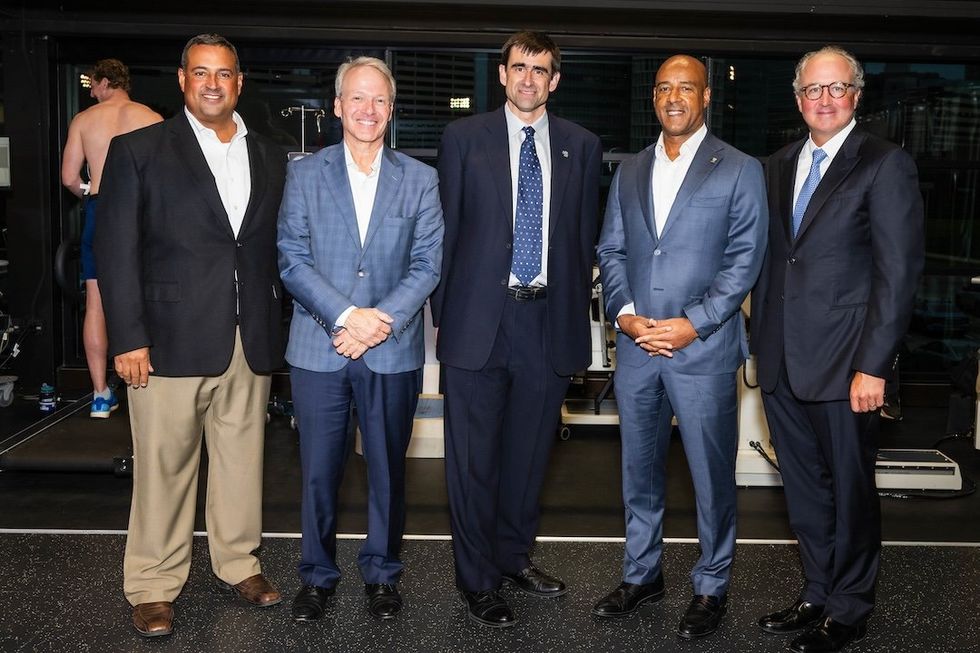 Pictured from left: Augusto Rodriguez, chair of Rice's Department of Kinesiology; Marc Boom, president and CEO of Houston Methodist; Thomas Killian, dean of Rice's Wiess School of Natural Sciences Reginald DesRoches, president of Rice; Patrick McCulloch, the John S. Dunn Chair of Orthopedic Surgery at Houston Methodist. Photo courtesy of Rice