Houston-based composting startup grows commercial and residential subscribers amid pandemic
Aug 27, 2021, 10:57 am
Since Moonshot Composting's inception, its subscribing businesses and residents have diverted more than 209 thousand pounds of food waste from landfills. Photo courtesy of Moonshot
From landfills leaking into the water supply to reports of recycling being dropped in landfills, Houston's sustainable future has been mired by waste management faux-pas. According to a fact sheet from the City of Houston, 81 percent of trash in Houston ends up in landfills. Brothers-in-law Chris Wood and Joe Villa co-founded Moonshot Composting in hopes of improving Houston's environmental future.
After the birth of his second child, Wood stepped away from his career as a corporate attorney to stay home and find new opportunities outside of law.
"Just through conversations and reading, it became clear that Houston had not yet picked up the pace on diverting food waste as a city," says Wood.
Composting, a method of decomposing organic solid wastes that's growing in popularity, diverts trash like food and paper towels into compost that can be used to grow plants. While letting your waste have a second life sounds like a sweet deal, it's also a sustainable one. More compost means less waste in landfills, a major contributor to harmful greenhouse gas emissions.
The scarcity of composting options left Wood with answers to what was holding Houston back. Was it the sheer size of the city alone? He reached out to Villa, who had spent 15 years in transportation logistics, with a laundry list of questions.
"How do we minimize a real waste stream that's going to the landfill and maximize streams of materials that we're not using anymore to be reused in some new form or fashion," poses Wood.
It wasn't long before Villa and Wood entrenched themselves in research. The two traveled to South Carolina for the U.S. Composting Council's annual conference last January and left feeling inspired to bring their idea to fruition. Like the rest of the world, they couldn't have anticipated that COVID-19 would rattle the nation in the weeks to come and cause a string of lockdowns across the U.S.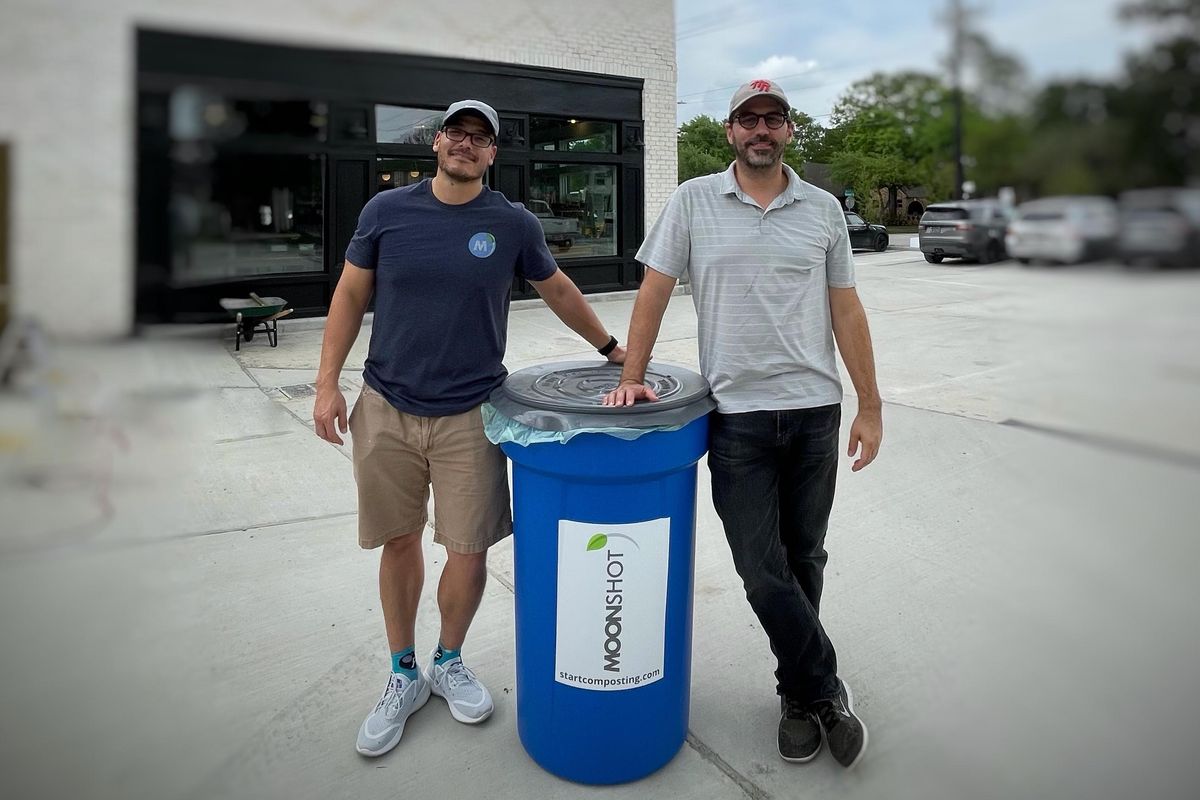 Brothers-in-law Chris Wood and Joe Villa co-founded Moonshot Composting in hopes of improving Houston's environmental future. Photo courtesy of Moonshot
"Even though the pandemic hit before we launched our business, we were far enough along that we felt like we could do this safely," says Wood. A benefit of Moonshot Composting's structure was its drop-off and pick-up style program for both businesses and consumers.

The two co-founders weren't the only people finding a newfound passion for. According to Google Trends, users were searching for ways to compost at home at increased rates after the first stay-at-home order was announced last March. As people were learning to back sourdough and building their puzzle collections, they were also wondering how to be more sustainable in their households. The keywords "composting at home" surged to its greatest peaks during April, July and September in 2020.
With a growth-focused plan to help Houston be greener, Moonshot Composting recently participated in cohort 3 of The Ion's Smart and Resilient Cities Accelerator, where Villa and Wood gained insights from mentors and business leaders.
The momentum has continued with the company's latest release: a digital Diversion Dashboard for residential customers who track their composting totals, compare their composting to other communities, and share the statistics on social media.
"We knew from the time that we started, that there was an opportunity to introduce technology to improve people's behavior around the trash can," says Wood. "Our plan was to operate for at least a year and understand what it's like to help people compost in their business and at home. From the beginning [of our business], we weighed everything we picked up, because we knew that what you can't measure you can't change."
After putting in place a system to weigh each compost pick-up, the two reached out to their network to bring in outside developers.
The proprietary dashboard also translates the weight of compost to residential impact. Looking at Wood's own dashboard, he can see that his compost weighs the equivalent to 168 pineapples and can notice that his neighborhood is ranked second on Moonshot Composting's list of serviceable areas.
A version of the Diversion Dashboard was first made available to commercial subscribers in the spring on a trial basis. Similar to the consumer platform, the commercial dashboard provides carbon equivalencies to compare your environmental impact like pounds of carbon dioxide removed from the atmosphere and "un-driven" miles.
Moonshot Composting's commercial subscribers include Rice University, Houston Baptist University, The Awty International School, ConocoPhillips, Tacodeli, Snooze Eatery, Ostia, and Amli Residential.
Since Moonshot Composting's inception, its subscribing businesses and residents have diverted more than 209 thousand pounds of food waste from landfills.
While the gamification of composting is new, research on the subject is promising. Gamification has been a powerful tool in the consumer technology apparatus for years. Various studies have analyzed the effectiveness of gamification as a self-motivating tool that has a positive impact on health and wellbeing and increases the meaningfulness of an action.
You can drink from a water bottle that awards you for reaching your daily intake, compete with your friends to see who took the most steps using AppleWatches or FitBits, and run miles to earn money for charity. When not enter some healthy competition with your neighbors using the Diversion Dashboard?
When creating the dashboard, Wood and Villa sought to create a fun way to motivate Houstonians to compost and connect with others over their environmental efforts. While cities like Seattle and San Francisco have established city-wide composting program, the co-founders are enthusiastic about expanding a coalition of eco-savvy Houstonians.
"Whether it's good or bad, we [Houston] don't always lead with government mandates, but we always lead with businesses working together with communities to try to do good," says Wood, "We can do it through innovation and that kind of matches the Houston spirit."