Houston university creates program to fill the need for cyber engineering professionals
Jun 27, 2019, 1:24 pm
Houston Baptist University has created a program that is training the next generation of cybersecurity professionals. Courtesy of HBU
A few years ago, Houston Baptist University realized there was a huge need for more engineering programs within Houston higher education in one area particularly: Cybersecurity.
The school brought in Stan Napper from Louisiana Tech University to become the founding dean of the College of Engineering. The college now has three bachelor's degree programs in cyber engineering, electrical engineering, and computer science.
"Cyber engineering is designing secure systems at the interface of operational technology and information technology," says Napper. "Cyber engineering is in the middle of devices and data. It's in the middle of the hardware and software. And, academically, it's in the middle of electrical engineering and computer science."
The program is the only of its kind in Texas, Napper says. In fact, he says he doesn't know of any other similar programs other than the one he was a part of at Louisiana Tech. However, he does expect that to change. There's a growing need for cybersecurity specialists — especially in the health care and energy industries.

"One of those things that really got my attention a couple of years ago is in 2017, the FDA issued a recall on the over 450,000 pacemakers that had already been implanted," Napper says. "Modern pacemakers now can be controlled remotely through the skin to change the pacing frequency or some other parameters of that pacemaker without having to go back and do another surgery. They discovered a software glitch to a particular brand of pacemaker that could have been exploited."
Thankfully, that glitch wasn't exploited, but it put thousands of people's lives at risk by those technology designers not foreseeing this cybersecurity glitch. Anywhere devices — not just computers or phones — are used remotely or on a network, security is compromised.
Napper has only one year of the program under his belt, but he says he has already seen a lot of interest from the school's advisory board, which is made up of 75 CTO and tech leaders.
"They're lining up to get our students as interns even before we have the students ready," Napper says. "We've only finished our first freshman class."

Napper says the program is on track to have a capacity of 200 to 250 students. At a school like HBU, which has around 3,400 total students, that's a huge chunk of the school's population. Some think the program, considering the need and reception, could grow to 1,000 students.
The courses cover everything within operational and intellectual technology — device design, data science, automation, artificial intelligence — and the students are already getting their hands dirty.
"Our approach to education is learning in context. It is very hands on, but it's not hands off or hands on sake," Napper says. "There's no single class in our inventory of courses where one person stands at the front and talks the whole time. Our students carry their lab with them to class. We changed the definition of a lab. A lab is not the place you go to once a week in order to write a lab report."
This fall, the school will have its inaugural class in sophomore-level courses and a new batch of freshmen. Down the road, Napper says they'll look into creating a master's program.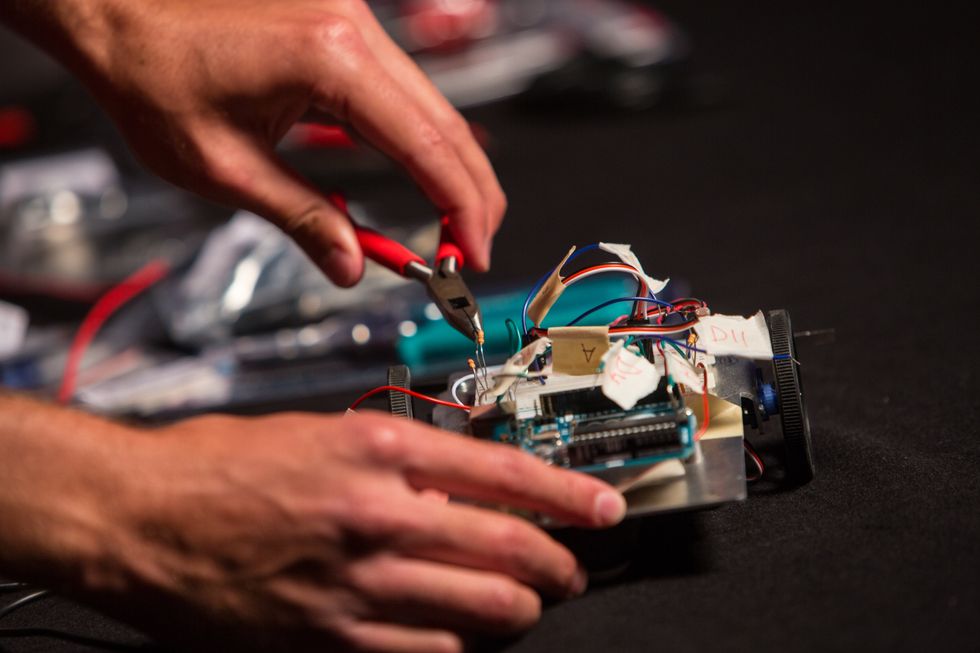 Michael Tims / Houston Bapitst U