Houston named 4th best metro for women in tech by a new study
Feb 20, 2019, 2:18 pm
Houston has been deemed the fourth best city for women in technology, according to a SmartAsset report. Christina Morillo/Pexels
If you're a woman in the technology industry here in Houston, you're in the right place. Houston was recognized as the 4th best city in the United States for women in technology jobs, according to a report from SmartAsset.
The study took into consideration four key factors; gender pay gap, income after housing, and percentage of tech jobs filled by women were all double weighted, while four-year employment growth was factored in. Using data from the U.S. Census, SmartAsset only looked at cities with populations of 200,000 residents or more that had reliable data, which left the study with 58 cities across the country.
Houston's tech pay is what stood out for the city. The average female tech worker in the Bayou City has $60,600 left from her salary after paying for a home, and Houston ranks eighth overall in this metric. With a ratio of 99 percent, Houston's wage gap when it comes to tech jobs ranked the city No. 3 for smallest wage gap. However, at 26 percent, Houston has a somewhat low percentage of women in tech positions.
No other Texas cities appeared on the list, though it's unclear if they were among the 58 cities evaluated as a part of the study. Washington D.C., Baltimore, and Philadelphia ranked ahead of Houston. California's major tech players — such as San Francisco, San Jose and Oakland — all ranked in the middle of the pack or worse.
The studied compared the cities against the national average. The full list of the top 15 cities, seen below, all ranked higher than the national average, based on the study's index.
This isn't the first time this year that Texas has been recognized as a good place for women in business. In January, a study found that the Lone Star State was No. 1 for female entrepreneurs. However, when it comes to STEM jobs, another report found Houston to be less desirable of a metro. But, as the SmartAsset study found, affordability is important, and Houston was deemed one of the most affordable cities to live in this year.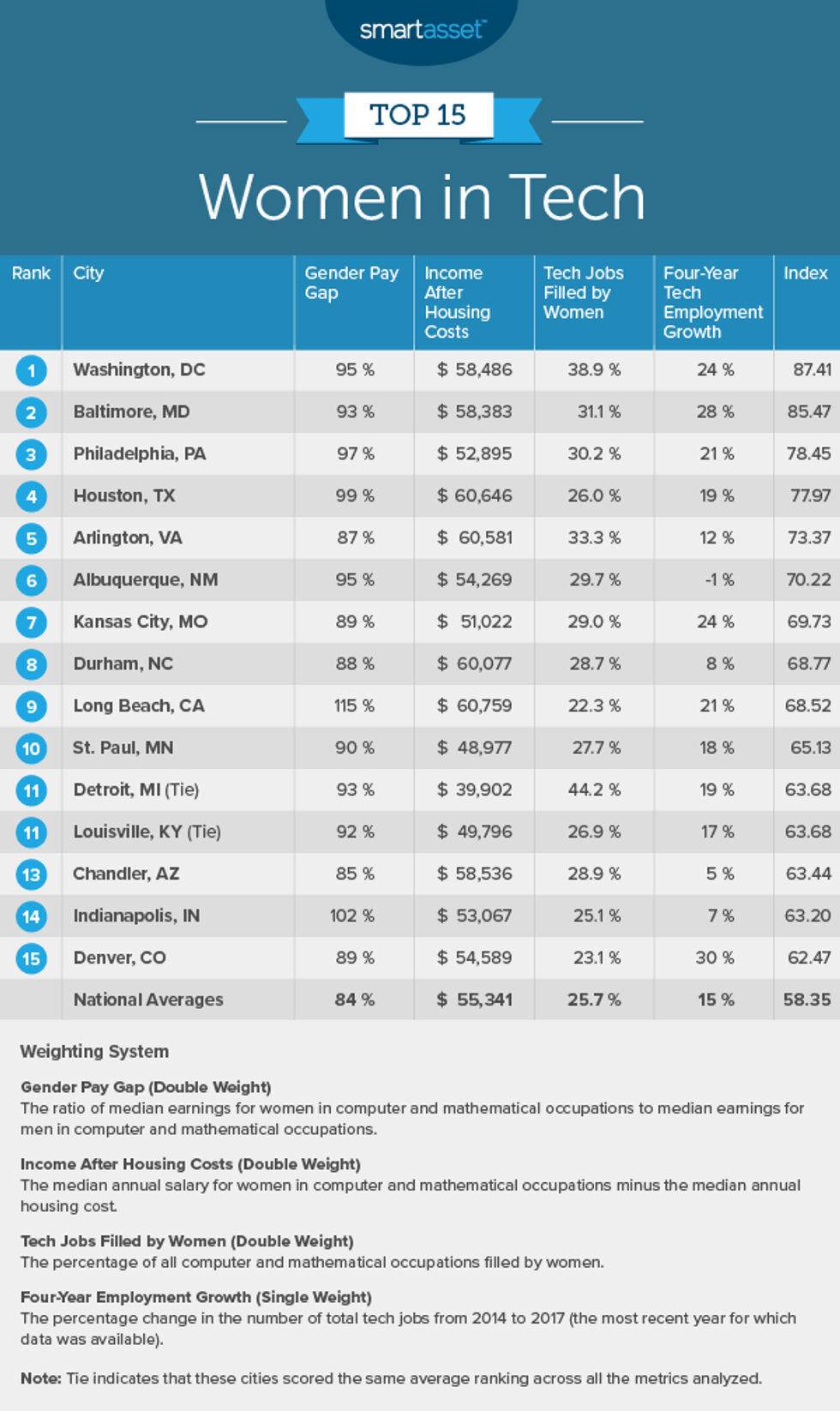 Via SmartAsset