Houston has the No. 7 most startups owned by women
Apr 15, 2019, 11:04 am
Based on Houston's number of majority female-owned startups, the city ranks as No. 7 in the country. Getty Images
While there's still a gap between men and women when it comes to, well, a lot of things in business, Houston is among the top 10 cities in the United States for women-owned startups.
In an effort to find the metropolitan areas with the most women-owned startups, Seek Capital conducted a study on the largest 50 metro areas using data from the U.S. Census Bureau Annual Survey of Entrepreneurs. In Houston, 26.6 percent of its 10,462 startups are owned by women. When compared to other cities, that percentage ranks the city at No. 17. But the number of Houston's women-owned startups — 2,783, which in total employ 9,378 people — earns it the No. 7 spot in the nation.
Across the country, 24.5 percent of the nation's startups are owned by female entrepreneurs, so — compared to the U.S. — Houston's average is slightly better. The top industry for women-owned businesses nationwide is health care and social assistance, but closer to home, that top industry for businesses owned by women is in professional, scientific, and technical services.
In the study, a "startup" is defined as a company less than two years old and "female owned" means at least 51 percent of the company is owned by women.
Austin came in No. 2 in the study for reportedly having 32.7 percent if its startups owned by women. However, Austin has only 1,433 women-owned startups, according to the report, compared to Houston's 2,783.
Earlier this year, Texas was named the best state for female entrepreneurs, according to Fit Small Business. The methodology for that report included evaluating with four equally weighted factors: general business climate and opportunity, the number of female-owned businesses, economic and financial health, and safety and well-being for women.
| Category | Houston | Rank | U.S. Totals |
| --- | --- | --- | --- |
| Percentage of startups that are female-owned | 26.6% | 17th | 24.5% |
| Number of female-owned startups | 2,783 | 7th | 125,634 |
| Employees at female-owned startups | 9,378 | 10th | 511,939 |
| Gross sales/receipts of females-owned startups | $1-$5 billion | - | $56 billion |
| Most active industry for female entrepreneurs | Professional, scientific, and technical services | - | Health care and social assistance |
Chart via Seek Capital.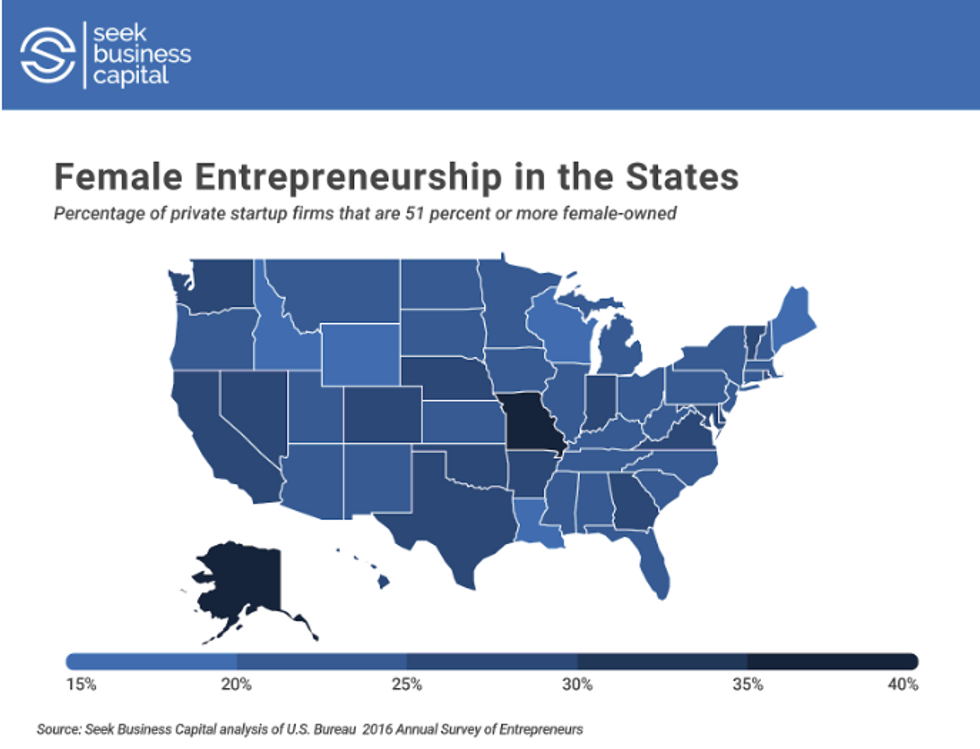 Chart via Seek Capital.