Nov. 18, 2020 01:30PM EST
Houston-based sEATz has raised funding to help scale to the demands as fans safely return to stadiums. Photo courtesy of sEATz
When COVID-19 hit and shut down major events including sports and entertainment, a Houston tech startup that created a platform for in-stadium food and merchandise delivery hit a huge obstacle.
However, what seemed like an insurmountable challenge became sEATz's biggest opportunity. As sports management teams start to envision bringing in more fans, they've realized they have to prioritizing limiting crowds and enabling social distancing. SEATz — with its in-seat ordering app and backend software — enables fans to stay seated and avoid lines.
"We really started seeing how integral our platform was going to be for the safe return for sports and entertainment," says Aaron Knape, CEO and co-founder of sEATz."When we started getting that momentum and traction with our clients, our investor base and perspective investor base got really excited."
And those excited investors allowed the startup to raise a second seed round of venture capital to the tune of $1.6 million. In September 2019, sEATz closed a $1.3 million seed round led by Houston-based Valedor Partners. Valedor again led this round, says Knape, and, while the plan was just to raise $1 million, the bar was raised to give the company even more funds to scale.
"We didn't want to just idle through COVID," Knape tells InnovationMap. "We see a tremendous opportunity to grow in the market and to expand the capabilities if the platform."
The funds will go toward marketing opportunities as well as tech development. including integrating with various points of service systems.
"We didn't pivot. We expanded our capabilities," Knape says on how sEATz was always focused on mitigating lines in sports and entertainment settings. "This will in all likelihood will make us a much stronger company coming out of COVID."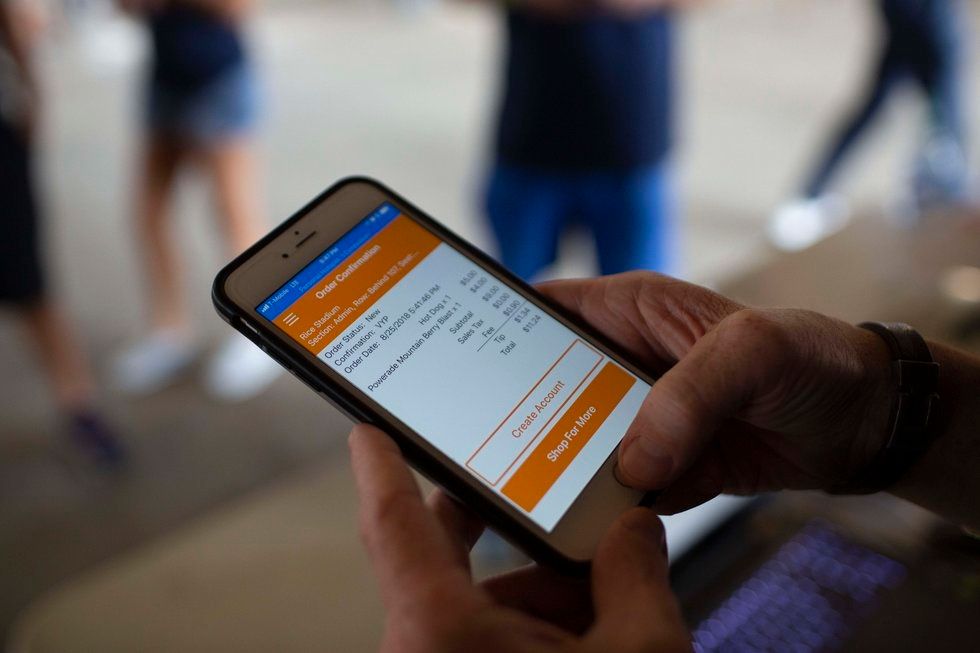 In-seat food delivery is going to be a must as fans return to stadiums safely. Courtesy of sEATz