Growing Houston podcast is bridging the gap between energy and tech
Feb 8, 2019, 11:00 am
The Oil and Gas Startups Podcast talks to local entrepreneurs who are shaking up the industry. Pexels
Collin McLelland and Jacob Corley want you to know that Houston has a whole lot of innovation in the oil and gas industry, and they want to tell you about it.
The two energy professionals launched the Oil and Gas Startups Podcast a few months ago to talk to energy entrepreneurs about oil and gas technology, leadership, and innovation.
"Jake and I really had a mission to shine a light on the oil and gas industry and what was happening in the technology and startup space," McLelland says. "There's a lot of exciting things going on, but not really a medium of content to see it."
The duo interviews a leader or founder of an energy startup — notable ones include Data Gumbo, Blue Bear Capital, and OAG Analytics — on an almost-weekly basis. Corley says he can tell the podcasts are helpful to listeners, because he and McLelland are learning a lot themselves.
"The conversations we have are genuine and authentic. The questions we ask are real," Corley says. "When we schedule something with someone, we purposely try to find out just enough about them to find out if we'll have a good episode with them."
Along with their sincere questioning, the hosts also bring a diversity in industry to the table.
"Collin is the guy who grew up in the field, and I have more of the tech background," Corley says. "From that standpoint, we really compliment each other."
While still new, the podcast has seen a lot of growth — about 1,000 new listeners each week over the past couple weeks — which is surprising to the two hosts since the topic is niche and professional.
"You think thing not many people would listen to a podcast that's so focused on something they do for their job, but that's completely wrong," Corley says.
McLelland says they've seen a shift in the industry. What's been known as a siloed, traditional field is being upended by new technology being introduced into oil and gas companies. A downturn resulted in a need for efficiency and a younger senior-level leadership — that's what's changed in the business, McLelland says, and that's why the podcast is here to document.
"To see the amount of traction the podcast has gotten within oil and gas really validates where the industry is going," McLelland says.
The two want to keep doing what they're doing when it comes to the podcast, while expanding into other media. They've launched a YouTube channel, and are working on regular content for a blog.
"We kind of wanted to bridge the gap between Silicon Valley and oil and gas and show the world what was going on in the industry — and specifically in Houston," McLelland says.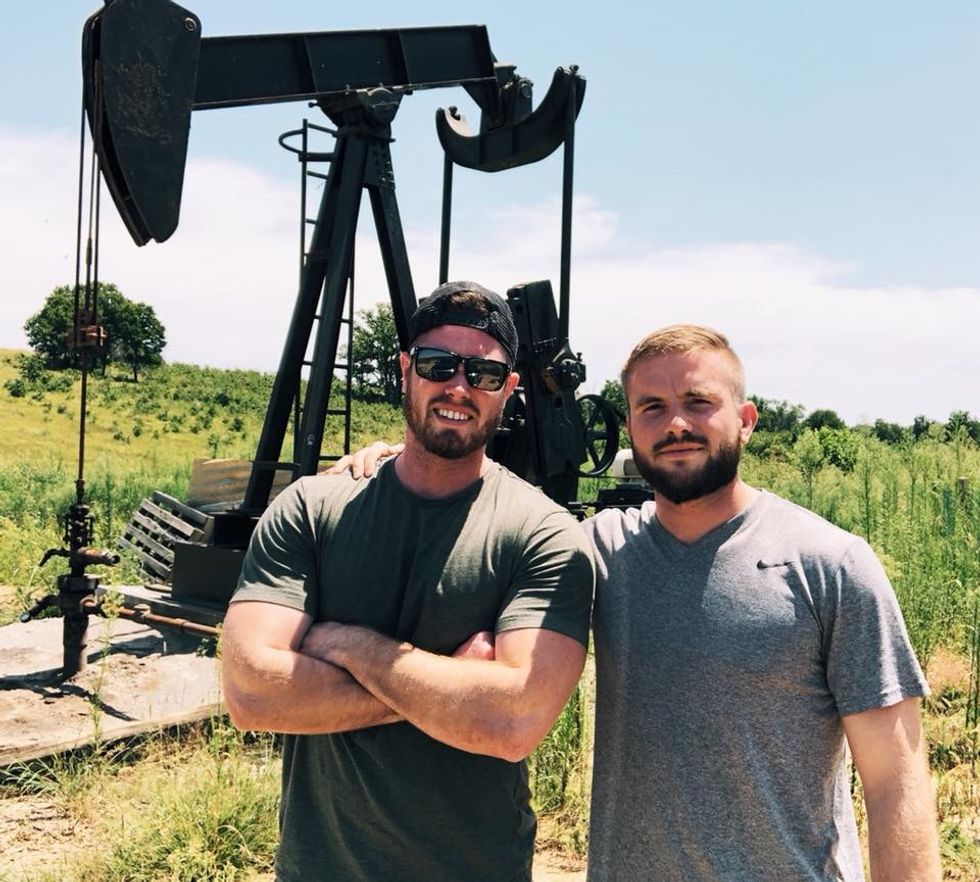 Collin McLelland (right) and Jacob Corley are the hosts of Oil and Gas Startups Podcast.