New report shows what industries in Houston are attracting the most venture capital investment
Mar 15, 2021, 1:42 pm
According to a new report, Houston's energy and health care industries are attracting the most VC investment — with cleantech and oncology investments specifically on the rise. Graphic via the Houston Tech Report by the GHP
According to a recently released report, a few key industries in Houston have attracted the bulk of the city's venture capital investment dollars.

The Houston Tech Report by the Greater Houston Partnership and Houston Exponential has revealed that the city is home to 8,800 tech-related firms, including over 700 venture-backed startups that have attracted over $2.6 billion in VC funding over the past five years. Annual VC investment has tripled in that same timeframe — from $284 million in 2016 to $753 million in 2020.
"Houston is a city that has been leading the way for decades, with breakthrough innovations that have truly changed the world," says Bob Harvey, president and CEO of the Greater Houston Partnership, in a news release. "Over the past few years, we have been working to transform an already incredible economy into one that competes as a leading digital tech city."
Zooming into the industries attracting the most capital in Houston, life sciences and oil and gas technology continue to reign supreme. Of the VC dollars going into Houston companies, 17 percent goes into life science companies and 17 percent goes into oil and gas, according to the report. Cleantech and Oncology are both niches in Houston that have seen growth in VC investment.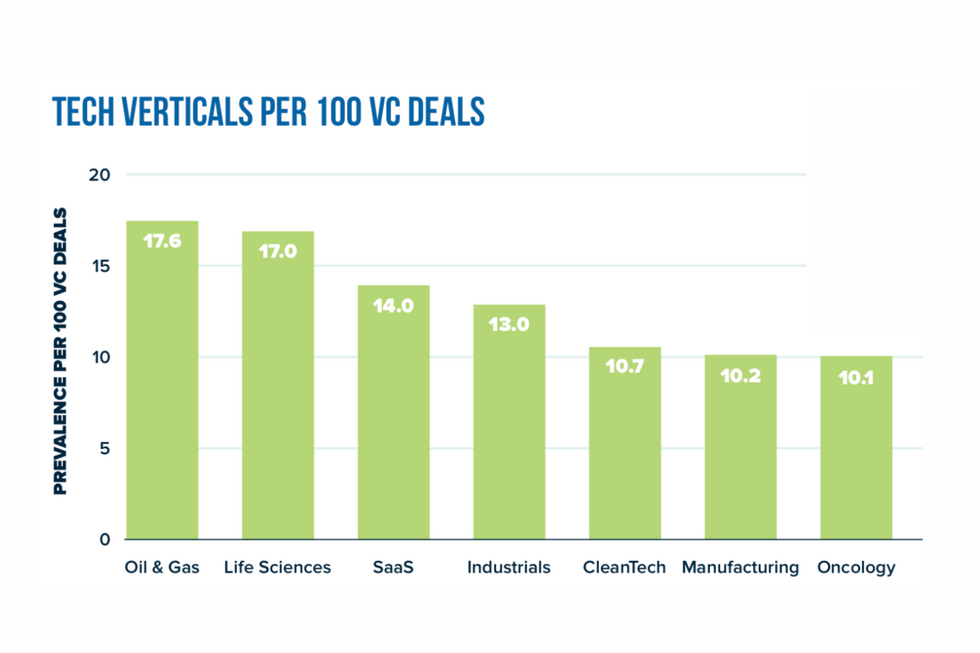 Graphic via the Houston Tech Report by the GHP
Software as a service has seen significant growth since 2011, and represents the third-most invested in industry with 14 percent of the VC investment.
Contributing to the innovation ecosystem's growth is an increase in startup development organizations — the city now has added over 30 SDOs including non-profits, incubators/accelerators, coworking spaces and makerspaces since 2017 — and access to tech talent. According to the report, Houston has the 12th largest tech sector in the U.S. with 235,000 tech workers, and this sector generates $28.1 billion to the region's GDP.
"Houston in 2020 had not one but two unicorns (private tech companies exceeding a $1 billion valuation), our first ever," says Harvin Moore, president of HX. "That's a reflection of both the rate of growth and early stage of our ecosystem. We will see an increasing number of startups as these companies continue to grow and others follow."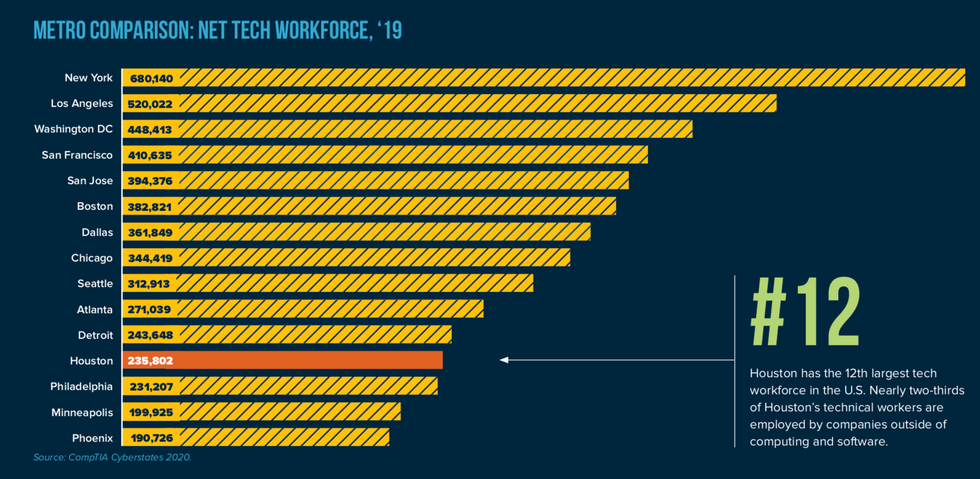 Graphic via the Houston Tech Report by the GHP
According to the report, the most active investors into Houston-based companies between 2017 and 2020 include Austin-based Capital Factory with 29 deals, Houston-based TMC Innovation with 25 deals, and Houston Angel Network with 23 deals.