Houston startup teams up with Austin company on medical device amid COVID-19 crisis
Jul 9, 2020, 10:38 am
Houston-based Galen Data is collaborating with an Austin health device company on a cloud-based platform that monitors vital signs. Photo via galendata.com
Two Texas companies with NASA roots are joining forces on a technology that can be used to monitor vital signs of seniors or others that are at-risk of contracting COVID-19.
Houston-based Galen Data Inc., which has developed a cloud platform for medical devices, and Austin-based Advanced TeleSensors Inc., the creator of the Cardi/o touchless monitor. Together, the two health tech companies are collaborating to take ATS's device and adding Galen Data's cloud technology.

"We wish we had found Galen Data sooner. We had been building our own cloud for six months, thinking a custom solution would best meet our needs," says Sajol Ghoshal, CEO and president of ATS, in a news release. "Getting up-and-running with them was very easy, and it allowed us to focus on our core competency — which is data-signal processing."

ATS's technology uses radio frequency in its remote, touchless monitoring. The company's founders developed the core technology at NASA's Jet Propulsion Lab. Initially, the technology was intended for assisted living facilities. Now, amid the COVID-19 crisis, monitoring isolated seniors or at-risk patients is even more relevant.
Galen Data, which launched in 2016, also has NASA roots as the founders met as software contractors working on NASA's safety systems. The company has developed and marketed its cloud-based platform for connecting medical devices to the internet, including pacemakers and glucose monitors.
Chris DuPont, co-founder and CEO, has led the company to meet compliance standards set by the U.S. Food and Drug Administration (FDA), the Health Insurance Portability and Accountability Act of 1996 (HIPPA), cybersecurity organizations, and others.
"We knew that our platform would be a great fit for Cardi/o," Chris DuPont, CEO of Galen Data, says. "Speed was critical, accentuated by the COVID-19 crisis. We were well positioned to address ATS' needs, and help those at-risk in the process."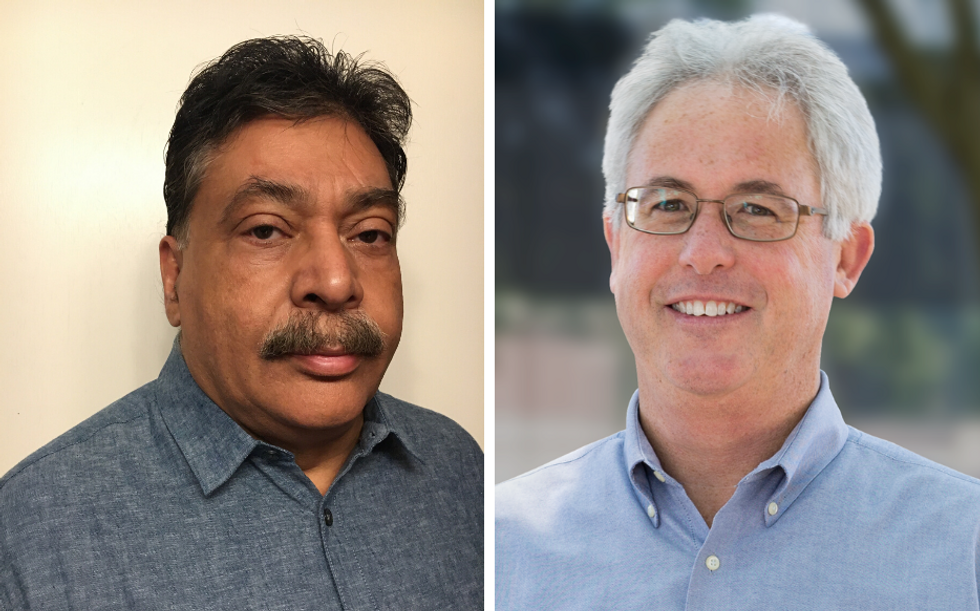 Sajol Ghoshal (left), CEO and president of ATS, and Chris Dupont, (CEO of Galen Data), are bringing together their technologies. Photos courtesy