Dallas coworking company to open its first location in Houston
Feb 24, 2020, 10:31 am
Fuse Workspace is the latest coworking concept for the west side of town. Photo courtesy of Fuse
Dallas-based Fuse Workspace is gearing up to open the first of what could be several coworking spaces in the Houston area as various coworking providers ramp up their Bayou City presence.
Fuse will unveil its first Houston location March 2 at CityCentre, a 47-acre, mixed-use development on the former site of Town & Country Mall in the Memorial City district. The grand opening is set for April 30.
Included in the 29,000-square-foot Fuse space, at 12848 Queensbury Ln., will be Houston's first showroom for Varidesk, a Coppell-based provider of standing desks and other office equipment.
John Herring, brand manager and director of operations at Fuse, says Houston, Austin, and Dallas are the company's target markets. A Fuse space is scheduled to open in July in the Austin suburb of Bee Cave.
"We love Houston and see a great future for our brand here, with multiple locations," Herring tells InnovationMap. "We don't have definitive plans to announce yet, but we have several strategic locations in the area that on our list."
Fuse is a division of DPG Partners LLC, a developer, owner, and operator of coworking spaces in Texas, as well as Hilton and Marriott hotels in Texas and Arkansas.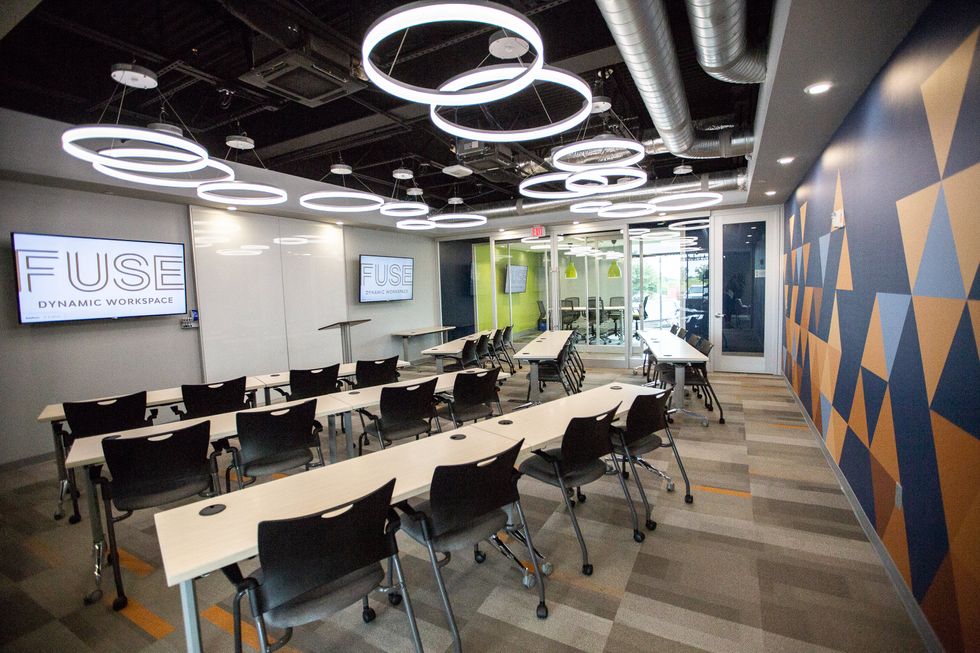 Fuse Workspace is the latest coworking concept for the west side of town. Photo courtesy of Fuse
The Fuse location at CityCentre will feature about 23,000 square feet of Class A office space, along with about 6,000 square feet of outdoor space. Highlights include:

90 private offices
Three specialty suites, including one already leased by Varidesk
Four terraces
Seven conference rooms, including a podcast studio
Event space accommodating up to 100 people
"Our goal is to create an outstanding experience in the office through décor, amenities, programming, conference space, and our concierge staff," Herring says.
Fuse is joining a number of coworking providers that have set up shop in and around Memorial City. For instance, Life Time Work, affiliated with a nearby Life Time Fitness gym, opened last year at City Centre. Memorial City also is home to The Cannon, a 120,000-square-foot coworking campus.
Commercial real estate services provider JLL predicts 30 percent of the U.S. office market will be "flexible" space, such as coworking setups, by 2030. That compares with less than 5 percent in early 2019.
In the Houston market, 1.9 percent of office space was considered "flexible" in early 2019, according to JLL, versus 2.8 percent in Austin and 1.7 percent in Dallas.
"Our research, and our conversations with corporate executives across the globe, indicate that flexible work is not just a passing trend — it's woven into the fabric of the future of work," Scott Homa, senior vice president and director of U.S. office research at JLL, said in a 2019 release. "Even though some markets are better positioned for rapid growth, this still leaves significant runway for expansion across all U.S. office markets."
An October 2019 report from Yardi Matrix, a provider of real estate data, shows the Houston market with 113 coworking spaces encompassing more than 2.2 million square feet. By comparison, Dallas-Fort Worth had 159 coworking spaces exceeding 3.5 million total square feet, and Austin had 47 spaces surpassing 1.2 million total square feet.
"The penetration of coworking is highest in markets with new-market economies and tight vacancy rates," the Yardi Matrix report states.
According to JLL, the office vacancy rate in the Houston market stood at 22.8 percent in the fourth quarter of 2019. But office occupancy is improving, according to a
JLL report
, as more than 1.85 million square feet of space was absorbed in the Houston market during the fourth quarter of 2019. For Houston, that marked a 20-year high for positive net absorption in a single quarter, the report states.