Self-driving rideshare company cruises its robotaxies into Houston
May 11, 2023, 1:05 pm
Soon, you'll be able to cruise to your destination without a driver in Houston.
Photo via Cruise/Facebook
Anew driverless ridehail service is coming to Houston: Cruise, the all-electric, driverless car company backed by GM, is expanding in Texas with launches in both Dallas and the Bayou City.
This follows an initial launch in Austin in 2022, their first city in Texas.
Cruise builds and operates driverless vehicles that you can call via an app, like any other ride hailing service. "But our vehicles show up without anyone else inside," they say.

The entire fleet is all-electric and the vehicles are equipped with a 360-view, with the ability to react to whatever they encounter on the road.
They test their vehicles using simulations, through millions of scenarios and virtual miles; they've also driven more than 4 million real miles, mostly in San Francisco.
They have not defined what the cost will be but according to The Verge, the rates in San Francisco vary depending on length of trip and time of day: "A customer taking a 1.3-mile trip would pay 90 cents per mile and 40 cents per minute, in addition to a $5 base fee and 1.5 percent city tax, for a total of $8.72." By comparison, an Uber ride for the same trip would cost at least $10.41.
The company was founded in 2013 and vehicles began to hit the road in 2022. They operate a total fleet of roughly 300 all-electric AVs, powered 100 percent by renewable energy. In addition to Austin, they operate in San Francisco and Phoenix, where they've completed 35,000 self-driving deliveries in a partnership with Walmart.
According to a statement from CEO Kyle Vogt, they'll begin supervised driving (with a safety driver behind the wheel) in Houston as they finetune their AI technology to understand the nuances and unique elements of the city, with Dallas to follow shortly after.

In a blog post, Vogt says their cars drive the speed limit and come to a complete stop at every stop sign. They respond to police sirens, flashing lights on fire trucks or ambulances, and stop signs that fold out of school buses.
They react to people on scooters, people using bike lanes, and cars driving on the wrong side of the road. "In short, they are designed to drive safely by obeying the law and driving in a humanlike way," he says. Actually, that sounds better than humans.
When vehicles encounter a situation where they aren't 100 percent sure of what to do, they slow down or stop and pull over to the side of the road. This has caused some bumps in San Francisco where cars stopped and idled in the street for no apparent reason, delaying bus riders and disrupting the work of firefighters.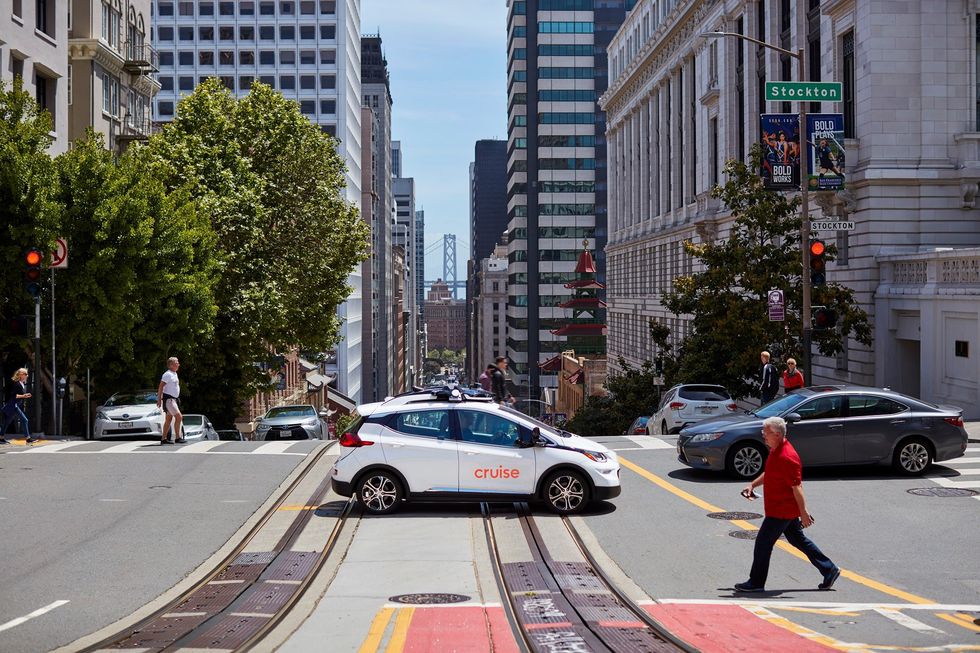 Photo via Cruise/Facebook
Some of the "bumps" have been comical, such as the 2022 incident in which a confused San Francisco police officer pulled a Cruise over, and then the Cruise drove away.
And as Reuters notes, autonomous vehicles have not rolled out as fast as anticipated, due to regulations, safety investigations, and arduous technology.
When Cruise first enters a city, they hire a mapping and data collection team to learn bike lanes, school zones, and major intersections. But most of the time, the vehicles will be carrying riders in the back seat, or completely empty and en route to another pickup.
The company partners with first responders, including police and fire departments, to ensure they're ready and familiar with how to interact with the vehicles, engaging with those agencies before and after launch.
"Our guiding mission has always been to improve road safety, reduce emissions, and reduce congestion with our driverless ride-hail service in cities, which is where we'll see the most significant positive impact the soonest," Vogt says. "Houston and Dallas are committed to reducing traffic deaths as part of their Vision Zero commitments, and we are excited to operate in and partner with these new communities in this shared mission."
------
This article originally ran on CultureMap.