Houston-based 'AirBNB for churches' startup completes Amazon accelerator, gathers fresh funding
Aug 17, 2022, 10:53 am
Amazon's accelerator focused on founders of color has helped Houston startup ChurchSpace reach new milestones. Image via bookchurchspace.com
Houston startup, ChurchSpace, recently participated in the inaugural cohort of the AWS Impact Accelerator for Black Founders, which included a pre-seed fundraising campaign and a $125,000 equity-free grant from Amazon.

The startup, coined as the "AirBNB for churches" is a tech-enabled marketplace that has a mission to minimize low utilization rate of church real estate across the country. Per the website, ChurchSpace is accepting congregations on its waitlist and is expected to launch this fall.
The AWS Impact Accelerator strengthened ChurchSpace's efforts of turning underutilized church real estate into on-demand event, worship, and kitchen space. The program provides high-potential, pre-seed startups the tools and knowledge to reach key milestones such as raising funding or being accepted to a seed-stage accelerator program.
"Being a part of the inaugural Aws Impact Accelerator has changed the trajectory and tech build of ChurchSpace," says Day Edwards, CEO and co-founder of the company. "From the grant, to have the tech stack and resources needed to build Version 2 of ChurchSpace to ensure Churches can share their space safely has truly been a blessing. Before AWS we weren't clear on our fundraising strategy. Now after ending AWS we are clear, with a date to open our pre seed round, and even better we have investors waiting! I urge any female founder to definitely take the time to apply this is a life-changing opportunity for all start-ups."
As one of 25 startups selected for the program, ChurchSpace also received credits, extensive training, mentoring and technical guidance, as well as introductions to Amazon leaders and teams, networking opportunities with potential investors, and ongoing advisory support.

"For underrepresented founders, access is power. And as Black founders with an audacious mission to eradicate high church underutilization rates, the access to capital, mentorship and tech innovation support will create tidal waves of positive impact that reach far beyond our internal operations but spread to thousands of local communities across the nation," says Emmanuel Brown, ChurchSpace co-founder and COO.
AWS recently announced its three-year, $30 million commitment to the program. Amazon is currently looking for female founders for the next cohort that is now open with the deadline date of August 26.
MassChallenge Texas alum, ChurchSpace was founded in 2020 by two Black millennial pastors' kids who witnessed the crippling effects that large church financial overhead placed on church leaders. The marketplace allows churches to earn extra revenue while remaining compliant with IRS nonprofit regulations. ChurchSpace is expecting to launch in 10 states with over 6,000 waitlisted users.
"I want to congratulate a truly innovative and inspiring group of startups selected from thousands of applicants for this opportunity. On behalf of the entire team, we are honored to support them on their journey," says Howard Wright, vice president of startups at AWS.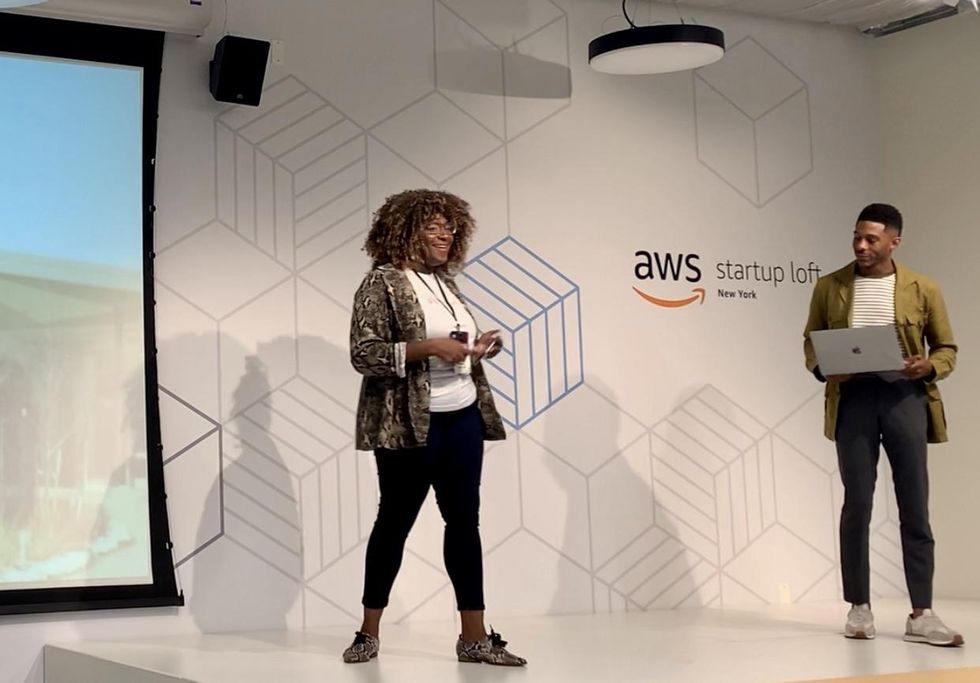 Day Edwards is the co-founder and CEO of Church Space, which was founded in 2020. Photo courtesy of Church Space