Houston startup founders take one-of-a-kind projection device into manufacturing phase
Dec 14, 2021, 1:19 pm
The idea for Splay, a unique device perfect for a mobile workforce, was born on the Rice University campus. Images courtesy
A Houston company born out of Rice University has crowdfunded its way into the manufacturing phase of its startup journey.
Arovia, founded by Alex Wesley and George Zhu, has a product that solves some major obstacles people on the go face as they work — or entertain — from home, a hotel, coffee shop, etc. Splay is a unique collapsable, portable device that doubles as both a display and projector.
The founders first launched their product in 2016 and raised over $700,000 from backers on their crowdfunding campaign. After raising investment funding, including an investment from the Texas Halo Fund, Wesley and Zhu recently returned to their crowdfunding roots and ran a 30-day pre-order campaign on Kickstarter during which they sold over $300,000 worth of product.

"We couldn't have made Splay without the Houston Startup Community," Wesley says.
Wesley was an MBA student when he met Zhu, who was working towards a B.S. in Mechanical Engineering, after posting a job description in search of a co-founder, a requirement of the Owlspark program.
"Owlspark accepted the business idea, with the stipulation that I needed to find a co-founder," says Wesley. "I sent out a job description, and a big part of the application process was to provide ideas for making this crazy idea work. I sent the job description at around 9 pm and received an email from George at around 1 am with an extremely detailed proposal. That was the start; and since then, we've basically been like brothers — I've even lived with him and his parents in China."
Wesley credits Owlspark as an important part of their formation, beyond the impetus for their partnership.
"It was a great experience for us. The focus on customer interviews is something that is very easy to avoid, but it's extremely important. You don't have a product if nobody wants to buy it — you don't have a company without customers," Wesley says. "During our time at Owlspark, we did over 100 customer interviews, which gave a lot of insight into the viability of the idea and who it would be useful for. We still utilize many of those insights today."
But Owlspark wasn't the only accelerator program that Wesley and Zhu joined. They also participated in Hax, a top hardware-focused accelerator, and Luminate, a top optics-focused accelerator. They also competed in the Rice Business Plan Competition, which Wesley says helped them refine their pitch which ultimately secured their funding.
"We pitched at angel groups including the Houston Angel Network and their fund The Halo Fund, Keiretsu Forum and their fund Keiretsu Capital, Rochester Angel Network, and the GOOSE Society. We also won the Texas A&M New Venture Competition," says Wesley.

With this financial backing, Arovia received the necessary support for the R&D phase for Splay, taking the product into its manufacturing process and pre-sale campaign.
"Yes, it went very well," shares Wesley, adding that they are still looking for support on the
Indiegogo campaign
. "Now we are focusing on pre-selling in other markets, like Japan."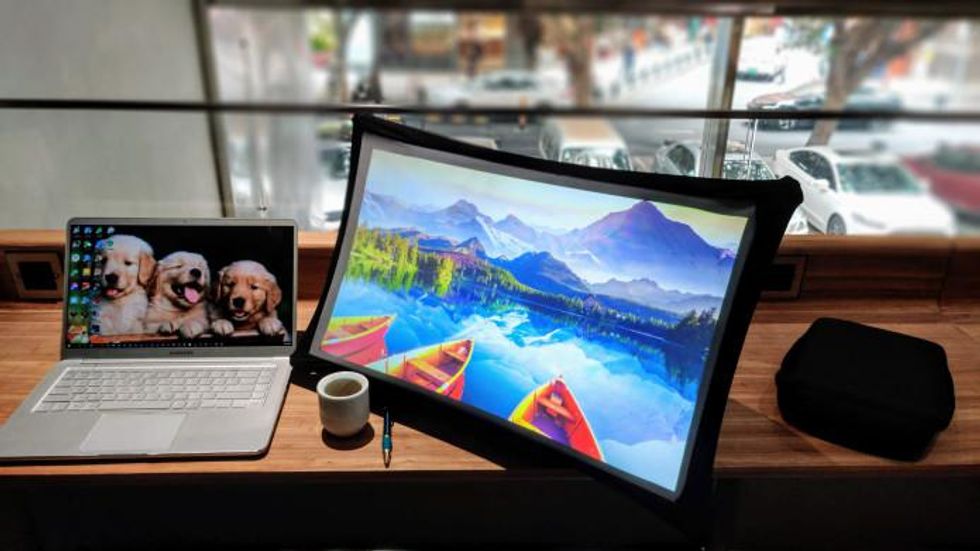 Splay can be used as a portable screen, or the projector can be removed to be used on its own. Photo via Splay