App aims to connect Houston mothers using AI technology
Jan 4, 2019, 8:35 am
Houston-based Social Mama uses its platform to connect mothers based on location, interests, and the things their children have in common. Courtesy of Social Mama
Sometimes, to be a mom, is to feel utterly alone. Not every mom is the same, and it's tough for women to find the right support systems — people who are going through or have gone through the same struggles.
A new Houston-based app, Social Mama, is providing a solution. The technology uses artificial intelligence and data collection to learn about its users and match them to other users based on their location and specifications. It's like online dating, but for mothers, co-founder Amanda Ducach says.
"The social impact of the product is so important," Ducach says. "I can't explain to you the isolation and the problem that exists in motherhood. I was completely unaware of it before I started the company."
The idea came to Ducach when she moved across the country to Houston from Minneapolis. Her best friend was in sudden need of a new network — preferably moms who liked wine, spoke Spanish, and had peanut-free households so her son could play without the risk of his allergies. Wanting to help the friend they had abandoned, Ducach and her husband, who is a data architect, decided to try to find a way to get there friend a new friend she could relate to.
"We realized there was nothing that existed that allowed two mothers to connect based on where they lived and their interests, that also took information about their children in account," Ducach says. "We decided to create it."
The app, which is based out of Station Houston, has been in beta with a couple thousand users, but, based on users' experiences, Ducach says they are making a lot of changes before they launch to the public in spring of this year.
Beta lessons learned
Thinking that mothers are too busy for lengthy setups, Ducach made signing up for Social Mama simple.
"We completely put out the wrong product, which isn't a bad thing," Ducach says. "We assumed they would want us to figure out who to match them with, but it's the complete opposite."
The mothers are happy to spend 10 to 15 minutes during the sign in process after downloading the free app, Ducach says, because they want to give the app as much information as possible. They are looking for niche matches.
Another surprise for Ducach was that, similar to dating apps, starting a conversation with a stranger — ideally matched or otherwise — is tough.
"We thought that because it was two women, and there's no sexual chemistry, that it would be easy for them to reach out and start a conversation," Ducach says. "But they actually still find it incredibly awkward."
The app will have things like ice breakers or games to help get the ball rolling.
She also didn't think the mothers would want something like a newsfeed. However, users who might not be in a highly populated city primed for face-to-face friendship still might want access to asking fellow mothers advice in a post on a forum. So, Social Mama will have a customizable, AI-generated newsfeed — kind of like a forum. Posts will have tags, and users will only see things they have an interest in.
"As you continue to use the app, it will create a persona for you," Ducach says, "and it's not mothers that are like you, but mothers you tell us you're looking for."
The app will know when a mother transitions from newborn mother to toddler mother, so that her matches stay relevant as her child ages.
Making an impact
This year, Social Mama will go live in the spring, and Ducach has several growth plans surrounding launch. The app will be fundraising for pre-seed money in 2019, and expanding the team to include a data scientist, as well as other department hires. The company currently has eight employees — most of which are in the Houston HQ — but some reside in Boston and around the world.
The core components of the app are the matching and AI-generated newsfeed, but hosting event meet ups is another successful avenue for the app, as is the potential to recommend products to the mothers. Ducach says this could be a part of the the app's business plan, as is a subscription model for moms to opt into extra perks.
"We know so much information about these moms that they are telling us, that we have the ability to send them recommended products from other mothers," she says.
While Ducach says the initial launch will only be in Houston, the app is already in big demand worldwide. She says they had to shut down the beta version because they had so many international downloads and they were concerned about cybersecurity.
"Moms want this in Germany, China, and Cypress, Texas," Ducach says. "It's really a need everywhere, and we're really excited to expand and see which markets take off."
Ducach says she is excited for the app to go live and affect these moms' lives.
"We're really excited because it should really change the trajectory of these women's lives and create a support group they've never had before," Ducach says.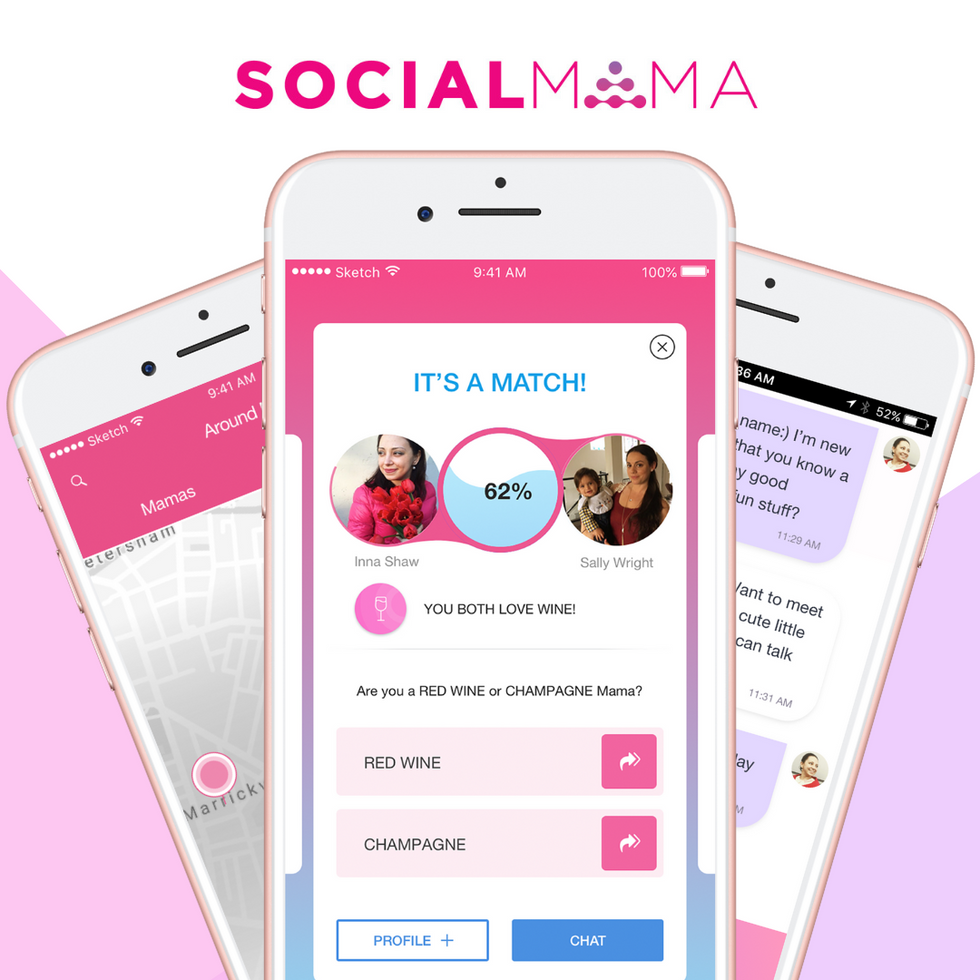 Social Mama went through a beta phase, but when it launches in the spring, it will be totally different. Courtesy of Social Mama