This Houston tech startup is helping businesses find the funds during COVID-19 crisis and beyond
Apr 27, 2020, 1:20 pm
Houston startup Grant Source, which helps its clients find the right grants to apply for, has seen a surge in business amid the coronavirus shutdown. Getty Images
Since 2015, Grant Source has perfected the art of helping businesses, foundations, and organizations find and secure grant funding — and now their expertise has become vital to COVID-19 response initiatives.
With the devastation caused by the novel coronavirus, America's medical organizations have been scrambling to obtain the funds required to purchase the testing kits, masks, PPE, and other life-saving products needed to help curb the effects of the global pandemic and now, thanks to the mobile and web platform, they're getting the assistance they need to accomplish that goal.
"COVID-19 response is actually our claim to fame right now," says Allen Thornton, founder and CEO of Grant Source. "We have probably done more business in the last few months than we have since we started. Simply because we are helping people find grants with the CARES Act. There's over $500 billion out there, which has created overnight a $40 billion market opportunity for us."
Grant Source has worked extensively with city, county, state, and government agencies to secure grant funding, which is why they have become a game changer for those that need emergency capital to combat COVID-19's challenges.
"Initially, it was scary because we lost some of our clients, but then a bunch of medical clients came to us and asked if we could help them find funding for COVID-19 outreach," Thornton says. "We've found that they have a higher probability of success right now because with COVID-19 outreach, the procurement cycle has gone from six to nine months down to 30 days, which is unheard of."
In addition to telemedicine companies, Grant Source has been helping write grants for clients that range from airports to technology companies in order to help provide them with a path forward in the fight against the novel coronavirus.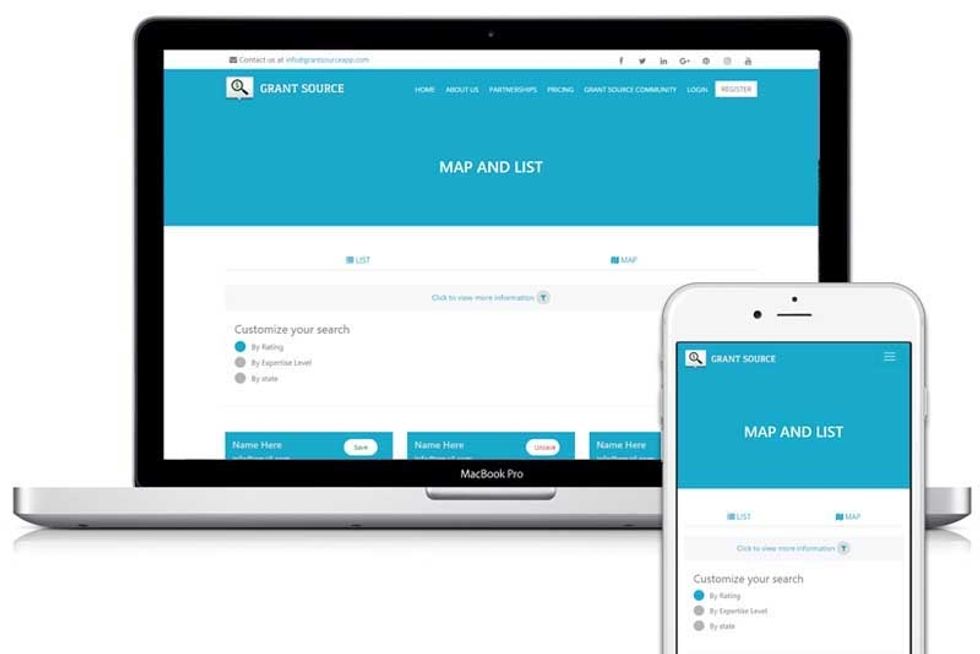 Grant Source has created a database and a suite of resources for companies looking for grants. Photo via grantsource.com
Preventing federal funding waste
Outside of the context of a pandemic, the government uses grants as a way to fund ideas and projects that provide public services and stimulate the economy.

Grants are also essential when it comes to supporting critical recovery initiatives and innovative research, but on a fundamental level, very few even know how or where to start when it comes to applying for one and it becomes even more esoteric when it comes to getting funded. That's why so much grant money goes unclaimed, with millions of nonprofits and businesses going underfunded and not maximizing their impact.
"Over $3.2 billion in grant money goes unclaimed every single year," says Thornton. "We have a broken system and we wondered what we could do to change it, so we started Grant Source, our revolutionary grant funding system, to help organizations find and secure money for their mission."
Client-focused services and support
In addition to helping clients find grants, Grant Source assists with the necessary pre-work to apply for a grant.
"We started out as just a database where you could find grants and grant writers," says Thornton. "But in listening to our customers, they wanted us to do everything full service, too. So, I flew all across the country from Minneapolis to Kansas to Los Angeles to Toronto and put all the top grant writing associations on retainer and created what is Grant Source today, which is pretty much mobile for grants."
Thornton says Grant Source has more than 1,500 consultants across the U.S. and Canada, and these professionals each have different specialties — much like a lawyer or a doctor — and relationships in different states.
For a flat fee that ranges from $500 to $5,000 per month, Grant Source will set out to procure its clients grants that range anywhere from $50,000 to $1 million based on their goals. To date, Grant Source has helped businesses and organizations find and secure over $6 million in grant funding.
New clients first sign up for an assessment with Grant Source that establishes what the client's goals are and how the company is set up. Once Grant Source has established a few options for the client, they get started on submitting to the grants. In order to protect its customers from the uncertainty of the process, Grant Source offers investment protection for 12 months.

"We have the investment protection so customers won't be left empty handed," says Thornton. "It's risk free, so if they don't at least get their investment back within the first 12 months, we'll either continue their grant at no cost or we'll give them a credit for the difference."
Founded from a personal need
Treating customers with fairness is important for Grant Source because they started out as a nonprofit seeking grant funding themselves and soon learned that there was a lot that they did not know about the process.
"When I was at UTSA in 2006, the African American graduation population was less than 6 percent, which was unacceptable, so we started a nonprofit," says Thornton. "We made a lot of impact in just a few years. We increased the graduation population from 6 percent to about 38 percent, And, for the 2008 election, we were able to register over 3,200 students."
After graduation, Thornton says he saw an opportunity to expand to other colleges, but lacked funding to do so.
"We saw grants as a huge opportunity and they are, but unfortunately, they're also a huge hassle and it takes a lot of time and energy and effort to even find one that you qualify for," he remembers. "And even when you do, if you don't know how to write the proposal, you're dead in the water."
After the grant process failed, Thornton's money was gone with no communication or valid reason as to why. That frustrated him to the point where he wanted to provide coherent solutions to the problem himself.
"I spent a ton of money on education and researching top grant writing associations," says Thornton. "Most people don't know where to find grants, and there are so many different types of grants and places you can find them. For instance, we're working on a federal proposal with the federal government, there's 26 different agencies that still don't even know how to talk to each other."
Creating a lasting impact
From the outset, Grant Source started creating corporate responsibility programs and impact within a cost center for organizations that were for profit companies. They seek to put them in ideal situations to create the kind of impact that warrants grant funding.
"What we teach our clients is that you can't approach the process with the idea that you will get the grant money and then go out and create come impact," says Thornton. "You have to focus on being able to showcase the impact that you're already creating and then we can go find money for that. If you can articulate the impact of whatever you're doing is creating, we can find the person that cares about that.
In addition providing the software and platform for grant seekers, Grant Source offers a book, courses, seminars, workshops, and conferences that offer the baseline information needed to secure grant funding.

"At the end of the day, Grant Source is a technology platform that helps organizations find money for their mission," says Thornton. "We've streamlined the grant writing process and the grant finding process. At Grant Source, we don't focus on the money, we focus on the impact and then we give people a clear path to make it happen."