Houston entrepreneur's mobile platform brings gains to small restaurant chains
Oct 22, 2020, 10:59 am
A Houston restaurateur and tech founder is giving the food and restaurant business a new marketing opportunity with VIPinsiders. Photo by Andrea Piacquadio from Pexels
Food is the way to a Houstonian's heart. With critically-acclaimed cuisine and an abundance of diversity, Houston is the South's culinary pride. COVID-19 has now stirred uncertainty in a once definitive piece of the city's culture, and restaurateurs are looking for solutions. For Philipp Sitter, CEO of VIPinsiders, artificial intelligence is a step in the right direction.
Sitter holds many titles: CEO of KB Restaurant Group, President of EggHaus and King's Bierhaus — and now, tech founder. In 2019 he launched VIPinsiders, "a rewards program that uses artificial intelligence (AI) to understand the customer on an individual journey," he explains.
"I was born into the restaurant industry," says Sitter, as he remarks on immigrating from Vienna as a child and opening the first King's Biergarten in Pearland in 2011. As a fifth-generation restaurateur, he is familiar with "the love and pain of the industry." When he took on the challenge of marketing his family's "obscure German restaurant behind a car wash in Pearland," he became "obsessed" with the trade.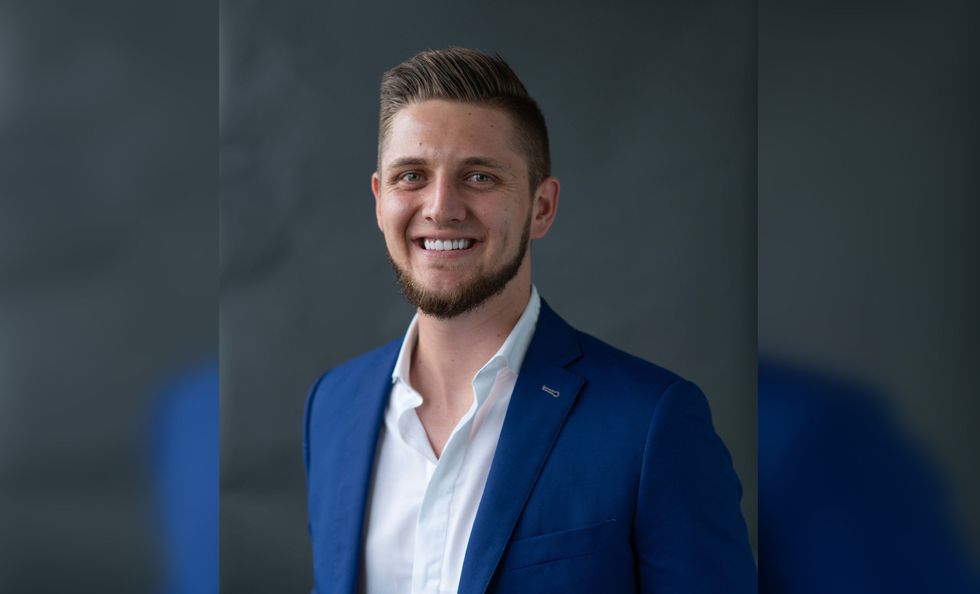 Philipp Sitter launched VIPinsiders last year. Photo courtesy of VIPinsiders
After building excitement around EggHaus, the Instagrammable haven that's attracted both breakfast lovers and influencers, Sitter wanted to find a way to build the same buzz at his other restaurants using technology.

Going mobile
From Starbucks Rewards' gold stars to Chick-Fil-A One, reward programs have been tested and utilized by the Goliaths of the restaurant industry for years.
When looking at the cost of building a mobile app like Starbucks, he determined it to be impossible.
"We're talking about millions that go into developing technology. What restaurant is going to be able to afford something like that?" he asked.
The plan soon crystallized: Sitter decided to create a mobile platform that uses AI to personalize unique offers and experiences for customers while taking the responsibility from the shoulders of restaurant owners with smaller, multi-unit concepts. By developing and scaling the mobile platform by providing its services to other businesses, "then it would all of the sudden become affordable for everybody," he realized.
Deciding to create a mobile platform was the easy part.
"I wasn't born with the emotion of fear in business," shares Sitter, who has dabbled in obscure endeavors from washing cars to flipping classic cars on eBay.
After formulating the VIPinsiders concept, he hired a team of developers to "use the psychology of everything I've learned in marketing and put it into a technology platform," he explains.
The user experience
Each client gets a tailor-made approach, ensuring the rewards and loyalty features are made to fit the restaurant. The VIPinsiders staff builds custom mobile platforms for its small and medium-sized restaurant chain clients that utilize the restaurant's branding, menus and events for $299 per month.
"We got through a discovery call in which our team will actually build the rewards journey for them and show it to the business owner for approval," explains Sitter, "We don't want to give the owners and managers a homework assignment."
Once the platform is approved, Sitter's team trains restaurant owners. In-house copywriters and designers then develop print material for the restaurant to cross-promote the rewards program.
According to VIPinsiders' internal data, 95 percent of users find the app "easy to use." Using QR technology, customers can sign up by scanning a QR code rather than downloading an app.
"The restaurant gets to know me [the customer], it understands how often I visit, it also gets to reward my visitation," explains Sitter. Rather than a one-size-fits-all reward program, the platform is meant to showcase different menu items and offerings.
"Most importantly, it reminds me to come back when I haven't visited in a while."
Data recorded by VIPinsiders shows that 48 percent of users visit restaurants with the platform "more often" in the first 90 days.
Text message marketing 
When stay-at-home orders first took effect in Harris County, many business owners could not update their business hours or post new content on the Google My Business platform due to the site's halted review process during COVID-19.
The issue left business owners with one less form of contact, creating a vulnerability in customer communication. Social media marketing doesn't quite come to the rescue either, with Facebook's algorithm showing an average of 5.5 percent of a brand's following will see its post.
To Sitter, text messaging is "the next frontier."
Due to COVID-19, VIPinsiders recently ran a promotion to provide free platform use and unlimited text capabilities for a limited time to restaurants. "We've gotten a lot of incredible emails and feedback saying thank you for letting us use this and helping us [get] back our business," says Sitter.
"It's time for all of us to take our power back, to own our customer [data] and be able to talk with them directly and not have to pay the middleman [like social media companies] and really have the relationship that customer opted in for," says Sitter.
As one of the first mobile platforms approved by the Texas Alcoholic Beverage Commission, restaurant clients can extend happy hour offerings and provide customers with free alcoholic beverages.
At King's Bierhaus, Sitter was able to deploy an alcohol-to-go offer via text message that resulted in $40,000 of bottled King's Whiskey sold.
"I was able to sell that because I was able to text my customers directly," Sitter says.
Clients outside of Sitter's own properties also see growth. Ninety-three percent of restaurants using the VIPinsiders platform reported an increase in sales.
"I would absolutely recommend other operators to sign up for VIPinsiders because it has increased our sales, our guests love it, and the support we get from them makes it effortless," explains Usman Dhanani, President of Operations for Cyclone Anaya's Tex-Mex Kitchen, in a VIPinsiders testimonial video.
El Toro, a Mexican restaurant chain with six Texas locations, generated an estimated additional $735,000 in sales with a total of more than 35,000 additional customer visits, according to VIPinsiders data.
"The biggest brands in the world and celebrities lead a charge into marketing initiatives," says Sitter, "A company like ours will bring that to small businesses and make it affordable for them so they can compete at the highest level."