Here's what startups are going to the Venture Houston pitch competition's semifinals
Feb 2, 2021, 1:34 pm
A panel of judges selected 30 startups to compete in the Venture Houston pitch competition. Here's who's competing for over $1.7 million in investment prizes. Graphic courtesy of HX
Venture Houston — a two-day virtual conference put on by the HX Venture Fund — is slated for Thursday and Friday of this week, and, in addition to several panels, the event has a startup pitch competition with over $1.7 million on the line.
Judges selected 30 semifinalists and assigned to three different tracks — each named for a Houston sports team — for the competition. The semifinals will take place on Thursday, February 4, at 1:30 pm. Two startups from each track will move on to compete in the finals on Friday, February 5, at 1:30 pm. Three winners will claim cash prizes — first place will win $15,000 from Halliburton Labs, second place will win $10,000 from Softeq, and third place will win $5,000 from ChampionX.
InnovationMap is the media partner for Venture Houston. Click here to register for the two-day virtual event.
There are also 11 investment prizes on the line, and all of the 30 semifinalists are eligible to win those:
$500,000 from Fitz Gate Ventures
$250,000 from The Artemis Fund
$250,000 from Montrose Lane
$250,000 from Live Oak Venture Partners
$150,000 from Carnrite Ventures
$100,000 from Mercury Fund
$100,000 from Next Coast Ventures
$50,000 from Houston Angel Network
$50,000 from Texas Halo Fund
$50,000 from Plug and Play
$25,000 from baMa
Twenty-six judges — representatives from venture groups, startup development organizations, and more — evaluated entries and selected the following semifinalists for the competition:
Astros Track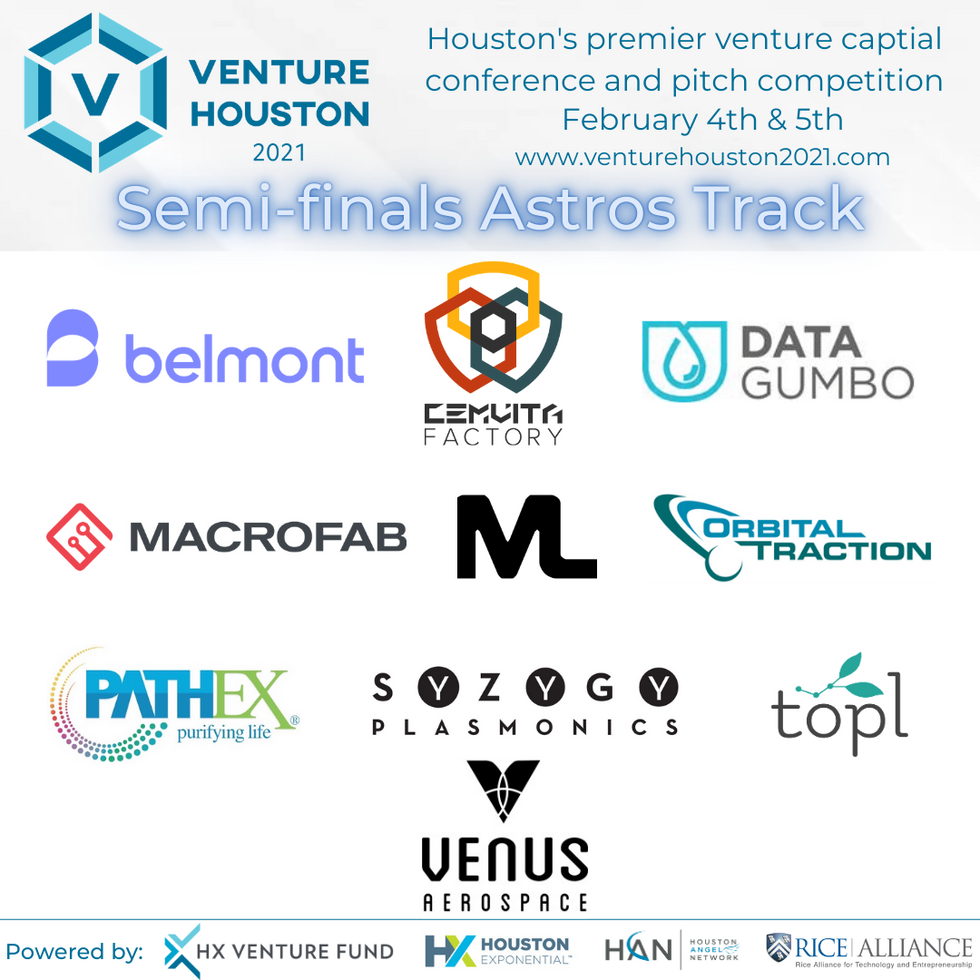 Graphic courtesy of HX
Pitching order for this track is:
Belmont Technology Inc - Jean-Marie Laigle
Cemvita Factory - Blake Manuel
Data Gumbo - AndrewBruce
MacroFab - MishaGovshteyn
Mainline - Chris Buckner
Orbital Traction - Stuart Schaaf
PATH EX - Sinead Miller
Syzygy Plasmonics - Trevor Best
Topl - Kim Raath
Venus Aerospace - Sarah Duggleby
Dynamo Track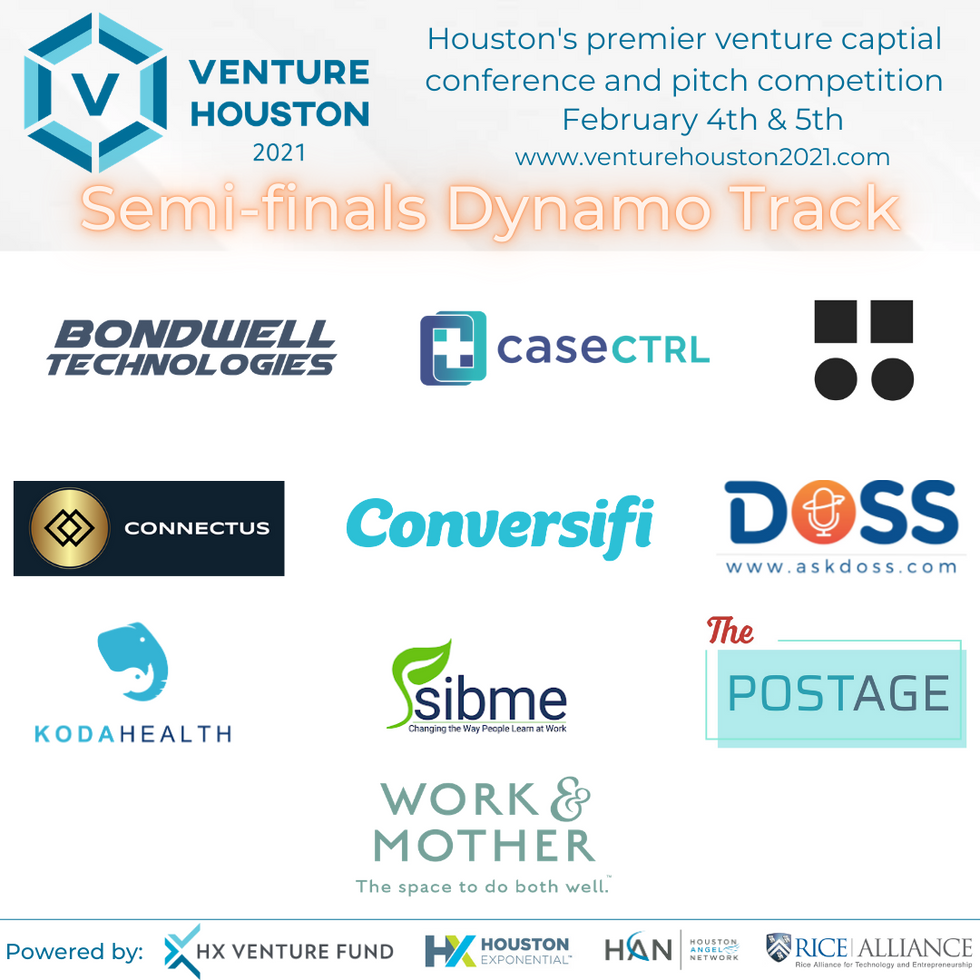 Graphic courtesy of HX
Pitching order for this track is:
Bondwell Technologies - David Howell
CaseCTRL - Pamela Singh
Cinevva - Mariana Muntean
Connectus Global - Michael Anderson
Conversifi - Steven Krubiner
DOSS - Bobby Bryant
Koda Health - Tatiana Fofanova
Sibme - David Wakefield
The Postage - Emily Cisek
Work & Mother - AbbeyDonnell
Rockets Track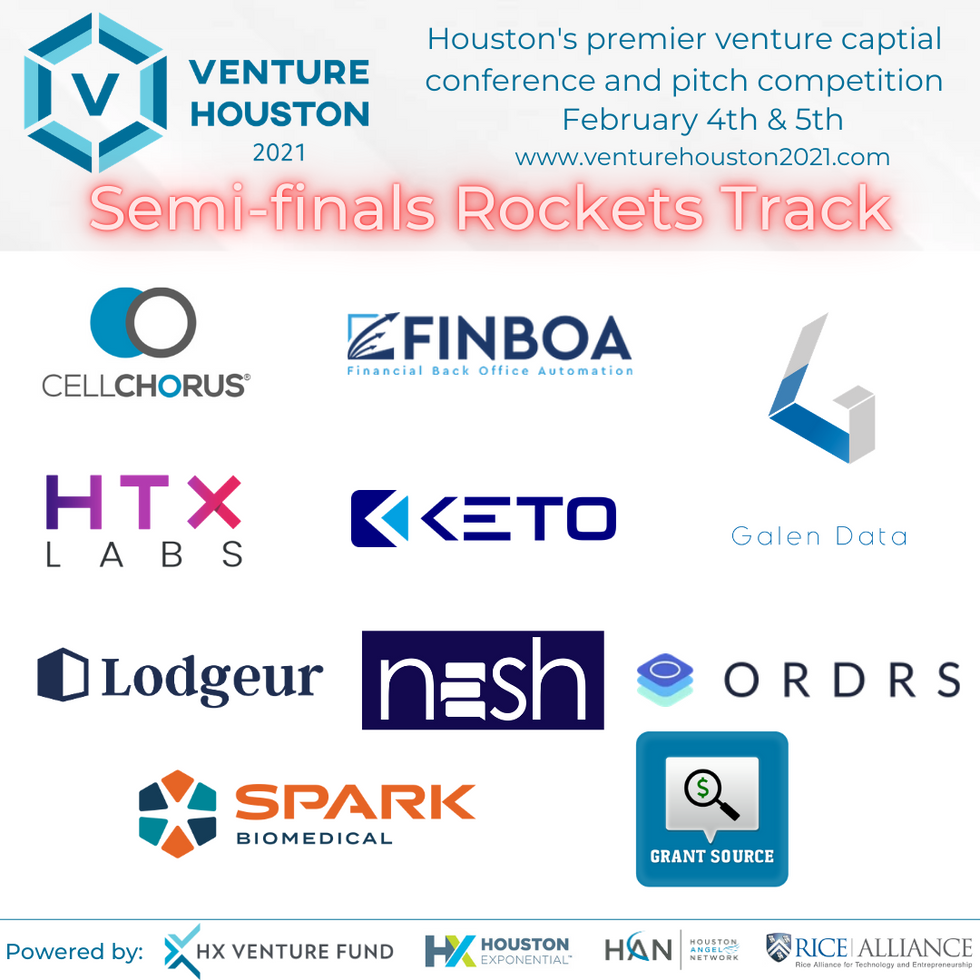 Graphic courtesy of HX
Pitching order for this track is:
CellChorus - Daniel Meyer
Finboa - Dheeraj Singal
Galen Data - Chris DuPont
HTX Labs - Scott Schneider
Keto A.I Inc. - Jeff Jenson
Lodgeur - Sebastien Long
Nesh - Sidd Gupta
ORDRS - Erik Ibarra
Spark Biomedical Inc - Daniel Powell
Grant Source - Allen Thorton