Houston university opens esports facility on campus
Sep 3, 2021, 12:00 pm
The University of St. Thomas has opened its esports center on its campus. Photo courtesy of UST
Houston's University of St. Thomas has taken a big step into the esports arena.
On August 31, the school held a grand opening for its on-campus esports facility. The facility features 13 gaming stations decked out with high-end tech equipment, including three 70-inch TV screens and Alienware monitors. The university recently gained an esports sponsorship from Monster Energy.
Beena George, chief innovation officer at UST, introduced esports to the school. It's the first university in Houston to launch a competitive esports team and esports academic program. UST teamed up with Houston-based Mainline, an esports platform and media company, to develop the curriculum.
"Our university is educating youth to take advantage of the tremendous career opportunities that are presented by esports," George says.
Esports is one of the world's fasting-growing industries, with global revenue projected to hit $1 billion this year and $1.8 billion in 2022. North America accounts for nearly one-third of this year's projected revenue.
According to Next College Student Athlete, UST joins about 175 colleges and universities that are members of the National Association of Collegiate Esports. The website lists eight schools in Texas with esports programs:
Concordia University - Texas in Austin.
McMurry University in Abilene.
Schreiner University in Kerrville.
Texas A&M University - San Antonio.
Texas Wesleyan University in Fort Worth.
University of North Texas in Denton.
University of Texas at Dallas in Richardson.
Wayland Baptist University in Plainview.
Anthony Dominguez, a 20-year-old computer science major from Puerto Rico, competes on UST's varsity esports team, which started last year. He's pondering a career in esports after earning his degree.
"After college, I see myself pursuing a future in one of the two fields, either computer science or esports," Dominguez says in a UST news release. "As a competitive esports player, I consider myself to be very good. I may consider pursuing gaming as a professional."
Justin Pelt, UST's esports coach and program director, says the academic element of the esports initiative offers an array of professional opportunities for students like Dominguez. A UST student currently can receive a minor in esports coaching, an academic specialty that launched this fall. In the near future, UST plans to introduce more esports minors (in communication and business).
The North America Scholastic Esports Federation partnered last year with UST to enable high school students to earn college credit while learning about the business of esports.
"UST provides students with the foundational pieces of the industry, the production, the business aspect, and the professional side," Pelt says in the news release.
Potential jobs in esports include broadcaster, player, coach, entrepreneur, events manager, sales professional, social media coordinator, talent manager, and contract attorney.
Some UST graduates may be able to stay in Houston to pursue esports careers, as the industry is expanding here. The Houston Outlaws esports team was founded in 2017, and Belong Gaming Arenas said in June that its first U.S. esports location will be in Houston. In addition, several esports startups are based in the Houston area, including Mainline, Enterprise Gaming, and Uconnect Esports.
"The more Houston innovates and grows in the esports space and starts hosting big events, people around the world in the esports demographic will inevitably take notice and potentially create more interest in our city," Pelt says.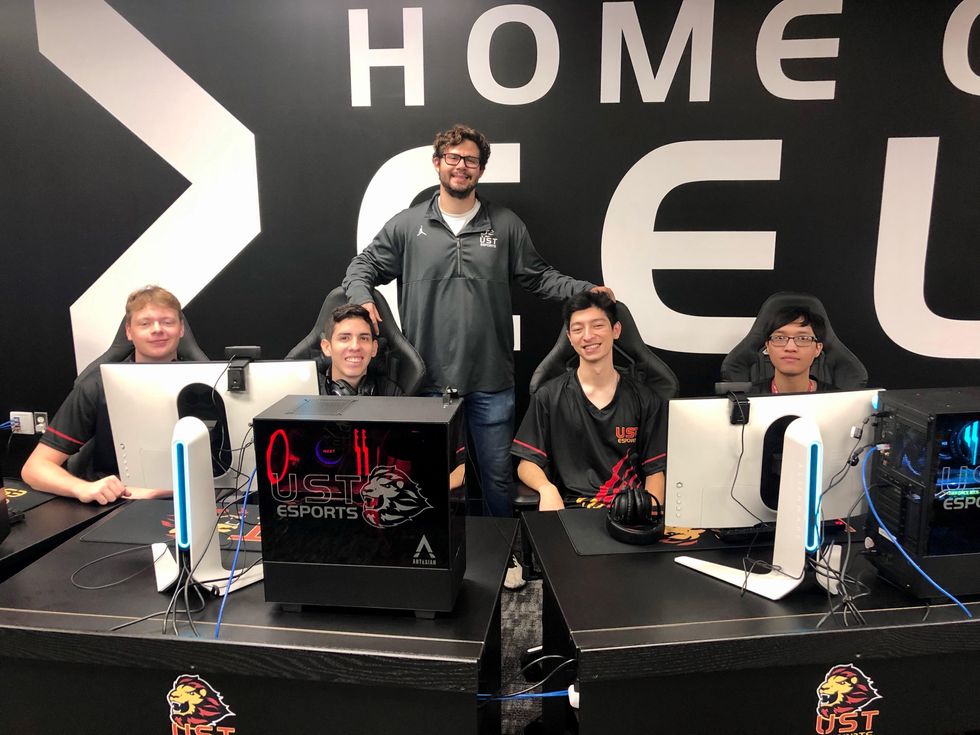 UST is one of about 175 colleges that has an esports team. Photo courtesy of UST