Houston researchers create unprecedented solar energy technology that improves on efficiency
Oct 17, 2022, 11:01 am
Two researchers out of the University of Houston have ideated a way to efficiently harvest carbon-free energy 24 hours a day. Photo via Getty Images
Two Houstonians have developed a new system of harvesting solar energy more efficiently.
Bo Zhao, the Kalsi Assistant Professor of mechanical engineering at the University of Houston, along with his doctoral student Sina Jafari Ghalekohneh, have created a technology that theoretically allows solar energy to be harvested to the thermodynamic limit, which is the absolute maximum rate sunlight can be converted into electricity, as reported in a September article for Physical Review Applied.
Traditional solar thermophotovoltaics (STPVs), or the engines used to extract electrical power from thermal radiation, run at an efficiency limit of 85.4 percent, according to a statement from UH. Zhao and Ghalekohneh's system was able to reach a rate of 93.3 percent, also known as the Landsberg Limit.
To reach this new rate, the team proposed that a nonreciprocal STPV system be used, which reduces back emissions from the STPV to the sun within the technology's intermediate layer (or the side facing the sun).
"Our work highlights the great potential of nonreciprocal thermal photonic components in energy applications. The proposed system offers a new pathway to improve the performance of STPV systems significantly," Zhao says in the release. "It may pave the way for nonreciprocal systems to be implemented in practical STPV systems currently used in power plants."
Additionally, the team also shows that STPVs can also be used with an economical thermal energy storage unit, allowing for solar energy to be generated 24 hours a day.
Houston is on the forefront of solar energy developments. In April, Mayor Sylvester Turner announced that the Texas Commission on Environmental Quality had granted a permit to transform a vacant landfill into the $70 million Sunnyside Solar Farm. It's slated to be the largest urban solar farm in the country and will remove an estimated 60,000 tons of carbon dioxide from the air each year, according to officials.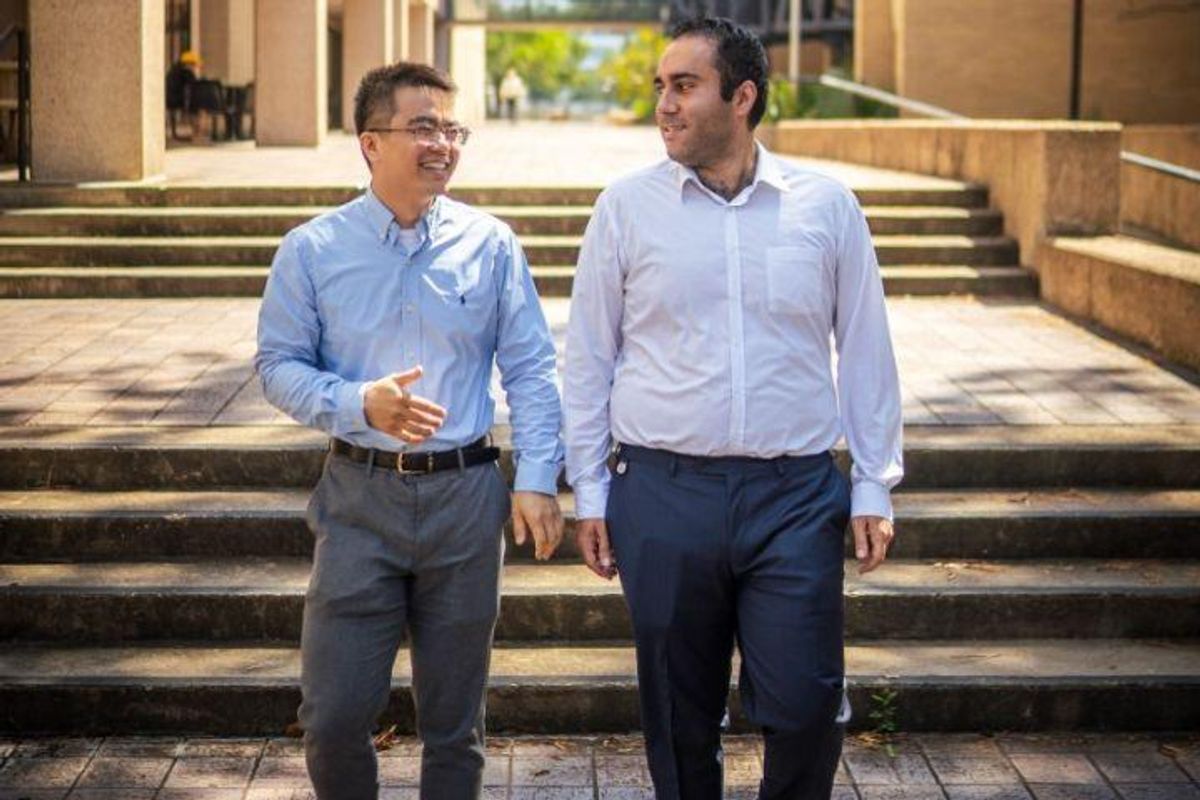 Bo Zhao, Kalsi Assistant Professor of mechanical engineering, and his doctoral student, Sina Jafari Ghalekohneh, have created new architecture that improves the efficiency of solar energy harvesting to the thermodynamic limit. Photo via uh.edu