University of Houston receives $20M donation, renames nursing school
May 9, 2023, 2:34 pm
The University of Houston's nursing program has received a significant gift to address the nursing industry's workforce shortage. Photo via UH.edu
A University of Houston alumnus and his wife have donated a historic gift to strengthen nursing education and research at his alma mater.
Andy and Barbara Gessner's $20 million gift to the UH College of Nursing was announced this week during National Nurses Week. The contribution will go toward scholarships and fellowships for students, as well as support programming and research to address the shortage of nurses in the workforce. The college has been renamed in honor of the gift to the Andy and Barbara Gessner College of Nursing.
The Gessners' support of the College of Nursing is inspired by the many caring and giving nurses they know, including their late mothers, who were both nurses. Gertrude Smith Gessner and Mildred Roberson Pottenger dedicated their lives to delivering compassionate health care to their patients and serving their communities with distinction.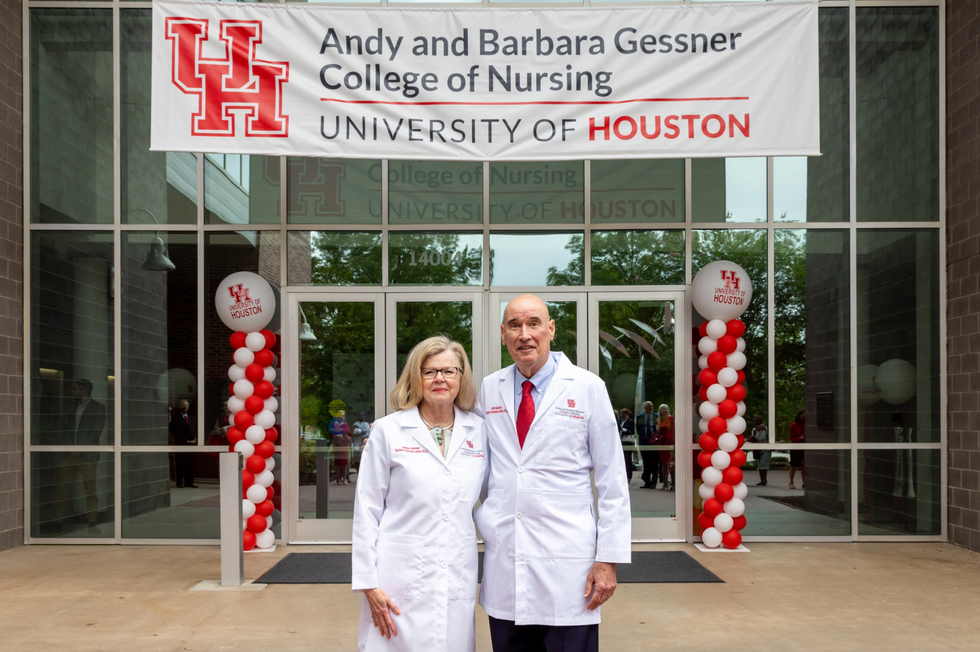 "We believe in nurses and we need more of them right now," Andy Gessner, whose mother and mother-in-law were both nurses, says in a news release. "We're all going to need a nurse at some time in our lives, and there's just not enough in the workforce or being educated for the future. The primary intent of our gift is to make more nurses available when we need them, now and in the future."
By 2025, according to the Bureau of Labor Statistics, there will be a shortage of almost 200,000 registered nurses and a rise in demand of 12 percent between now and 2029.
"The silver tsunami is coming," says Barbara Gessner in the release. "We are certainly going to need more nurses as the population gets older, so the medical profession will be put to the test. It's always been an honorable profession, and we believe in that tender, compassionate care that nurses provide."
The donation will create three endowed professorships, two of the which will be matched one-to-one as part of the University's "$100 Million Challenge" for chairs and professorships. Additional endowments funded by the gift, according to UH, will go toward research, nursing education, clinical learning, scholarships, graduate student fellowships, adjunct faculty support and and more.
"Our college of Nursing has been a leader in preparing highly skilled nurses for the workforce, and this comprehensive gift from Andy and Barbara Gessner will take it to the next level," says UH President Renu Khator. "We are forever grateful to the Gessners for their vision, commitment and passion for nursing education so that we can educate more nurses who will make a positive impact on the lives of patients and in the health care industry."
Kathryn Tart is the founding dean of the Gessner College of Nursing, and she believes the gift will have a significant impact on the university as well as the industry as a whole.

"This gift will have a lasting impact on the nursing profession and our great city, state and beyond for many years to come," she says. "We will be able to attract more top faculty and students and increase our research endeavors to further the University's mission of becoming a top 50 public university. We are so grateful to the Gessners for their support and vision to address the severe nursing shortage."
In 2019, the Gessner Family Nursing Scholarship was established. To date, the scholarship has provided full tuition to 19 students in the Traditional BSN program.
"Our legacy will not be about what we did, it's what this gift will do," says Andy Gessner. "We hope that in the coming years, the Gessner College of Nursing will be recognized for excellence and for creating more nurses."