University of Houston reveals $35M campus transformation ahead of centennial
Sep 7, 2023, 11:18 am
Coogs' house is getting ready for a remodel. Rendering courtesy of UH
As the University of Houston gets ready for its centennial in 2027, the school is launching a major transformation to its urban campus. The $35 million project aims to transform several prominent areas of the university grounds and create a stronger first impression of the school — and stir up pride for students, faculty, staff, and alumni.
To achieve this transformation of the Coogs' lair, the university hired Houston-based urban design firm OJB, which will develop a new multi-purpose gathering space — dubbed Centennial Plaza —at the heart of the campus. Harking to great university and collegiate gathering spaces, Centennial Plaza will be constructed in the original — and familiar — campus quad. Plans call for an "awe-inspiring" public destination for game day and students events and official ceremonies,
Meanwhile, UH's' main entrance on University Drive will be reimagined and redefined, meant to create a memorable arrival experience. A new gateway monument will be installed at Spur 5, according to press materials. In a push to assist with campus walkability, a new, continuous line of trees will form a shaded central pathway from the gateway to Cullen Performance Hall.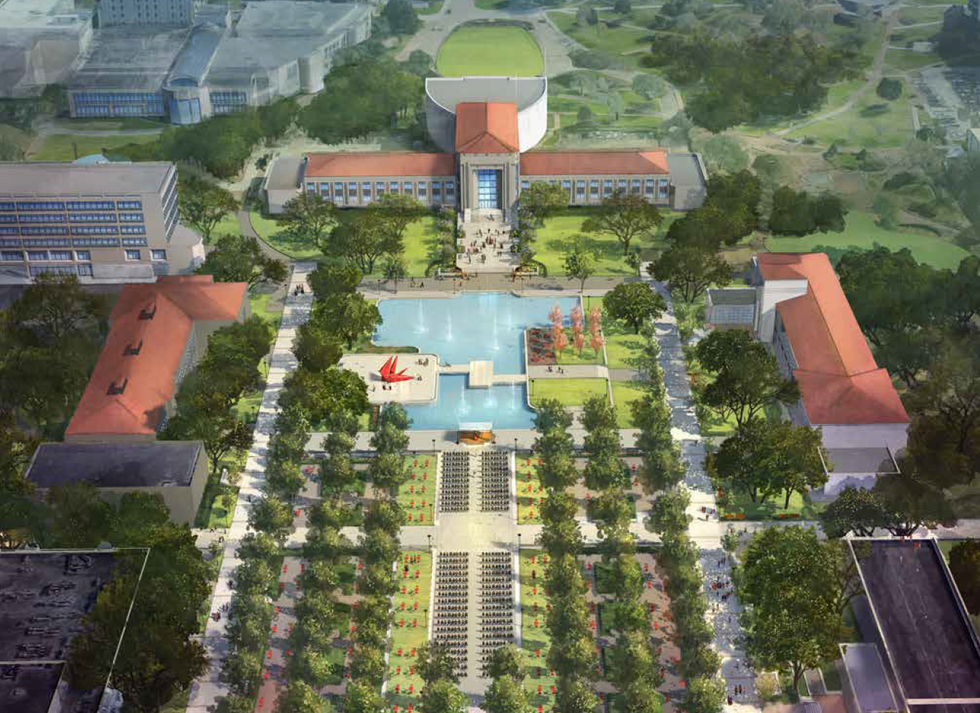 Rendering courtesy of UH
Other aspects of the project include the addition of monument gateways at several university entrances. Sustainable landscaping and storm water management will be also be added across campus.
The design process is currently underway with construction expected to commence next summer.
"Our centennial plan is a transformative project," University of Houston President Renu Khator says in a press release announcing the initiative. "The University of Houston is a crucial part of the fourth largest city in the country, and having a welcoming campus that everyone can be proud of is paramount. This reimagination will create a sense of place, community and learning, while also promoting health and well-being not only for our students, but for all Houstonians."
Additional areas targeted for landscaping improvements are Lynn Eusan Park, Cougar Woods, Butler Plaza, and the campus woodland from the Science and Research 1 building to the Gerald D. Hines College of Architecture and Design.
The campus enhancements are scheduled to be completed by the end of 2026 to help kick off the school's centennial celebrations.
Current and past Coogs should take heart in OJB's design resume — especially with institutes of higher learning. Locally and in Texas, the award-winning, prolific firm has designed Aggie Park at Texas A&M University and the popular Klyde Warren Park in Dallas. Statewide it has overseen campus improvements for Rice, Baylor, and Texas Tech universities. Nationally, OBJ has spearheaded improvements at prestigious institutions such as Harvard and Stanford.
"So much of the student and campus experience is found in the spaces in between buildings: its landscape and open spaces," Chip Trageser, partner in charge for OJB, notes in a press statement. "We know that spending time outdoors is beneficial for social connection, as well as improved mental and physical health. Creating inclusive spaces for people to come together is at the core of innovation. The Centennial Plan strengthens these experiences, not only from a physical point of view, but also as an expression of the University of Houston's values and mission."
Earlier this year, UH also revealed details on its central hub for innovation on campus. The building, which is slated to open in 2025 next to the M.D. Anderson Library on UH's main campus, will be around 70,000 square feet and will house a makerspace, the Cyvia and Melvyn Wolff Center for Entrepreneurship, the Energy Transition Institute, innovation programs, and Presidential Frontier Faculty labs and offices.
In short, big changes and updates are coming to the Coogs House.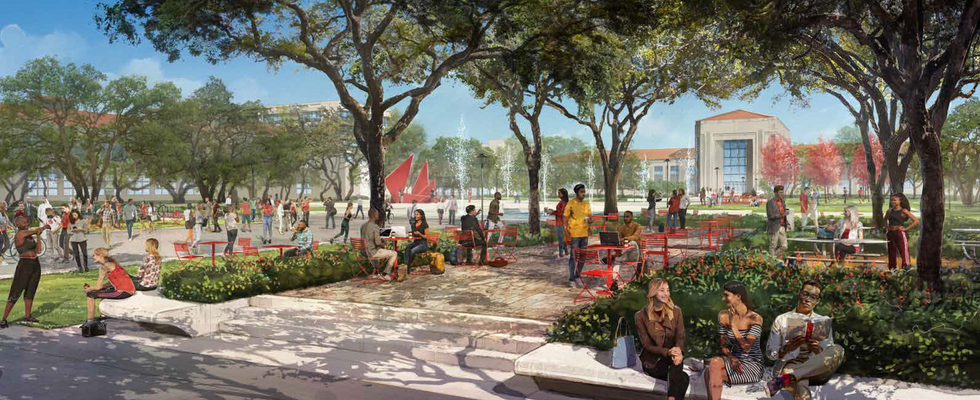 Rendering courtesy of UH
------
Steven Devadanam contributed to this article, which originally ran on CultureMap.