Texas startup using Tesla cars for more efficient and eco-friendly travel
Feb 8, 2019, 8:12 am
ElecTrip uses eco-friendly Teslas to shuttle business people to and fro across the state. Courtesy of Electrip
A Texas startup shuffling business men and women across the state in style has created an elevated road trip experience for its customers.
Founded in 2018 and based in Austin, ElecTrip aims to add luxury and convenience to regional commutes between major Texas cities by providing transportation in Teslas equipped with WiFi, complimentary snacks, and professional drivers.
Mandeep Patel, a University of Texas at Austin student, had the idea for the company just about a year ago while completing an internship. Patel had the company up and running just a few months later.
Patel serves as founder and CEO, along with his classmate and co-founder, Eliott Lee, who is COO. Lee tells InnovationMap that he and Patel had gotten tired of the stress of airport travel, the restrictive schedule of buses, and the soul-draining fatigue of driving. ElecTrip's no-compromise solution is cost effective, comfortable, and carbon neutral.
"One thing we really pride ourselves on is being sustainable, energy-efficient, and having no emissions," Lee says.
ElecTrip offers door-to-door service for their customers, who can customize pickup and drop-off locations in any major Texas city. The company has eight routes between Houston, Austin, Dallas, and San Antonio, but customers can book a custom route within a 300-mile radius of those cities. Prices range from $249.99 to $429.99, but customers can opt to share rides to cut down on cost, with cars seating three to five riders.
"We emphasize on B2B, geared more towards businesses," says Lee, explaining that customers can customize their trip with food and beverage requests.
The company offers three different Tesla models: Tesla Model S, Tesla Model X, and Tesla Model 3, each offering a specific number of passenger seats, luggage capacity, and mileage range.
"The main reason why we chose Tesla is because of the supercharger network," says Lee in referring to Tesla's 1,422 Supercharger Stations throughout the United States.
Clients don't have to worry about the charging process, Lee says. The company plans the trips around these charging stations, which are free to any Tesla user.
ElecTrip is less than a year old and has already coordinated hundreds of rides, according to the website. While starting the company while still juggling classes — Lee expects to graduate from UT in 2020, while Patel is graduating this year — Lee says being a student-run startup has its perks.
"We find a lot of funding in startup competitions that only students have access to," said Lee.
Additional initial funding for the company came out of Patel's savings account, Lee says. ElecTrip owns one Tesla and rents out additional vehicles to cover the demand of rides. Lee explains that renting vehicles instead of owning them would cut back on the company's real estate while providing additional income for Tesla owners that aren't using their cars.
Patel and Lee are the only two full-time employees at ElecTrip, as all drivers work on a contract-basis. Lee tells InnovationMap that in the future, ElecTrip will focus on business partnerships.
"A lot of these other services are geared towards consumers," says Lee. "We hope to be geared toward mainly towards businesses in the long run."
ElecTrip is gearing up for growing its partnerships with local small businesses in Austin and Houston to provide food and drink products for rides.
"It is something we're looking at targeting in the next one or two months," says Lee.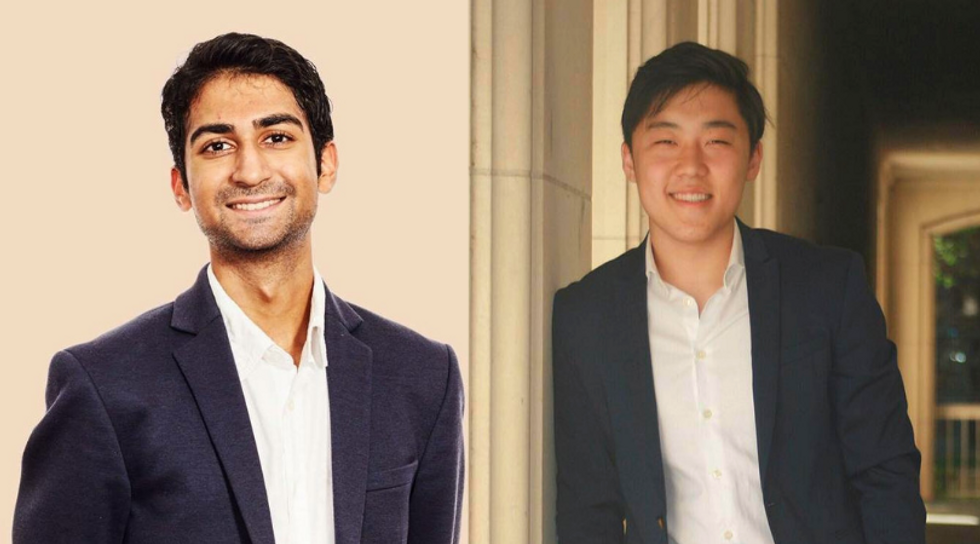 Mandeep Patel (left) and Eliott Lee are the co-founders of ElecTrip, a travel company that uses Teslas across Texas.Courtesy of ElecTrip