Apr. 04, 2019 01:50PM EST
Houston-based SnapStream, led by CEO Rakesh Agrawal, has been selected by Verizon to provide support. Courtesy of SnapStream
A Houston software company that enables TV and broadcast monitoring just snagged a deal with Verizon. The partnership will call for 10 new Houston employees.
Verizon Digital Media Services announced that SnapStream is the "official transition partner" for a product under Volicon Observer, a company that was acquired by Verizon in 2016. SnapStream's CEO Rakesh Agrawal says in a release that the two entities have similar products, features, and even customers, but have always had a respectful relationship.
"SnapStream is known, among other things, for the great support we provide, and we look forward to providing the same high-quality support to Volicon customers," Agrawal says in the release. "We hope to eventually earn the business of current Volicon customers by converting them into SnapStream customers."
SnapStream's technology has been used by hundreds of organizations around the world, the release says, including CBS, MLB Networks, the Daily Show, Last Week Tonight, Samantha Bee, and the U.S. Senate. While SnapStream is a software solution, Volicon is appliance based, and Verizon announced the termination of the company's solutions in January — citing the need "to focus continued development on future solutions that better align with industry trends and market needs."
Now, Volicon customers will be redirected to SnapStream support into 2020 and can transition into SnapStream's model should they like.
"Verizon Digital Media Services is committed to providing high-quality products and services for our customers," says Peter Gallagher, COO of Verizon Digital Media Services, in the release. "The partnership with SnapStream will provide Volicon Observer customers with a dedicated support team at the highest level of commitment to ensure continued success in their business operations."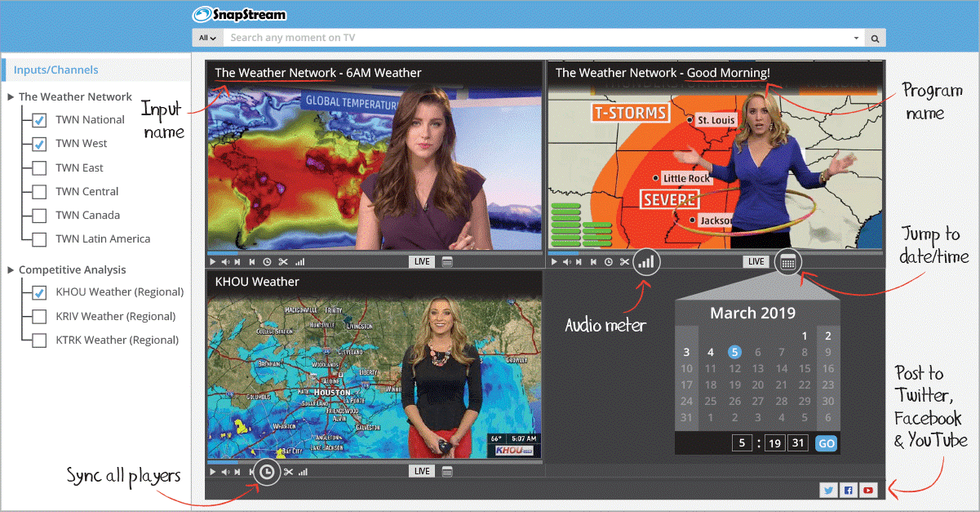 SnapStream's technology is a TV broadcast monitoring software used by CBS, MLB, The Daily Show, and more.Courtesy of SnapStream