Sep. 22, 2023 10:28AM EST
UH ranked No. 8 in Texas. Photo courtesy of University of Houston
Houston universities are ramping up high quality educational experiences for their students as three local universities earn top 10 ranks for the best Texas colleges in 2024, according to a new report by U.S. News and World Report.
Rice University claimed the top spot in Texas, and ranked No. 17 in the national ranking. Houston's "Ivy League of the South" had an undergraduate enrollment of nearly 4,500 students in fall 2022. In April, Rice's Jones School of Business ranked No. 2 in U.S. News' ranking of the best graduate programs in Texas.

According to Rice's profile, the university also prides itself as a top-tier research institution. In fact, Rice just opened a massive new research facility on campus.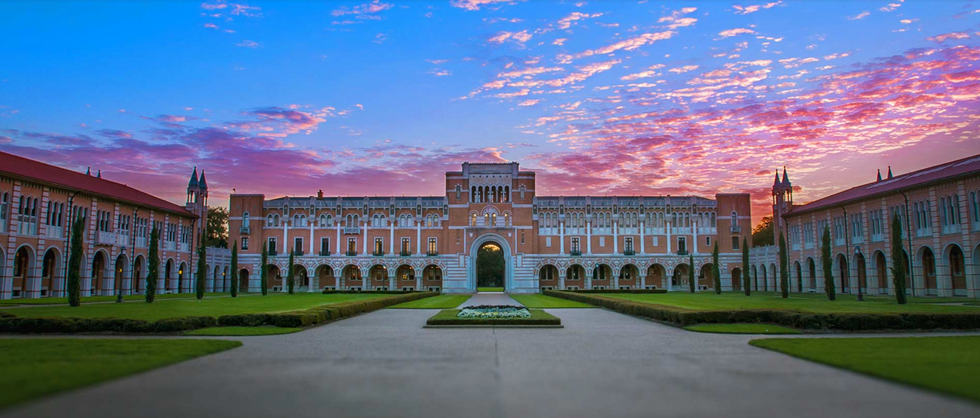 A degree from Rice University in Houston was ranked most valuable in the state of Texas. Rice University
"From your first semester on campus, no matter your major, you'll have the opportunity to conduct research alongside experts," the school said. "You'll be able to apply your skills, gain valuable professional experience and interact with industry leaders as you address real-world issues."
The University of Houston ranked No. 8 in the Texas rankings, and No. 133 in the national report. With a total undergraduate enrollment of nearly 38,000 students in fall 2022, U.S. News says the university has a rich campus culture that encourages students to participate in different organizations and activities.
"Each year, students turn the campus into a town called Fiesta City in time for the Frontier Fiesta, a string of concerts, talent shows, cook-offs and more," U.S. News' overview said. "There are more than 400 student organizations to check out, including fraternities and sororities."
Completing the Texas top 10 is the University of St. Thomas, which ranked No. 216 nationally. The private Catholic university has the smallest fall 2022 undergraduate enrollment out of all three Houston universities: 2,729 students.
Elsewhere in Texas, nearby Texas A&M University in College Station earned the title for the third-best college in Texas, and No. 47 in the nation. That's big news for one of the fastest-growing college towns in the U.S.
U.S. News' top 10 best colleges in Texas in 2024 are:
No. 1 – Rice University, Houston
No. 2 – University of Texas at Austin
No. 3 – Texas A&M University, College Station
No. 4 – Southern Methodist University, Dallas
No. 5 – Baylor University, Waco
No. 6 – Texas Christian University, Fort Worth
No. 7 – The University of Texas at Dallas, Richardson
No. 8 – University of Houston
No. 9 – Texas Tech University, Lubbock
No. 10 – University of St. Thomas, Houston
The full rankings can be found on usnews.com.

------
This article originally ran on CultureMap.