Sep. 03, 2020 01:22PM EST
Kïdo Home, a virtual education platform, has launched out of a Houston-area school. Photo via Getty Images
The coronavirus pandemic has spawned an array of digital innovations in education, and one of those innovations has been hatched right here in Houston.
Kïdo, an international network of preschools, recently introduced its first-ever virtual learning platform, with Kïdo's school in Rice Village serving as the U.S. launchpad. The new platform, called Kïdo Home, is offering free trials for parents in the Houston, Austin, and Dallas-Fort Worth areas. Kïdo Home is in the midst of enrolling students nationwide.
The virtual platform in the U.S. rolled out August 7, with classes starting Sept. 1. The Kïdo Home platform already had been up and running in Dubai, Hong Kong, and London, where Kïdo operates brick-and-mortar schools.
Kïdo Home is made up of small-group classes held online and led by trained instructors. Given the massive interruption of in-person education caused by the pandemic, the platform fills a void for 2- to 6-year-olds.
A study conducted this summer by the National Institute for Early Education Research at Rutgers University's Graduate School of Education found U.S. preschoolers were losing two to four months of critical learning due to pandemic-provoked school closures. According to a nationwide survey of parents, nearly three-fourths of American preschoolers had been affected by pandemic shutdowns that started in March. Many parents reported their distance-learning alternatives were lacking, with less than half receiving support for virtual learning within two months of preschool closures.
"Perhaps 10 percent of preschool children received a robust replacement for in-person preschool attendance," Steve Barnett, senior co-director of the Rutgers institute, says in a release.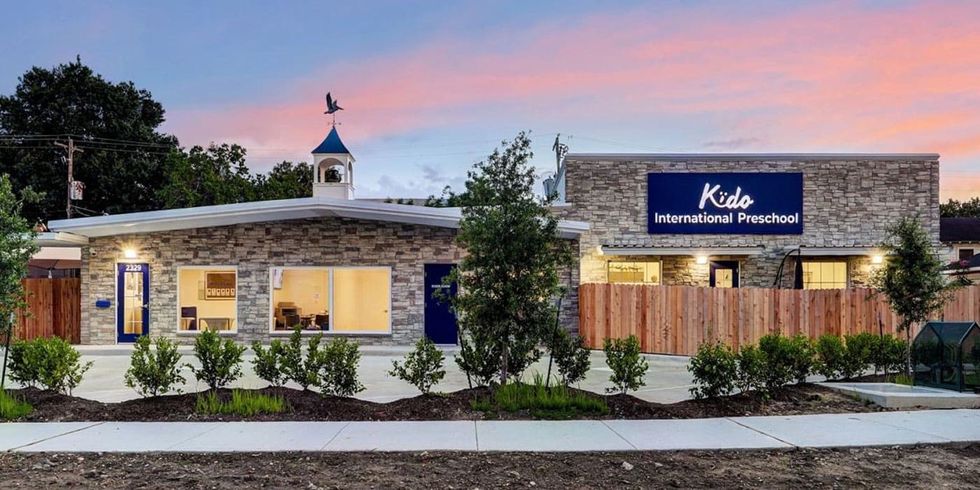 Kïdo's Rice Village school serves as the U.S. launchpad for the new platform. Photo via kido.school
Adapted from the Kïdo Early Years Program — which blends the Waldorf Steiner, Reggio Emilia, and Montessori methodologies — Kïdo Home is designed to foster imagination, social well-being, motor skills, and creativity in students through its year-long curriculum.

Kïdo Home's key features include interactive touchscreen literacy and math modules, weekly one-on-one sessions with accredited instructors, and monthly home-activity kits covering art, STEM, literacy, and physical development. Those kits complement the online learning components.
Parents receive weekly updates and monthly assessments regarding their child's progress in the virtual program.
"We saw the need to provide a high-quality, affordable, and engaging virtual learning platform months ago when the pandemic was impacting our preschools in Hong Kong," Houston-based Deepanshu Pandita, U.S. CEO of Kïdo, says in a release. "We've conducted in-depth research that showcases the importance of investing in early childhood education, what the right amount of screen time is, and how to keep children engaged remotely."
Kïdo Home's daily two-hour, real-time video lessons eventually will include second-language immersion, just like Kïdo's brick-and-mortar schools do.
The average class ratio for Kïdo Home is around one instructor for every eight students. Minimal to no parental support is required during these classes. The program costs $350 a month.
Kïdo operates brick-and-mortar locations in Houston, Austin, Hong Kong, Dubai, and London, all of which are open. The Houston school, Kïdo's first in the U.S., debuted in May. The Austin location opened in July. Although a free trial of the virtual platform is available in Dallas-Fort Worth, Kïdo doesn't have a school there.