Mar. 05, 2021 10:58AM EST
With its fourth location recently opened, Texas winery Messina Hof has also launched an innovative augmented reality experience. Photo courtesy of Messina Hof
The Lone Star State is home to a vibrant and innovative wine scene, but, just like most hospitality businesses, winemakers missed the opportunity to engage with their patrons amid the pandemic. With a new idea of how to engage its customers, Messina Hof, an award-winning Texas winery, rolled out a new tech-optimized, at-home experience.
The winery partnered with VISION, a Houston-based production group, to create an augmented reality app. Combining the efforts of Messina Hof's in-house label design team and the animation capabilities of VISION, the app took four months to design.
"It was a labor of love for both parties to be able to experiment with this; it was uncharted territory," says Karen Bonarrigo, owner and chief administrative officer of Messina Hof.
The three wines released — Emblaze (Sweet Red), Vitality (Dry White), and Abounding (Dry Red) — each tells a story through the AR experience.
"We wanted to try not only and push the technology as far as we can push it, but also try to really incorporate some heavy storytelling," says Dan Pratt, VISION Creative Director.
The idea to incorporate technology felt like a natural one to Bonariggo.
"The earth, water, and sunshine all go into developing what the profile is for each wine," explains Bonarrigo.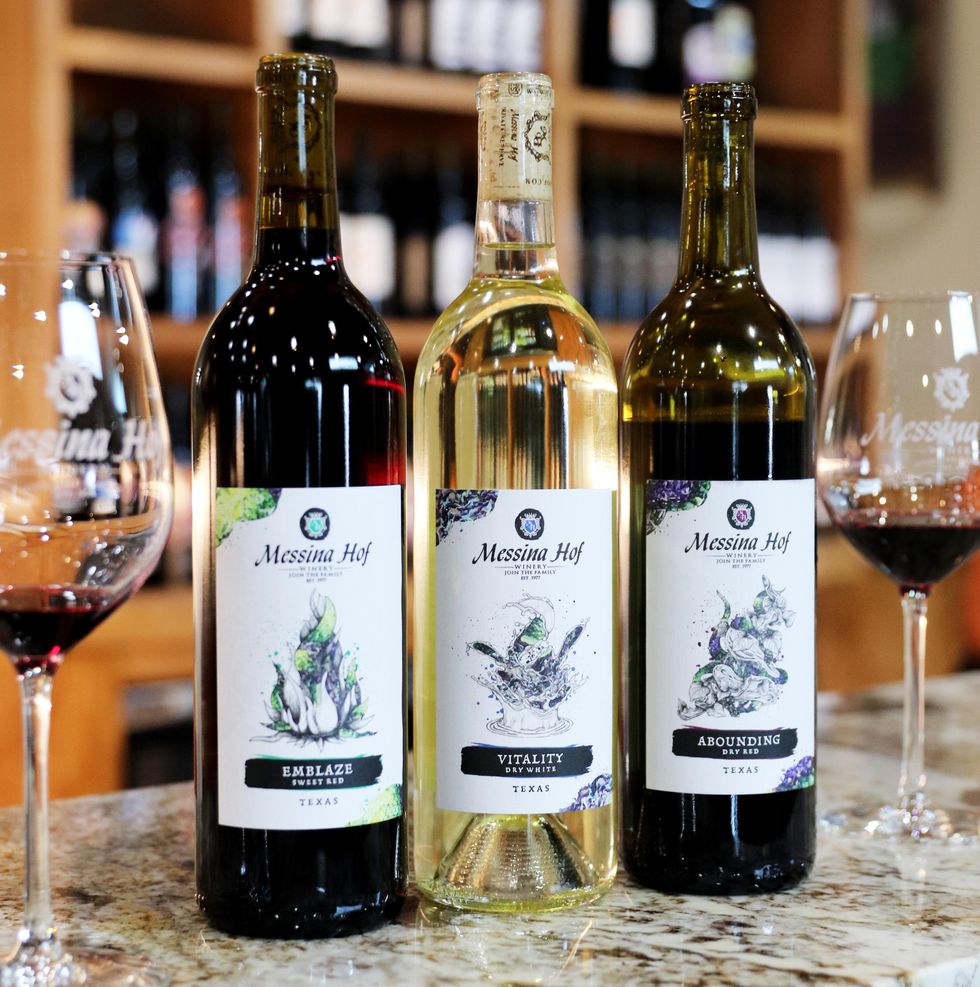 Each of the three wines have scannable labels that bring up a VR experience for app users. Photo courtesy of Messina Hof
VISION, who worked alongside Messina Hof to develop the project, blended the winery's rich family ties with the Old World history of winemaking.

When customers download the app and hold their camera over the label, a trailing vine emerges onto the screen and wraps around the bottle. As vines grow around each bottle, the three each visually signify a different natural element of winemaking — earth, water and the sun. As a rustic sign emerges, it prompts users to then click for recipe pairing recommendations.
Rather than a single-use experience, Messina Hof and VISION wanted to create an app that users could both engage with and learn from. The AR app allows users to view recipes and browse wines in one place.
"We knew we wanted the app to be functional for people to be able to interact with both when they're doing the AR experience, but then also to be able to continue to come back to it later," shares Bonarrigo. While AR wine labels have emerged in some California vineyards, she says, "it's definitely uncharted territory for the Texas industry."
Overseeing the food and wine pairing at Messina Hof is one of Bonarrigo's passions, so it was a natural choice to include recipes in the app. Messina Hof offers a concept called Vineyard Cuisine, coined from the Bonarrigo family cookbook, and incorporates wine in every meal at the vineyard.
"The idea of tying [the wine] to a recipe gave us the opportunity to be able to share new ways [our customers] could use wines in their everyday cooking," she explains.
She hopes the app's recipe feature will help families connect together.
"So often we get used to sitting down at the table, eating really quickly, and then moving on to the next thing, but there's so much connection that can happen with each other when we can slow down a little bit and have a conversation," she continues.
To Pratt, AR was the perfect way to emphasize and expand on the shared experience of wine.
"We wanted this to be an extension of that experience for people. You know, based on the love of wine and laughter with friends," he says.
For those who can't currently gather in a room together, Bonarrigo has hopes that Messina Hof can bring people together from afar.
"I think now more than ever the ability for our regular customers, even within Texas, to then share those wines with family members or friends that are outside the state seems more intuitive," she explains.
"We are so used to being creatures of habit in sharing our wine face-to-face with people that when we had the unexpected opportunity to not do that, we realized that we still have ways to be able to connect with customers through technology," says Bonarrigo.
She finds the "ease of access of being able to connect with them through the online web store" has kept Messina Hof in touch with customers throughout the pandemic, as well as digital happy hours and tasting events.
Messina Hof Harvest Green Winery & Kitchen, the newest location, opened in February, becoming the Greater Houston-area's largest winery. The space features an expansive tasting room and 83-foot wine bar, full-service restaurant, covered patio, two private tasting rooms, a wine production, barrel room, and wine warehouse.
"We knew that when we launched that location that we wanted to be able to have a series of wines at that location that was special, but also out of the box," says Bonarrigo.
Bonarrigo and her husband Paul have ushered in the expansion of Messina Hof over the last nine years. The family business began in 1977 when Paul's parents, Paul Vincent and Merrill, started an experimental vineyard. Messina Hof has locations in Bryan, Grapevine, Fredericksburg, and Richmond.
"This is our largest winery expansion endeavor that we've done," she says. "We wanted the wines to be extra special."
Similar to Messina Hof, companies across industries are seeking to explore interactive technologies to reach their customer base. "A number of our clients, and also new clients that we may not have been able to reach before, have certainly reached out to us to figure out new ways to reach an audience," shares Pratt.
Winemaking may be an Old World skill, but Messina Hof is excited to bring Texas wine into the future.
"So much of winemaking is science, and so much of it is art. There's always this push and pull as to which is more of a majority in the end product," explains Bonarrigo, who notes that Messina Hof has been using technology to innovate and optimize the growing process. The new AR app is a push toward bringing the experience her family loves into the homes of customers.
"This definitely gives a new talking point to wine," she says.