Feb. 26, 2019 02:04PM EST
Through the Houston-based Muvve app, fitness fans can meet each other on the app or at curated events around town. Courtesy of Muvve
When Avi Ravishankar decided to train for a marathon in high school, he wanted to find a training buddy. He got lucky, and one found him: his classmate, Julian Se, took on the task.
"Julian decided he was going to train with me — he's a strong personality," Ravishankar says. "We started training, and to this day, we just became best friends from there."
Usually, finding fitness friends and training buddies isn't that easy — especially in a huge, spread out city of Houston. Ravishankar and Se turned their friendship into a business partnership to solve this problem. Houston-based Muvve is a mobile app that's mission is to connect fellow fitness enthusiasts across the city. The two came up with the idea as a way to merge their passions.
"The only idea we had was we wanted to have a startup with running," Ravishankar, co-founder of Muvve, says. "We loved running and tech, so we just wanted to find a way to bridge the gap there."
Ravishankar, a Rice University alumnus, says he took his idea to Owl Spark, an early stage accelerator on campus, and they just started asking people about their pain points when it came to working out.
"The big two things that we found were accountability and motivation," he says. "Out of 100 people, I would say all 100 people said that."

Ravishankar, who worked for six years in engineering at Oxy, says that these pain points are actually pretty inherent to individual sports.
"Intrinsic motivation is hard to find, especially in individual sports, like running, cycling, or yoga," he says. "Whereas, in team sports, like basketball or volleyball, you have the team to train with and motivate you."
The app, which launched in May of 2018, acts like a network for fitness lovers — just like a dating app would connect potential romantic partners. Dating apps, actually, were a big influence on Ravishankar, he says.
"I fell in love with dating apps. It was this mind-blowing idea for me of how many people you can connect with — even if it's not for dating," he says. "The amount of people I have met just through technology always blows my mind. There's so much power in it."

Through his experience as an instructor at Black Swan Yoga, Ravishankar also realized boutique fitness studios needed a place to market their events to a wider audience. This gave Ravishankar an idea of a way to bridge the gap between different fitness studios around town via the app.
"For us the goal is to have all of these events and activities to go and meet like-minded people," he says.

Muvve's goal is to have these managed market events that are curated to ensure quality, rather than the hit or miss aspect of existing platforms.
"For me the curation aspect makes for a better experience," Ravishankar says.

Now, Muvve is focused on growing its user base from 4,500 to 10,000 users by summer. Simultaneously, the company is hoping to launch its first seed round of funding, and then using its funds and its network to launch into Austin by summer.
Ravishankar says finding potential investors has been the most challenging aspect.

"There's no money in Houston for a fitness tech startup," he says. "That space isn't really respected. For me, it's kind of a trickling effect. If there's no money in it, there's no one really to help you because they don't have a vested interest."
While funding has been daunting, Ravishankar says he's had some success in hiring out his team of developers, despite the uphill battle of hiring tech talent in Houston.
"There's hidden talent, but it's not obvious talent," Ravishankar says. "I think that people get discouraged by hiring in Houston because of that."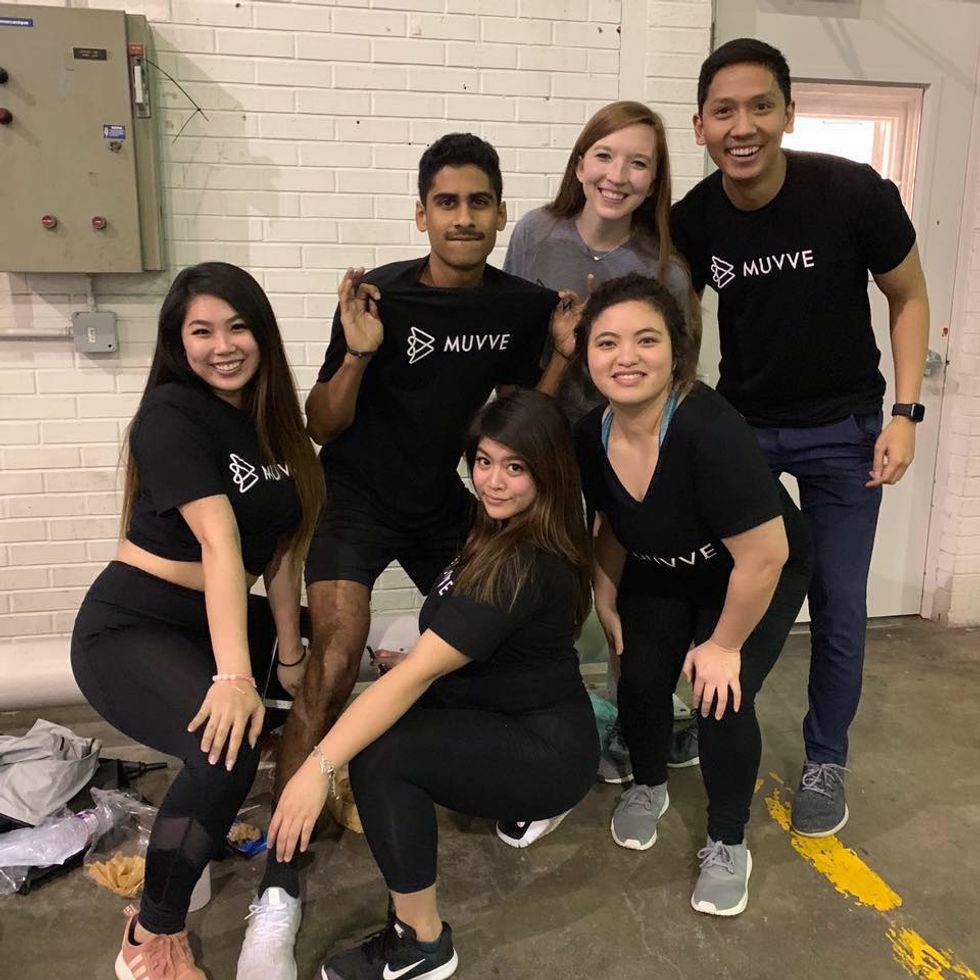 Muvve is harnessing the power of social media and digital networks to bridge the gap between fitness lovers across the city. Courtesy of Muvve