Sep. 21, 2022 10:01AM EST
TMC gave an update on TMC3 — now called TMC Helix Park — and introduced a new bioport project. Courtesy of Elkus Manfredi Architects
Within the next five to 10 years, the Texas Medical Center you know today will be double the size. That's what Bill McKeon, president and CEO of the TMC, said at yesterday's State of the Texas Medical Center event hosted by the Greater Houston Partnership.
The biggest project contributing to the TMC's growth is TMC3, a campus expansion that will bring 37 acres and 5 million square feet of space to the TMC, is now known as Helix Park. The name is a nod to the shape of the park and walkway design at the center of the campus. The TMC3 Collaborative Building — the first multi-institutional research facility in TMC's history — will be the first of the project to deliver and is currently under construction and slated for completion in 2023.
However, the big news of the event was the TMC BioPort, the organization's upcoming biomanufacturing and medical supplies distribution engine. This new campus will span several hundred acres just down the road from TMC and will drive the much-needed repatriation of critical medical supplies and new cell and gene therapies, per a news release.
"During COVID, we saw the weakness of our supply chain," McKeon says at the event. "There is a huge effort by this country as a part of national security to make sure drug and vaccine production is moved back into the United States."
The new campus will also have an on-site upskill training center and create over 100,000 new job opportunities.
"Houston is advancing its position as the leading destination for life science discovery," McKeon says in the release. "Through our holistic, expansive vision, we are building every vital component necessary to advance the largest life science ecosystem in the world."
As explained at the event, the growing TMC is anchored by four districts: the TMC Medical Campus and the TMC Innovation Factory, which are already fully open and operating for years now, and the upcoming TMC Helix Park and TMC BioPort, which are both underway.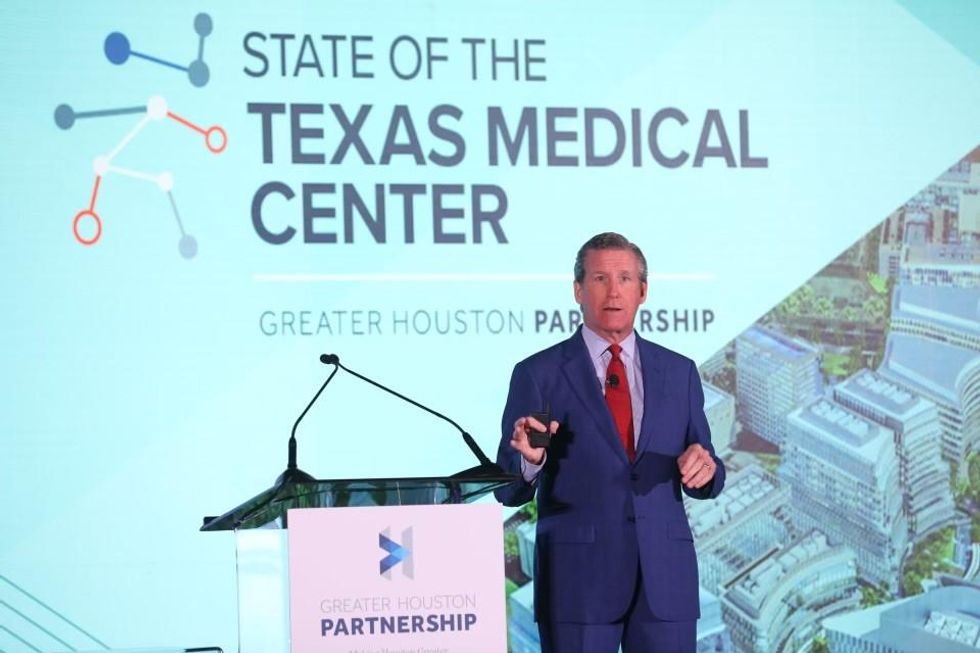 Bill McKeon gave the address at the State of the Texas Medical Center.