Aug. 16, 2023 01:38PM EST
Redemption Square in Generation Park will feature high-tech parking solution pilot program. Photo via generationpark.com
Houston real estate company McCord Development will roll out an innovative 12-week pilot to learn how to make parking smarter at its master planned development Generation Park in Northeast Houston.
In partnership with Milwaukee-based CivicSmart Inc., a leader in Smart City parking, the company will test a new Internet-of-Things-based parking solution at Generation Park's mixed-use lifestyle center, Redemption Square. The program is only the second of its kind in the U.S., according to McCord.
McCord will install 30 of CivicSmart's solar powered bollards at Redemption Square that track real-time parking occupancy data through LTE license-plate-reading cameras. The data will be analyzed to help McCord optimize traffic and develop better strategies and parking rates.
"We are thrilled to introduce one of the first parking pilot programs in the country," Ashwin Chandran, Director of Technology Innovation at McCord, said in a statement. "At McCord, we strive to measure and understand behavior in order to enhance the human experience and make efficient business decisions. We hope to use this data to improve the overall performance of our operations across all our assets."
According to the statement, the intention of the program is to help keep curbside spots available for short-term guests.
From the customer perspective, parkers will pay via text or QR code, where they will enter their license plate number and payment information, which will be stored for subsequent visits.
The bollards can also dispatch up-to-the-minute pricing details to parkers, and can be controlled remotely by the developer to close certain parking spots for special events.
In addition to the 30 bollards, Redemption Square will still also offer free parking in its nearby garage, and other parking options on Redemption Square Road and metered spaces on Assay Street, according to the statement.
Last week, McCord also announced plans to create a 45-acre biomanufacturing campus within the 4,300-acre Generation Park development. Known as BioHub Two, the center will include 500,000 square feet for manufacturing, lab, and office space. It's slated to join San Jacinto College's Biotech Training Center in the development, which was announced last December.
Other plans for Generation Park include two multifamily complexes, a mixed-use development called The Commons, and retail and green spaces.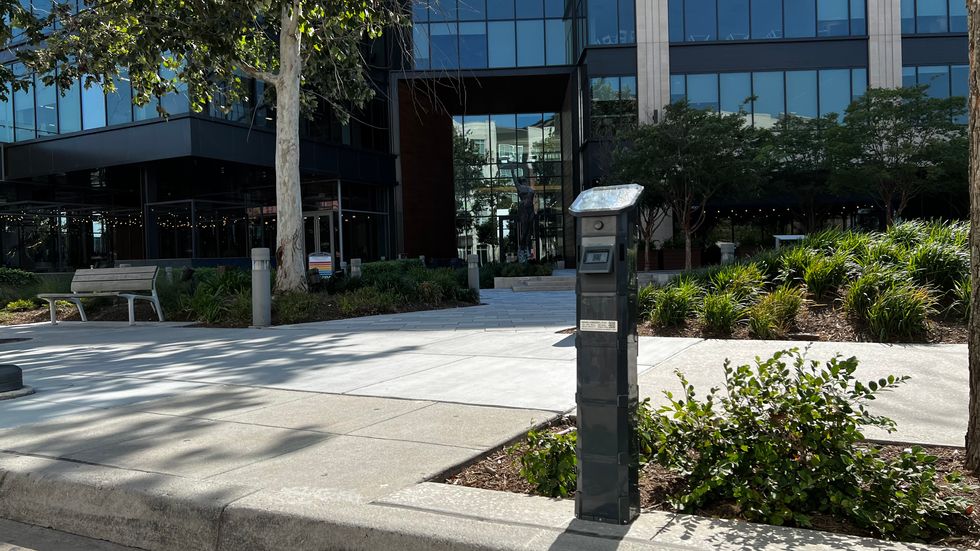 McCord will install 30 of CivicSmart's solar powered bollards at Redemption Square that track real-time parking occupancy data through LTE license-plate-reading cameras. Photo courtesy of Generation Park