Oct. 13, 2020 01:49PM EST
Houston-based SiteAware has raised $10 million in its latest round of funding. Photo courtesy of SiteAware
A growing startup that provides artificial intelligence-enabled verification software to the construction industry has announced the closing of a multimillion-dollar round.
Houston-based SiteAware announced last week that it's closed a $10 million series A investment round that was co-led by San Diego-based Axon Ventures and Germany-based Robert Bosch Venture Capital.
The company's platform uses AI and digital twin technology to provide real-time verification of construction fieldwork. According to a press release from SiteAware, the construction industry represents a $1.3 trillion market share of the United States economy.
"The cost of construction errors and the risk mitigation costs contribute to 10 to 30 percent of this number. SiteAware's technology significantly lowers this overhead, allowing for customers to reap the benefit," says Zeev Braude, SiteAware CEO, in the release.
By scanning buildings under construction, SiteAware's technology constructs a 3D model of the area and compares the progress of the structures to the construction plans in real time. This technology allows for any deviations from the plan to be realized as soon as possible, which means avoiding costly repairs or reconstructions.
"By enabling general contractors and developers to reduce the cost of errors and better mitigate risk, the ripple effect lowers the cost of real estate, providing better value opportunities for home buyers," Braude adds in the release. "Our technology closes the gap between plans and field work, solving this very important challenge within the trillion dollar construction sector."

SiteAware, which was founded in 2015 by Braude and CTO Ori Aphek, previously raised seed funding in 2015 and 2016. Existing investors, including lool Ventures, Oryzn Ventures, The Flying Object and Power Capital Venture also participated in the round.
"SiteAware has built a state of the art technology which provides the digital value that the construction industry has been needing, and we're excited to join in their vision," says Arad Naveh, partner at Axon VC, says in the release. "We were highly impressed that they were able to build a customer base of market leaders, and moreover, the impact that SiteAware's tools are already making."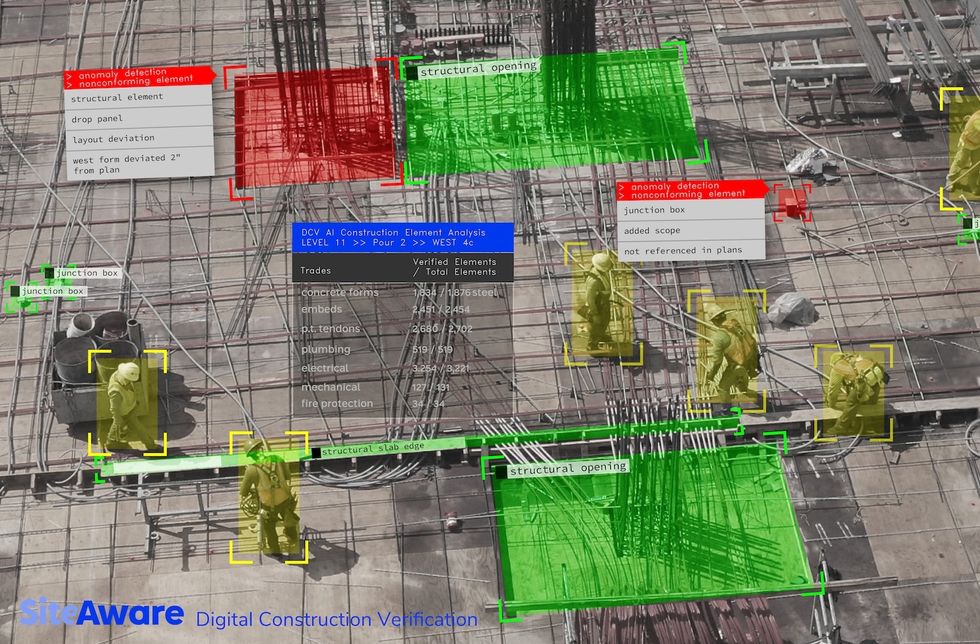 SiteAware's technology can analyze construction sites in real time. Image courtesy of SiteAware