Houston neuroscientist turned startup founder takes steps toward comfier shoes
Jul 15, 2022, 1:37 pm
Steffie Tomson founded a company to prioritize comfort — without sacrificing style — for women on the go. Photo via getawaysticks.com
Two and half years ago, native Houstonian Steffie Tomson ordered $2,000 worth of shoes and sliced them all in half with a bandsaw just to see what was inside.
Tomson, a neuroscientist by trade and the founder and CEO of footwear startup Getaway Sticks, had an idea for a different kind of shoe — one that was redesigned to prioritize women's comfort.
"I thought, 'why can't we start with a sneaker material and then build a heel around it?'" she tells InnovationMap. "I started just slicing everyone else's shoes and now I'm more convinced than ever that our shoe is different."
Tomson was inspired to design the inaugural shoe for Getaway Sticks after her own struggle with heels, walking in the bustling Texas Medical Center from building to building for meetings. As a mom of two and a problem solver, she knew there had to be a better mousetrap.
"No other shoe offers this type of foam with the height that we offer it," she says of the wedge-style shoe, which offers a wide toe box, soft suede material and limited height for stability and joint health.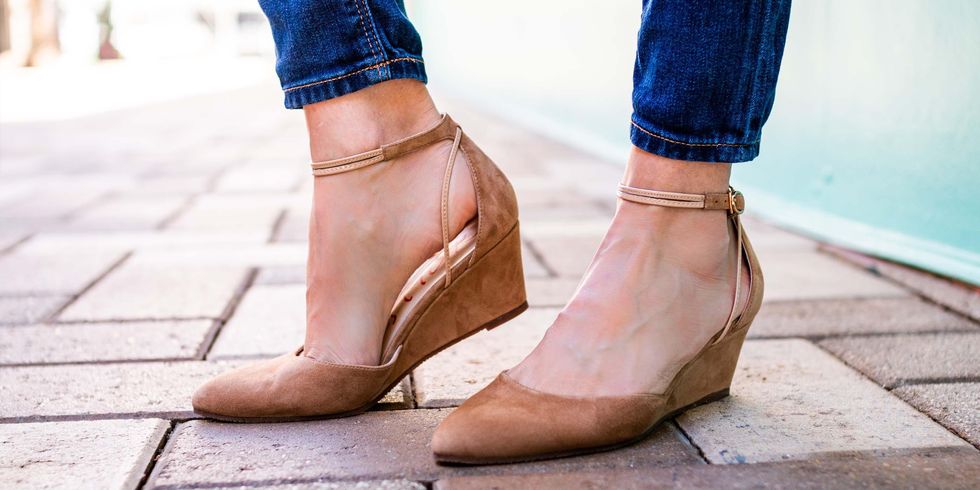 The comfortable wedge is available in several colors. Photo via getawaysticks.com
With her scientist background, she would think about the "cognitive cycles" that get spent in dealing with schedules and matching corresponding footwear.
"'This shoe goes with this outfit, but does this shoe get me from this meeting back from the parking lot? Does it fit with the pant?' It's just an infinite decision tree of how to get your wardrobe aligned with the shoes — when all I ever wanted was a capsule collection of shoes that would just work for me all the time," she says.
Typically, the fashion industry constructs shoes in a very traditional way, she says, and because of this, Tomson was met with much resistance from manufacturers to get the right materials for her prototype.
"I think there's a lot of money that gets thrown around trying to get women to buy shoes," says Tomson. "Those may or may not be comfortable. There's just not enough being poured into getting women to buy shoes that's really been designed for us with us in mind."
Getaway Sticks went through the gBETA accelerator last spring, which helped springboard the company and connect Tomson with the local innovation ecosystem.
"There aren't many people who are making shoes in Houston, but there's a lot of support for cool ideas and novel thinking here," she says. I'm glad that I've been made aware of them and invited into these groups."
Now past its first pre-seed phase and prepping for its initial round of seed funding in 2023, Getaway Sticks is looking ahead at its next shoe launch in the coming months — the ballet flat.
"I think that we as women can identify with the fact that we all have a really beautiful pair of heels and they are almost certainly not going to be comfortable," she says. "And we may have a really comfortable pair of heels, but they are not always the cutest thing in our wardrobe. We always have to kind of flip and decide. I just felt strongly that we needed something to make our lives simpler."