2 Houston startups land multimillion-dollar venture capital investments
Jan 3, 2020, 1:05 pm
Riversand and Gecko Robotics are starting of 2020 with fresh funds for scaling business. Pexels
Two Houston tech companies are starting off 2020 with fresh funds in their pockets — to the tune of millions and millions of dollars.
Houston-based Riversand raised an additional $10 million last month, and Gecko Robotics, which has an office in Houston, closed a $40 million series B round.
In early December, Crestline Investors invested $10 million into Riversand, which specializes in Master Data Management and Product Information Management software solutions. In 2017, Crestline put $35 million into Riversand's series A round. According to a press release, the additional funds will be used to continue the software-as-a-service company's growth.
"Crestline Investors is a valued partner and has enabled us to deliver a best-in-class product that is seeing incredible adoption and high levels of customer satisfaction," says Upen Varanasi, CEO and founder of Riversand, in a news release. "We will use this additional capital to continuously strengthen our product through innovation, amplify our sales and marketing efforts, and accelerate growth in new geographies and market verticals."
Meanwhile, Gecko raised $40 million in its series B round in December to scale its business plans. The company has grown from 45 to 115 employees in the past year, per a news release. The company will continue to hire.
The round was led by Drive Capital, and had contributions from Founders Fund, Next47, and Y-Combinator.
"We are growing fast solving a critical infrastructure problems that affect our lives, and can even save lives," says Jake Loosararian, Gecko Robotics' co-founder and CEO, in a news release. "At our core, we are a robot-enabled software company that helps stop life threatening catastrophes. We've developed a revolutionary way to use robots as an enabler to capture data for predictability of infrastructure; reducing failure, explosions, emissions and billions of dollars of loss each year."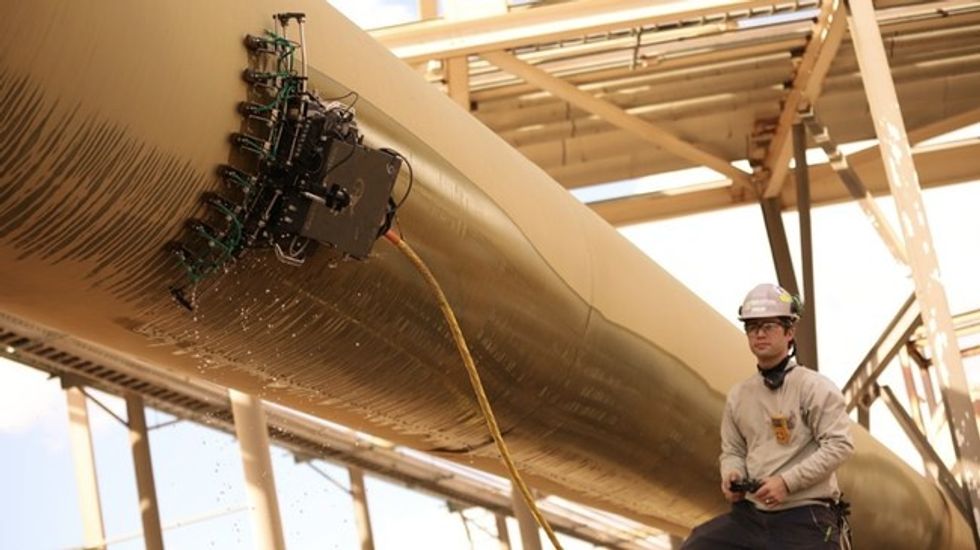 Gecko Robotics - industrial inspection Gecko Robotics focuses on industrial solutions. Photo via the release