New technology gives this Houston hospital a competitive edge
Jul 2, 2019, 9:09 am

Guest column
A new prostate cancer treatment at Houston Methodist is enhancing the system's patient care. Getty Images
As the top ranking hospital in Texas and one of the biggest employers in Houston, Houston Methodist Hospital is poised to treat the thousands of Texan men who will be diagnosed with prostate cancer this year.
Building on its legacy of delivering advanced cancer treatment, the healthcare giant is one of the first hospitals in the United States to offer men a benign approach to treating localized prostate cancer, using high intensity focused ultrasound, or HIFU. HIFU is a minimally invasive procedure that allows patients to maintain their quality of life with potentially fewer side effects.
Changing the standard of care
For decades, men diagnosed with prostate cancer have had three ways to manage their disease. The first is watchful waiting or active surveillance. Prostate cancer is often slow growing and may not impact the patient during his lifetime. Despite reassuring data in large randomized trials, some patients are still uncomfortable with a diagnosis of cancer and prefer treatment.
On the other end of the spectrum is the complete treatment of the prostate, which involves either surgically removing the entire organ (radical prostatectomy) or radiation, which can last up to eight weeks, with five rounds of treatment per week. Both treatments are known to cause long term erectile dysfunction and incontinence.
But for men diagnosed with localized prostate cancer, this new HIFU treatment bridges the gap between these three approaches. Unlike diagnostic ultrasound, which people are more familiar with, HIFU uses high-frequency sound waves to heat up and burn cancerous tissue, causing cell death. Think of holding a magnifying glass above a leaf on a sunny day. The sun's rays shine through the lens and cause the leaf to burn.
New and improved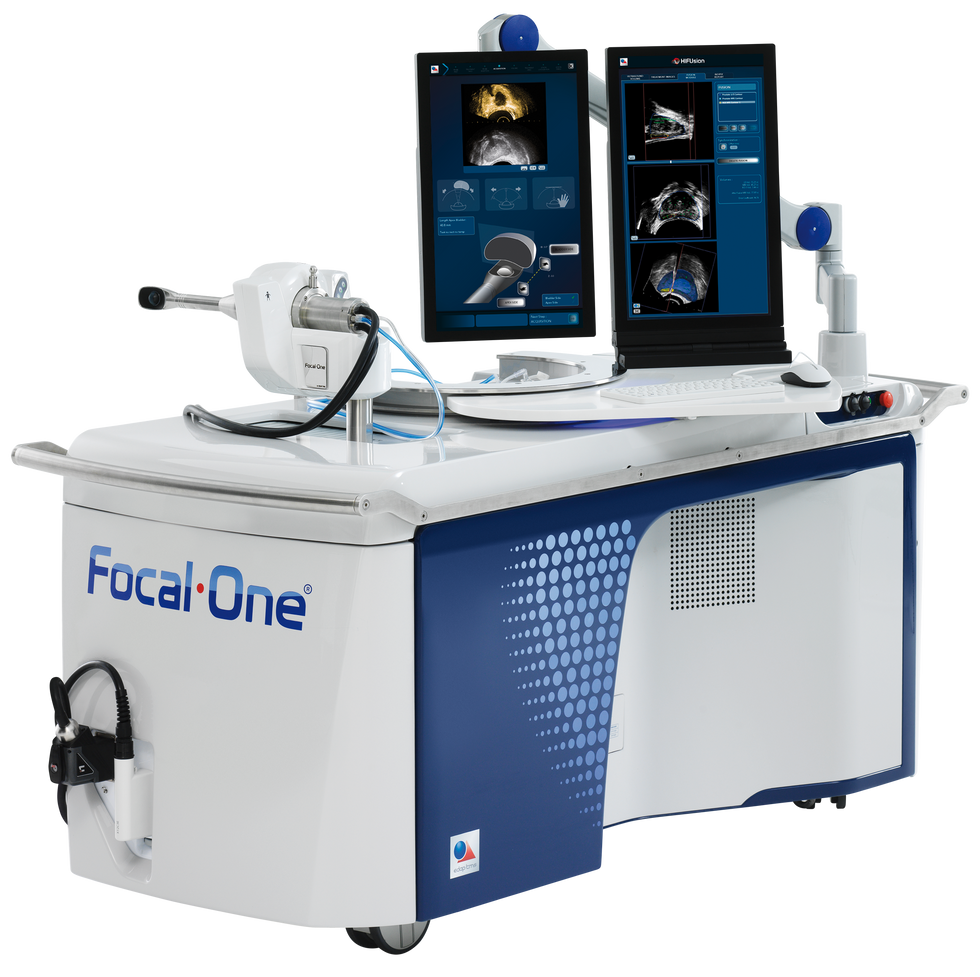 Courtesy of Houston Methodist
With HIFU, the urologist destroys the cancerous tissue without damaging other surrounding structures, which include nerves, blood vessels and muscle tissue. While HIFU has only been able to treat the entire prostate or large areas, Houston Methodist has a new technology, called the Focal One, that can zero in on specific areas to treat. The doctor can draw precise contours around the diseased tissue, destroy only that portion of the prostate and minimize any damage to surrounding tissue. This further decreases the possibility of incontinence and erectile dysfunction.
A competitive edge
Focal One gives Houston Methodist Hospital urologists the ability to plum the depths of something until recently considered heresy. The possibility of focal therapy to ablate only the diseased portion of the prostate is similar to performing a lumpectomy to remove only the diseased tissue of the breast in breast cancer. And focal therapy still leaves doctors with the options of radical surgery or radiation, should the cancer return. They don't necessarily burn any bridges.

Although focal HIFU treatment is available around the world for localized prostate cancer and studies in Europe have demonstrated its safety and efficacy, there are no long term follow up data in the U.S. at this time. So far, treatment complication rates in HIFU have shown to be as good as or better than other therapies. But urologic surgeons in the US generally need 10 years of data to establish focal therapy as a standard treatment, which is why it is important for cancer centers that embrace HIFU to enroll patients in an ongoing registry trial.
------
Brian Miles, M.D, is a practicing urologist and professor of urology at the Institute for Academic Medicine at Houston Methodist.