New Houston venture capital firm makes first investment
Jul 15, 2019, 12:26 pm
The Artemis Fund, which focuses on providing access to capital to women-led companies, made its first investment. Getty Images
The new female-founded venture capital fund that launched in Houston in April has made its first investment. The Artemis Fund led Burbank, California-based U-Nest's $2 million Seed round.
U-Nest is a user-friendly app that allows for users to create a 529 college savings plan in less than five minutes and $25. This tool provides access to financial tools that previously were only available to wealthy families who could afford financial advisers.
Syndicate partners, including The Draper Dragon Fund, Band of Angels, and Pasadena Angels, also contributed to the round.
"I'm very excited that The Artemis Fund has led my seed round because they've proven to be an amazing partner that brings a lot of value to the company beyond the money," says U-Nest founder, Ksenia Yudena, in a news release. "During the fundraising process, they made a lot of strategic introductions to the partners and advisers that helped us grow the business. They also coordinated the due diligence with other co-investors that made the process very smooth."
Prior to launching her startup, Yudena managed $1.2 bullion in business as vice president at Capital Group America Funds, and she has over 10 years of experience in financial services.
"I believe that we need more female led funds, because they understand the needs and struggles of the female founders," Yudena continues in the release. "We're on the same page in all matters related to the fundraising and building the successful company."

The Artemis Fund was founded by Stephanie Campbell, Leslie Goldman, and Diana Murakhovskaya, all of whom have years in investment experience from various institutions across the country and here in Houston. The three women wanted to provide a platform to funnel funds to female-founded startups that are constantly overlooked by other VC funds. Only 2 percent of funding from VC firms goes to women-led institutions, the release cites.
Goldman was introduced to the U-Nest team through one of the startup's advisers.
"We are thrilled to announce this as our first investment," Goldman says in the release. "We just need 14 more founders like Ksenia. With her drive, determination, deep expertise in this area, and her ability to attract top, seasoned talent, she sets the bar high for us as we look for additional portfolio companies."
U-Nest's mission of making financial information more accessible to families who need it most was especially attractive for the fund.
"Through her experience, [Yudena] saw a real world need for access to education planning and developed an incredibly impressive product to meet that need," Goldman continues in the release. "U-Nest squarely aligns with the Artemis thesis: stellar management team, traction with a product that will have tremendous impact on people's lives, scalable with a large addressable market opportunity, and a realistic exit strategy that can produce outsized returns."
Peter Mansfield serves as U-Nest's chief marketing officer and previously served as a consultant to Marqeta, which has a slew of successful clients — to the tune of Square, Affirm, DoorDash, Kabbage and Instacart — and recently closed a Series E valuation of $2 billion.
"We couldn't be more excited to have Artemis lead our round. From our first meeting it was clear that The Artemis Fund team understood our mission to eradicate the college loan crisis and shared our desire to champion women entrepreneurs," Mansfield says in the release. "The Artemis Fund is a perfect fit for U-Nest."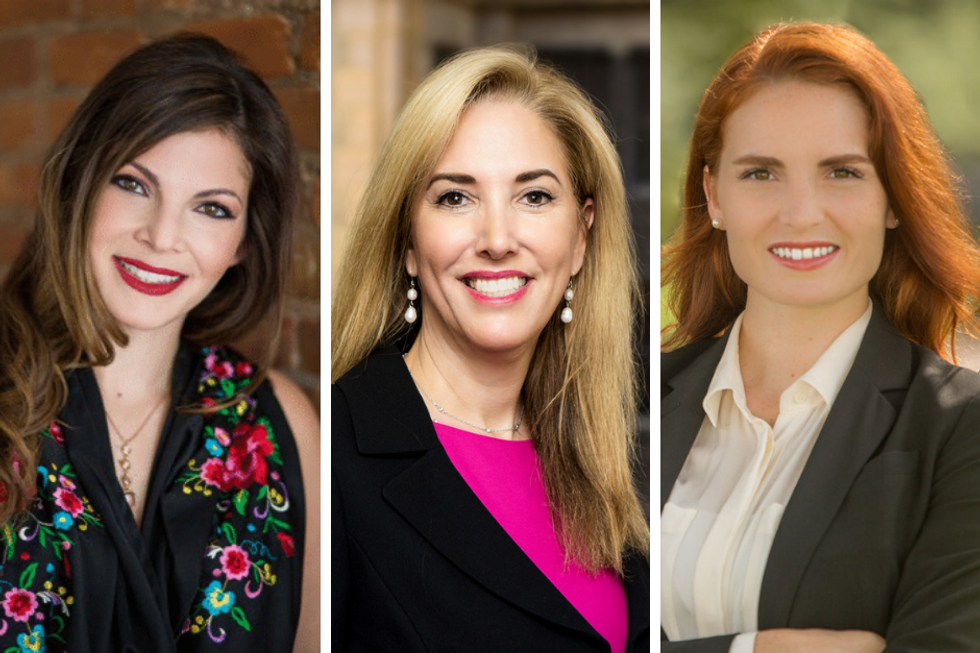 The Artemis Fund was founded by Diana Murakhovskaya (left), Leslie Goldman (center), and Stephanie Campbell.Courtesy of The Artemis Fund