Houston startup with breast milk freeze-drying tech heads to Shark Tank
Apr 4, 2023, 1:00 pm
Houston-based Milkify will pitch their freeze-drying breast milk concept on Shark Tank this Friday. Photo courtesy of Milkify
A Houston startup is competing in the "Super Bowl of Business," as founder Pedro Silva calls it, and you can watch the action later this week.
Milkify will appear on ABC's "Shark Tank" this Friday, April 7. Silva, co-founder and CEO, created Milkify along with his wife, Berkley Luck, PhD, in 2019. Today, Luck is a mom, COO, and a molecular biologist, but she had the idea for the company back in grad school. A coworker was struggling with pumping breast milk "lugging the pump back to work," as Luck puts it.
Luck was studying probiotics at the time and was using a freeze-dryer in her work. The problem inspired her to create a process of freeze-drying breast milk that is now patent pending. The trademarked process is centered around SafeDry, special freeze-drying pouches.
"The breast milk never makes contact with our equipment," Luck explains. The powdered milk is transferred directly from the bag in which it's freeze-dried to the final packaging under sterile conditions. The result is not only shelf-stable, but keeps for at least three years, exponentially longer than frozen milk.
Silva admits that when Luck first pitched Milkify to him, he thought it was a crazy idea. "But Berkley is way smarter than I am. There must be something to it," he realized. At the time, he was working in energy private equity. But he vowed that if they could find a viable path to making Milkify a business, he would join Luck full-time.
Early in the company's life, the couple purchased a blue van that said "We will freeze-dry your breast milk," recalls Silva. This grassroots marketing introduced them to a neighbor whose baby refused to drink her frozen milk. "He spat it out, he hated the taste," Silva says. The pair freeze-dried her milk for the baby and their neighbor soon sent a video of the little one chugging six ounces of her rehydrated milk.
"That was the lightbulb moment," says Silva. "How often do you get to work on something really meaningful?"
Since its founding, Milkify has freeze-dried and powdered more than half a million ounces of breast milk, all carefully preserved and packaged individually. Last October, Milkify opened what Luck claims is, "The only GMP-certified processing facility in the world right now specifically designed for freeze-drying breast milk."
The 6,400-square-foot Houston space is a vast improvement from the previous 200-square-foot facility. That was thanks to raising $1.2 million in funds, which has also allowed them to build a larger staff.
"Our entire workforce at this point other than Pedro is moms," says Luck. Including the couple, they are a team of 10, and just hired two additional members. They are currently looking to hire, says Silva, with roles including both operations and logistics associates. Experience, he says, is less important than conscientiousness and a good attitude, as they will train their new hires in-house.
And Milkify is about to receive more attention than ever with its appearance on "Shark Tank." "Getting on a national stage to share our story was the main motivation for it," says Luck. That translates to both education about the potential for freeze-drying breast milk, and about Milkify's unique model.
"We started this business as a labor of love. It wasn't just a financial reason," says Silva. "This can actually help a lot of people. This is a way to spread the word." And in the process, help countless moms and babies.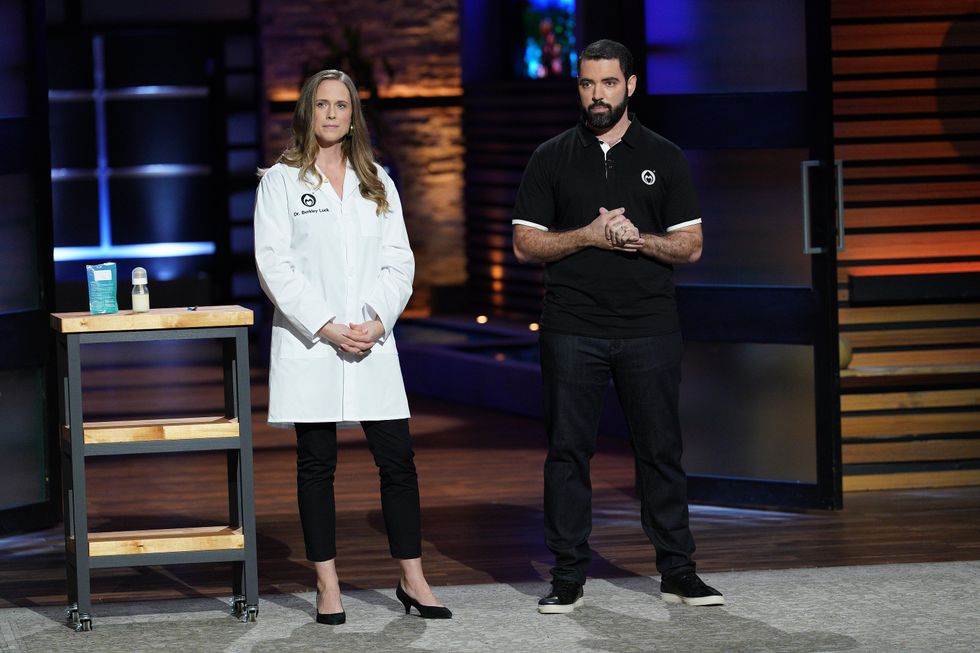 Berkley Luck and Pedro Silva — the wife and husband team behind Milkify — appear on Shark Tank this Friday. Photo courtesy of Milkify